Thank you to Vroom for sponsoring today's conversation. Thoughts are my own.
When you think about the role you play as a parent in a child's life, it isn't hard to see why parents are superheros.  As a mom I can kiss away the hurt, take us fun places and know just about everything, right? At least that is the way my child sees me.  Caregivers really are the center of our child's universe and as such we have the amazing ability to shape and mold them.
The free Daily Vroom app shares different ways parents and caregivers can foster healthy brain development in children.  Those behind the app want to encourage a conversation about What Makes A Superhero. They believe caregivers become superheroes through the everyday moments they spend with their children. And I couldn't agree more.
This heartwarming video tells the story of an aunt-turned-foster-mother, Camellia, and her daughter, Cammie, showing us a powerful example of how the everyday moments they share have a profound impact on both of them.

If you've ever let the day slip away without interacting as much with your child or you simply love having knew ideas, the free Daily Vroom app is a great option. I've downloaded it and found it to be very simple to use with great ideas!
Between ages 0-5 positive interactions we share with children help build their brains. To support these interactions, we've created an app that makes it easy to access simple, fun brain building activities any time. Daily Vroom enhances the things you already do and helps spark new ideas!
My four year old Wesley and I passed by a construction crew tearing down part of a gas station yesterday.  It would have been easy to ignore but instead I started a conversation with my son while we were sitting at a red light. He was very curious about what they were doing and I asked him what he thought they were going to put there. He had plenty of ideas such as a waterpark or a Super Target. (I like the way he thinks!) But then I pointed out the very small lot and we chatted about the size and businesses that could fit. While this was a very innocent conversation, it reminded me what a difference simply talking to our child can make.
Even as I write this post, I'm pausing as my son brings me a play food meal. He also just asked me how lady bugs sleep. Because he is four, his questions are never ending. And while sometimes the interruption makes it hard to complete whatever task I'm working on, I never want him to feel as if his thoughts and feelings don't matter. I never want him to stop asking questions!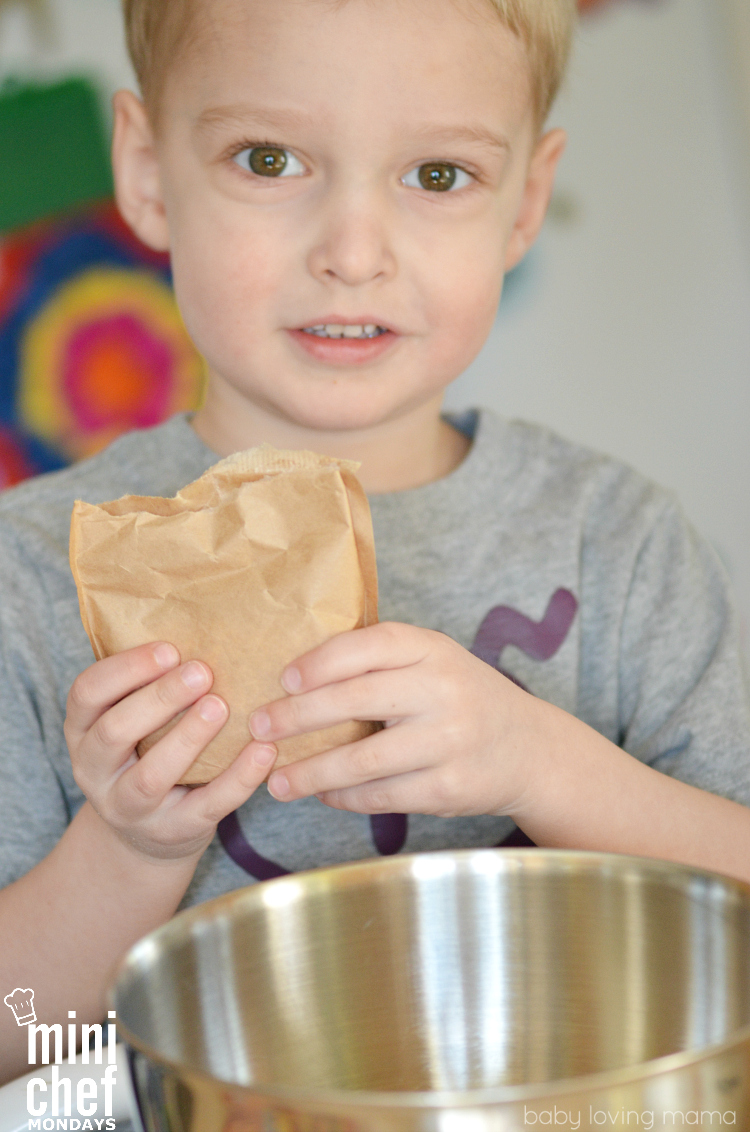 My favorite ways to interact with my 4 year old:
Spending time in the kitchen. This is why I love our Mini Chef Monday series so much. It not only is quality one-on-on time with Wes, it also provides great learning opportunities. Everything from fine and gross motor skills to math and science are covered during our kitchen sessions.
Getting out into nature. Playing at the park, going a trail walk, making art with sidewalk chalk are all options for fun conversations. Plus, the fresh air and physical activity wears him out so he sleeps great at night!
Reading Books. It is part of our nightly routine to read books every night. All of my kids have loved reading. We often chat about the characters and I'll pause the story so we can talk about what is going on in the story or what we think will happen next. Reading opens the door for so many special moments!
Need more ideas? Download the free Daily Vroom app today for daily brain building fun on the go!
What do you think makes a superhero to a child?