Thank you Johnson & Johnson for sponsoring this post.
My kids are my world. They may test my patience daily, but I would move mountains for them. With motherhood brings a fierce protectiveness, one where I would put their life ahead of my own. I can't imagine what it must be like to experience a health issue with my child, like an infectious disease. To watch my child suffer and feel helpless to stop it would be the ultimate test. But mothers all over the world, through all walks of life and throughout time know what this is like. It is a group of women that I hope I never join.
Our Story at the Powerhouse
As I've mentioned in previous posts, I had the chance to visit Johnson & Johnson: Our Story at the Powerhouse last year. This museum located on the Johnson & Johnson campus in New Brunswick, New Jersey gave me a close up look at the history of this company.
Sterile Surgical Practices
One of the most powerful exhibits at this museum was a comparison between surgical practices in the 1800s versus today. There was a time when many surgeons would operate in street clothes and not wash their hands. It would have been insulting to suggest that a doctor's hands might not be clean. I was shocked to see the difference between the sterile environment and instruments used today and the old practices side by side. It was appalling.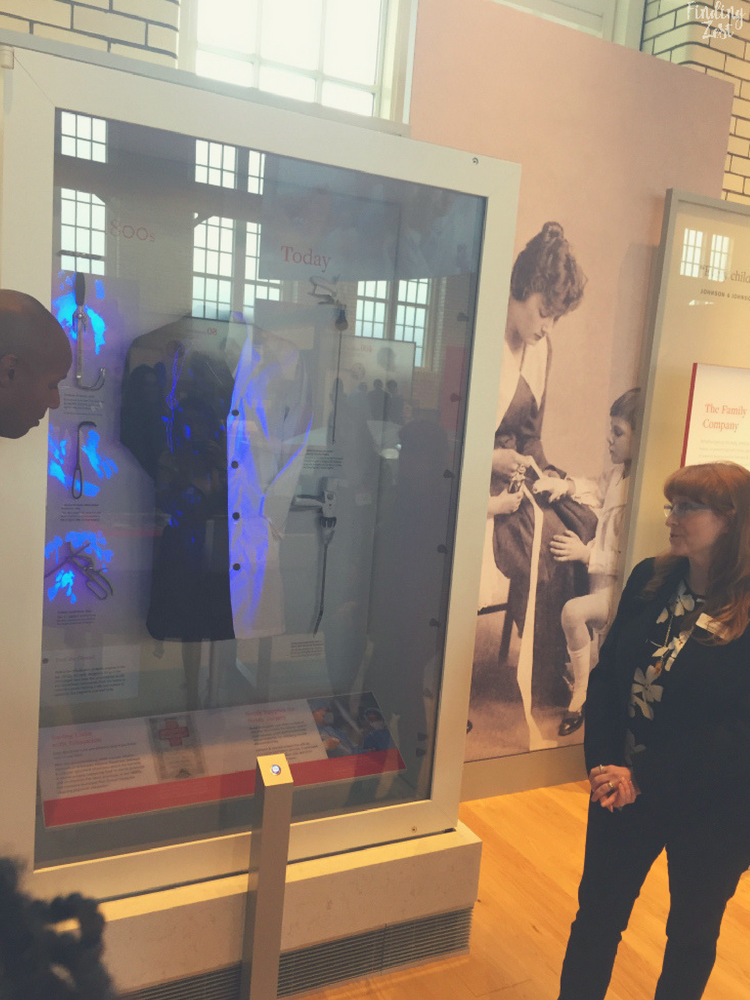 Did you know that that Johnson & Johnson was a pioneer in the movement towards these better health practices with sterile surgical products?
From the start of its humble beginnings, Johnson & Johnson has made public health a priority. They've shown this commitment with the development of products and educational materials to help prevent infection and the spread of disease.
In 1916, Johnson & Johnson created the Household Hand Book. This handy book contained important information on how to recognize disease symptoms, how to clean homes in order to prevent the spreading of germs and how to administer first aid.
Today, Johnson & Johnson continues this fight. While their research centers focus mainly on HIV/AIDS and tuberculosis, they have sprung into action with emerging challenges. For example, in 2014, they trained local workers in proper procedure to reduce the spread of an Ebola outbreak on the West African coast. They also set to work developing a vaccine at unprecedented speed. Johnson & Johnson continues to innovate in order to meet unmet patient, consumer, community and global public health needs.
Visit Johnson & Johnson's digital museum to learn more!
I was selected for this opportunity as a member of CLEVER and the content and opinions expressed here are all my own.