This post is brought to you in partnership with REAL® Seal. All thoughts and opinions are my own.
Baking during the holidays immediately brings me back to my childhood. Every year my mom would have all day (or all weekend) holiday baking sessions with her daughters. So many wonderful memories were created while we spent time in the kitchen together making so many delicious sweets. While we always had our favorites that were made year after year such as date cookies and spritz,  we always enjoyed trying new recipes as well. Last year my mom made soft white chocolate peppermint cookies topped with crushed candy canes. I fell in love with them. This year I wanted to make something similar to add to our holiday baking. I used my coconut chocolate chip cookie recipe as a base and they turned out so good!
When I know I'm going to be doing a lot of baking, I always love to stock up on essentials like butter, eggs, flour and sugar. I love getting my butter from my local warehouse club where I can get a great deal on butter with the REAL® Dairy Seal. I love the extra savings on a quality product I can trust!
For this recipe, you can easily skip the icing and sprinkles but I love the festive look. Since my husband is not a big fan of the crunch of candy canes on his cookies, I sprinkled mine with some pretty red and white sparkling sugars. It follows the peppermint theme and makes the cookies sparkle.
Once they have a chance to dry, these cookies are easy to transport. I brought them to my local mom group meeting and they went over well!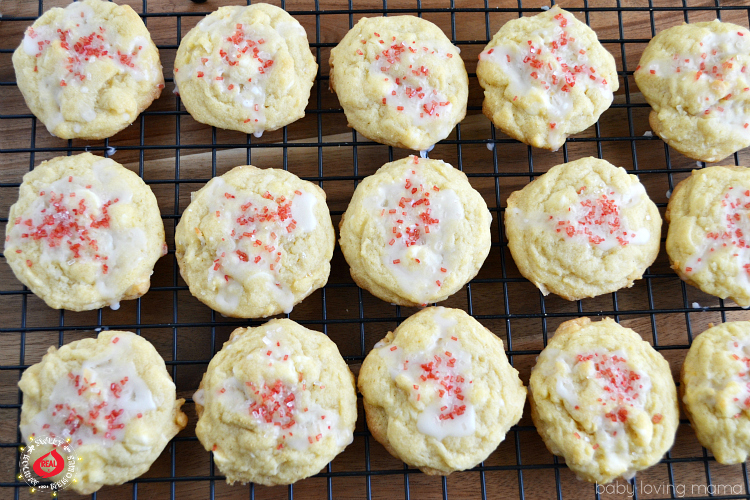 If you really love the taste of peppermint, you can add a little peppermint extract or emulsion to your icing. If you aren't familiar with emulsions, they are water based and retain more flavor after baking than extracts which are alcohol based. You can use them interchangeably in the same quantity with baking, but be sure to use a little less emulsion for any non-baked items like icing.

REAL® Sweet Holiday Memories Pin-To-Win Sweepstakes
REAL® Seal is celebrating the holiday season by kicking off REAL® Sweet Holiday Memories with their Pin-To-Win Sweepstakes. From now until December 18th, visit the REAL® Seal Facebook page where you can sign up.
Be sure to visit the REAL® Seal Pinterest page for more great holiday baking ideas using dairy! 

Watch for more recipes and special promotions as part of my involvement with the REAL® Seal Dairy Divas!