While visiting Wilton last week I got a first hand look at the new 2012 Wilton Yearbook, including a up close and personal view of the gorgeous Candy Store cover cake. It reminds me of a trip through Candyland, wouldn't you agree?

The attention to detail is simply stunning but I think my favorite feature of this cake is the colorful and fun design. Don't you just want to sneak a quick taste?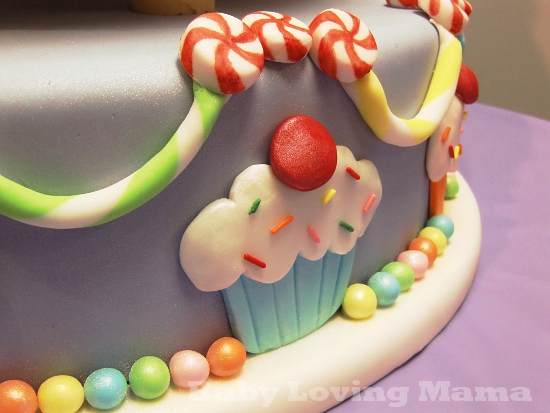 I used to be very intimidated by cake such as this and the cakes in the yearbook in general. While I enjoyed looking at the yearbook two years ago with my very first blog review with Wilton, I never really imagined I could ever actually attempt anything inside. What a journey I've made this past year! Now I can't wait to tackle some of the yearbook designs with just the cake basics course and some hands on learning facilitated by Wilton.
The mastermind behind the designs of the yearbook is Senior Art Direct/Cake Designer, Steve Rocco shown with me below. I now am the proud owner of three yearbooks signed by him and have really enjoyed getting to know him this past year. It amazes me that on average he comes up with about 1,000 ideas each year. How does he do that?

We were lucky enough to receive a special order of yearbooks hot off the presses,  making us one of the very first people to receive the new yearbook. I wish I could share more of the goodies inside but you'll just have to trust me that it is filled again with innovative and unique ideas that I'm itching to try, including a race car cake for Lucian's upcoming 5th birthday! You'll also find a special section on Punch.Cut.Decorate! to utilize this new edible decorating paper from Wilton!
Photo courtesy of Tanya at Mommy Goggles
Left to right: Steve Rocco from Wilton, Jennifer of Mom Spotted, Shannon from The Mommy-Files, Tanya of Mommy Goggles, me, Jennifer from Momma D and Da Boyz.
Watch for the 2012 WiltonYearbook at your local Wilton retailer including Michael's, AC Moore, Hobby Lobby and Jo-Ann Fabrics  and on Wilton.com later this month!
Disclosure: As a Wilton Mom Ambassador I was provided with a free copy of the 2012 Yearbook and my expenses paid for this trip to learn more about new products at Wilton headquarters. My thoughts remain 100% my own.