I never knew how much fun I could have decorating cookies until I learned some great techniques and was introduced to the right tools (and some tricks) to make my cookies really shine, thanks to Wilton! If you think you aren't artistic enough or a good enough baker to produce fabulous looking sugar cookies you are mistaken. Trust me. I am actually known for how horrendous I am at art (really) and am not a super creative person in the traditional sense. What I am good at is taking instructions and applying them and I love to bake. Just by following some simple directions you too will find that these Wilton Snowflake Sugar Cookies are a breeze, no matter what level your artistic ability and baking talents may be!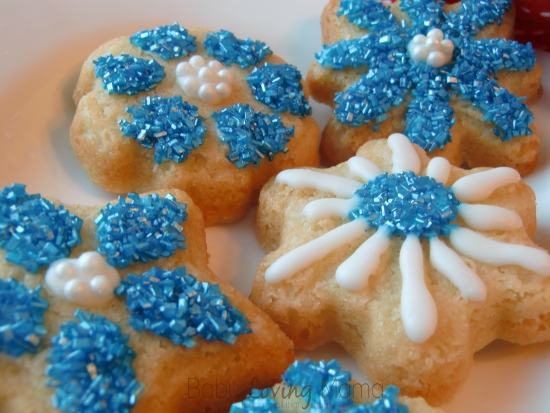 This sugar cookie recipe works great with all the Wilton non stick cavity cookie pans, including this Wilton Nonstick Snowflake Cookie Pan. It is a super simple recipe that produces a chewy sugar cookie.

Snowflake Sugar Cookies
Ingredients
1 cup (2 sticks) butter, softened
1½ cups granulated sugar
1 egg
1½ teaspoons Wilton Clear Vanilla Extract
½ teaspoon Wilton No-Color Almond Extract
2¾ cups all-purpose flour
1 teaspoon salt
Instructions
Beat butter and sugar at medium speed with electric mixer until well blended.
Beat in egg, vanilla and almond extracts. Mix well.
Combine flour and salt and gradually add to butter mixture. Beat until well blended.
Pre-heat oven to 350 degrees. Spray cavities with vegetable pan spray or Wilton Bake Easy spray .
Press the dough into the cavities, filling ⅔ full.
Bake 9-10 minutes or until light brown around the edges.
Cool in pan 5 minutes before turning over and tapping lightly to remove cookies. If this is unsuccessful, I found gently lifting the edge of the cookie with my fingers and removing worked well.
Cool completely on cooling grid/rack.
To decorate, I found the white Wilton Cookie Icing to work great for outlining the snowflakes, whether that to act as the base for dipping into sugars or sprinkles or allowed to dry on its own.
Another great product that would work well for the base would be piping gel with a decorating bag and a smaller tip.
I loved working with the white Sugar Pearls and Sapphire Pearlized Sugar to create the perfect snowflake look. If this all looks pretty easy, that is because it is!
Since the snowflakes have patterns on them already, if you can outline, fill and dip you can make gorgeous cookies with little effort or skill! (Just how I like it!) For a clean look, simply use a toothpick to push sugars or icing back into place.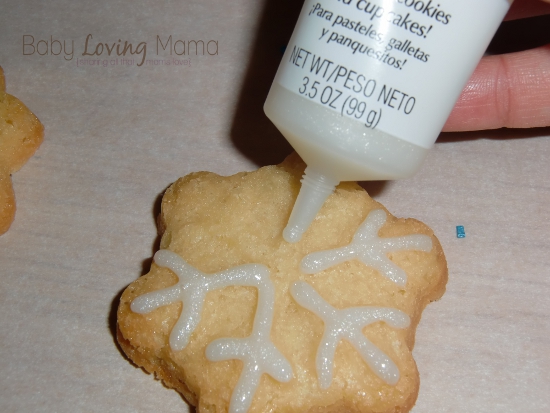 I also found the white White Wilton Sparkle Gel super easy to work with and created a nice shimmering effect. It too can work as the base for sugars or by itself, although it doesn't harden as well as the cookie icing if by itself. I personally think the cookie icing also has a better taste.
The finished result? Something unique and beautiful. Certain to wow guests and perfect for gift giving. Just be sure you give them a chance to dry!
One of my favorite aspects to making these Wilton Snowflake Sugar Cookies is that they can be made not only holiday but enjoyed all winter long! Aren't you now itching to try it yourself?
BUY IT
Visit the Wilton Online Shop or Amazon to purchase the featured products online or check your local craft store including Michael's, Jo-ann Fabrics, Hobby Lobby and AC Moore. Target and Walmart are also carrying seasonal Wilton products!
---
Disclosure – As a Wilton Mom Ambassador I was provided with the Wilton products used in this post, while baking ingredients were purchased by myself. Opinions expressed are my own and are not influenced by monetary compensation.