I love coming up with fun treats for my kids that have a healthy twist, especially for Mini Chef Monday. And just like last week with my Strawberry Banana Smoothie Bowl, I'm combining fruit with yogurt again but with a twist! These Yogurt Dipped Frozen Bananas on a Stick are covered with Greek yogurt then sprinkled with some our our favorite dessert toppings.  Frozen bananas are easy and super fun to make!
How to Toast Coconut
Wesley prepared this entire recipe with the exception of chopping the nuts and toasting the coconut. If you aren't familiar with toasted coconut, it is absolutely amazing, especially freshly toasted. It works great as a dessert topping on ice cream, fresh fruit, yogurt, etc. Just be sure to toast it slowly and check it often. If you've never toasted coconut before, trust me, it is very easy to burn. Stirring it often will help it bake more evenly. To toast coconut, bake in 350 degree oven, stirring every two minutes until slightly brown. Then every 30 seconds until light golden brown.
How to Make Frozen Banana on a Stick
We used simple lollipop sticks but popsicle stick or cookie sticks would also work.
Wesley loved being able to "paint" the yogurt on the fresh banana. If you find your banana spinning around at all, you can stick your thumb near the base of the banana to hold it in place.

To avoid any part of your banana turning brown, coat the under the banana near the stick so you don't have any banana showing.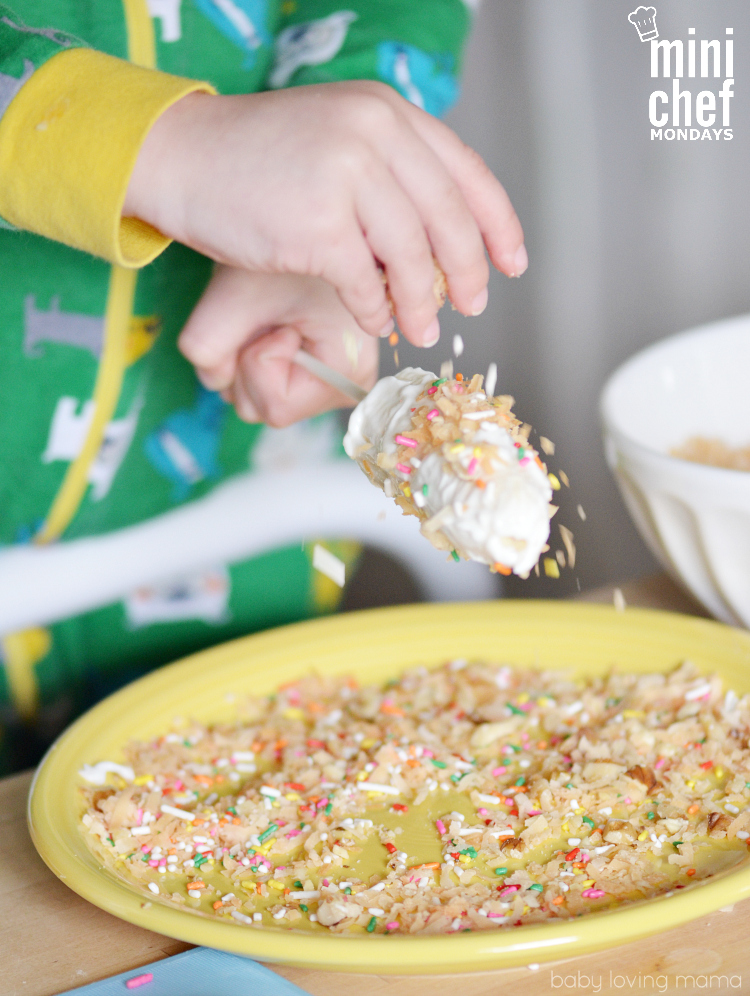 I had Wesley pour all the toppings onto a wide plate and let him sprinkle them over the bananas.
Enjoy this snack immediately or as a frozen treat a few hours later!
Yogurt Dipped Frozen Banana on a Stick
Recipe Type:
Dessert/Snack
Ingredients
4 firm bananas, cut in half
1 container Greek Yogurt
½ cup coconut, toasted
¼ cup finely chopped nuts
¼ cup rainbow sprinkles
lollipop sticks
Instructions
Toast coconut. (Bake in 350 degree oven, stirring every two minutes until slightly brown. Then every 30 seconds until light golden brown. Be careful not to burn!)
Mix together sprinkles, nuts and toasted coconut.
Insert lollipop sticks into banana half.
Brush yogurt on banana generously with silicone pastry brush, including underside of banana where you inserted the stick.
Sprinkle coconut mixtures over bananas. Enjoy immediately or freeze for at least four hours for a frozen snack!
This snack is healthy and fun!
If you like this recipe, you'll love these frozen banana sundae bites!
What have you been up to with your mini chefs this week?

I am hosting Mini Chef Mondays along with 10 fabulous bloggers! Read how Mini Chef Mondays started, plus how to link up!
Join our facebook group to find even more recipes and share recipes too!
Get featured and follow us too!
Be sure to check out each of their Mini Chef posts as well!