Air Fryer Chicken Legs are the dinner solution you didn't know you were missing! Super affordable and easy to prepare, these dry rub chicken legs are so incredibly juicy and delicious. Get an easy home cooked meal on the table in just 20 minutes. Give it a try and see why this air fryer recipe should be part of your regular meal rotation.

I have never been a huge fan of chicken skin unless it was fried chicken or crispy chicken wings. I like crispy skin and getting that with chicken baked in the oven while still keeping the meat nice and juicy is tough to achieve. But with the air fryer, it is so easy to create juicy, flavorful chicken in no time with the crispy skin I crave! You really can't believe how quick and easy it is to make amazing chicken in the air fryer until you try it.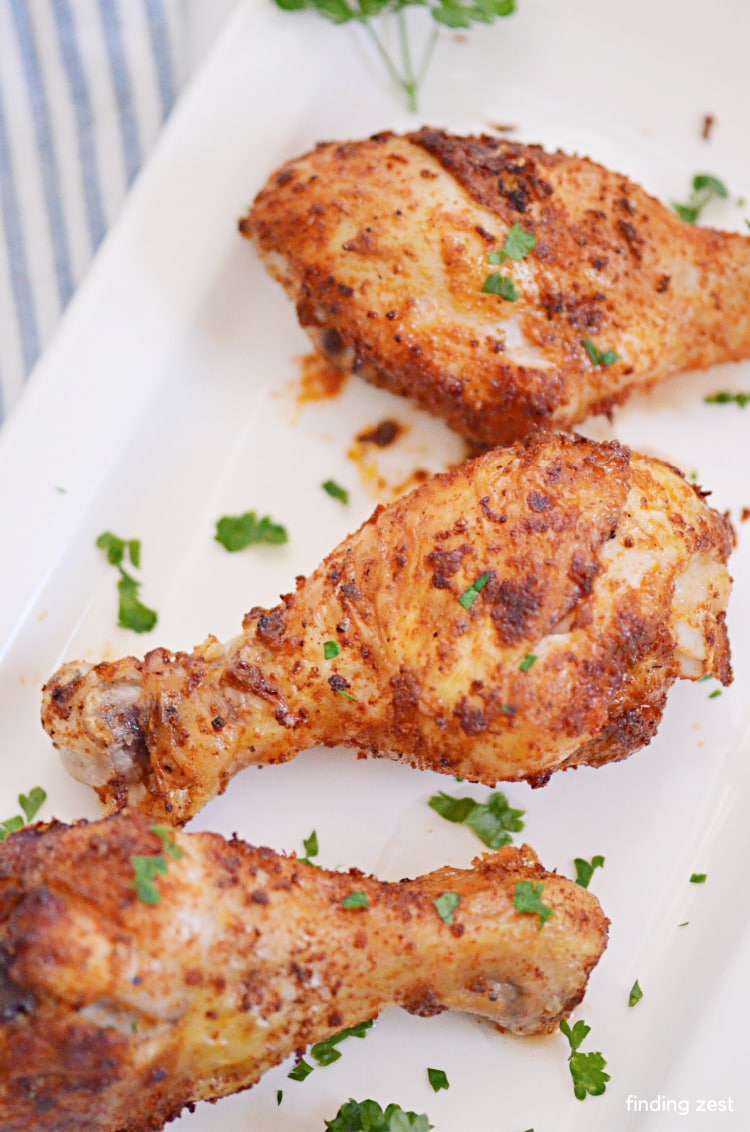 Chicken Legs Ingredients
Only basic pantry ingredients are required to make this chicken legs recipe. They include:
chicken legs
olive oil
paprika
garlic powder
onion powder
salt
pepper
These ingredients make this recipe naturally Whole30 and Paleo compliant. If you like a smoky flavor you could try using smoked paprika or if you like a sweeter dry rub, you could add in a tablespoon of brown sugar. But this simple recipe is what my family likes best for a dry rub.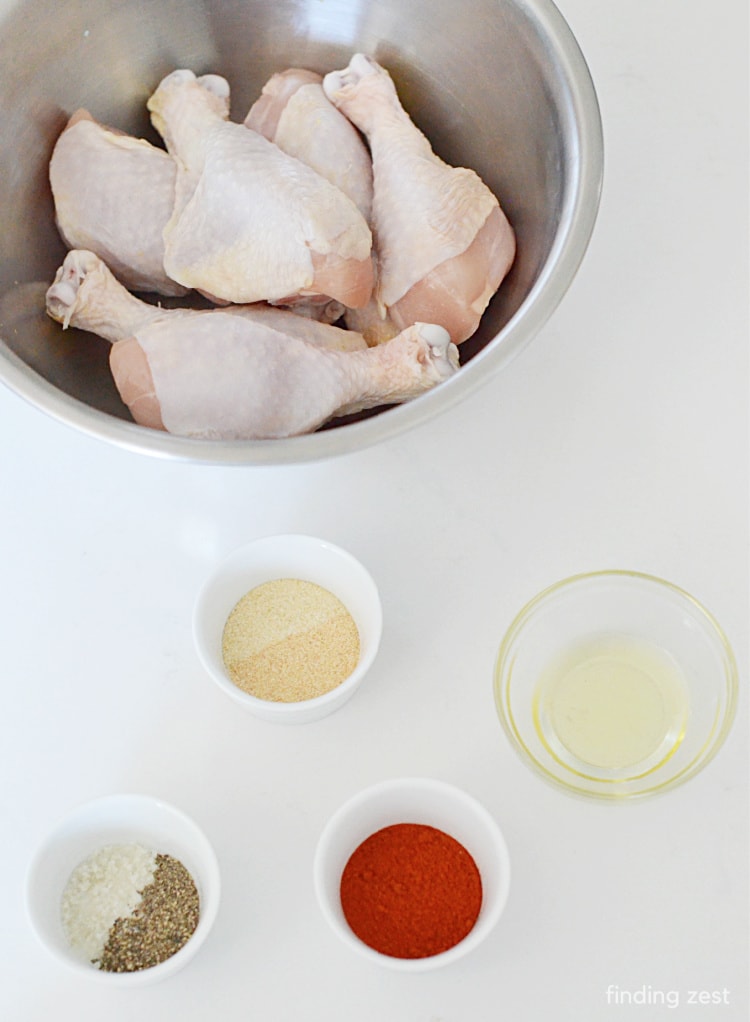 How to Cook Chicken Legs in the Air Fryer
Preheat your air fryer to 375 degrees Fahrenheit. Place your chicken legs and all ingredients in the large bowl and toss to coat. Alternatively you can use a gallon sized ziploc and shake instead. For the most even spice distribution you can combine all of your spices in a small bowl first first before sprinkling over your chicken. It is up to you if you want to do this extra step!
Chicken legs baked in the oven take 35 to 45 minutes while chicken legs in the air fryer will only set you back around 20 minutes. Only downside is if you have a smaller air fryer you may have to cook it in batches depending upon the size of your family. I used my smaller air fryer and since I had extra large drumsticks they couldn't all fit. It is really important when air frying that you don't over pack your basket for the best air flow.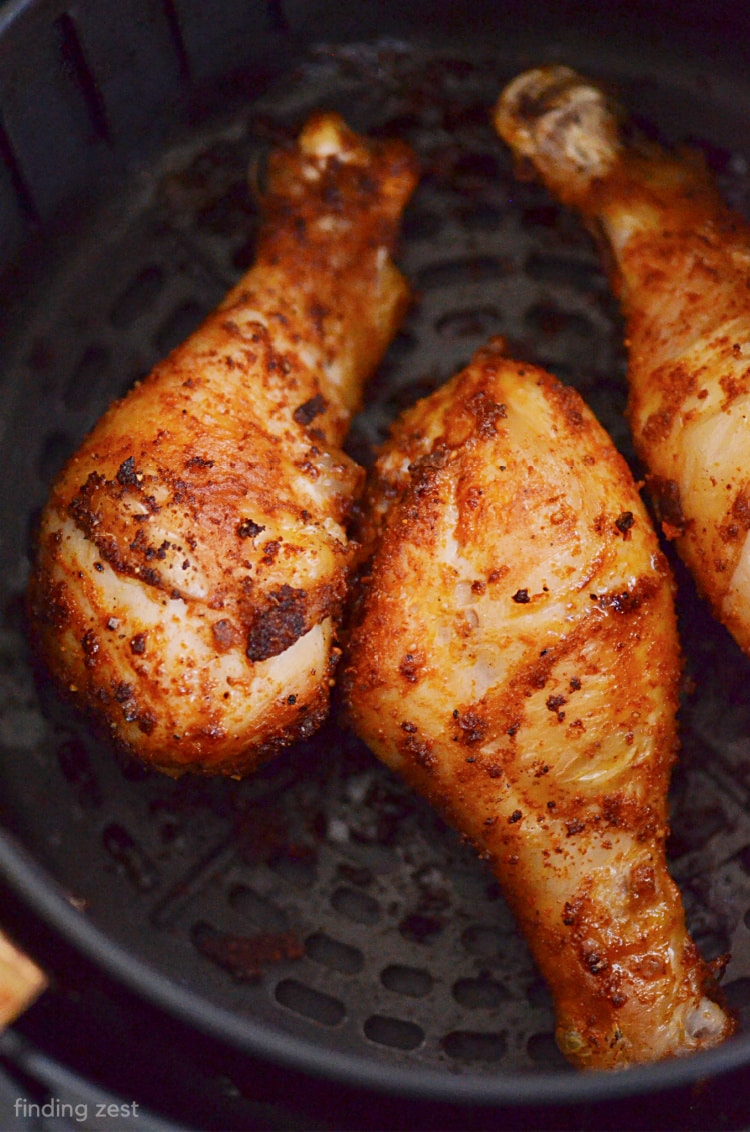 How Long to Cook Chicken Legs in the Air Fryer
You'll want to cook for 17 to 18 minutes, until internal temperature is 165 degrees without hitting the bone. Be sure to turn over halfway through cooking. (I did at the 10 minute mark) Exact cooking time will depend upon the size of your drumsticks, your air fryer, and how many chicken legs you cook together. The tighter they are together, the longer they can take to cook.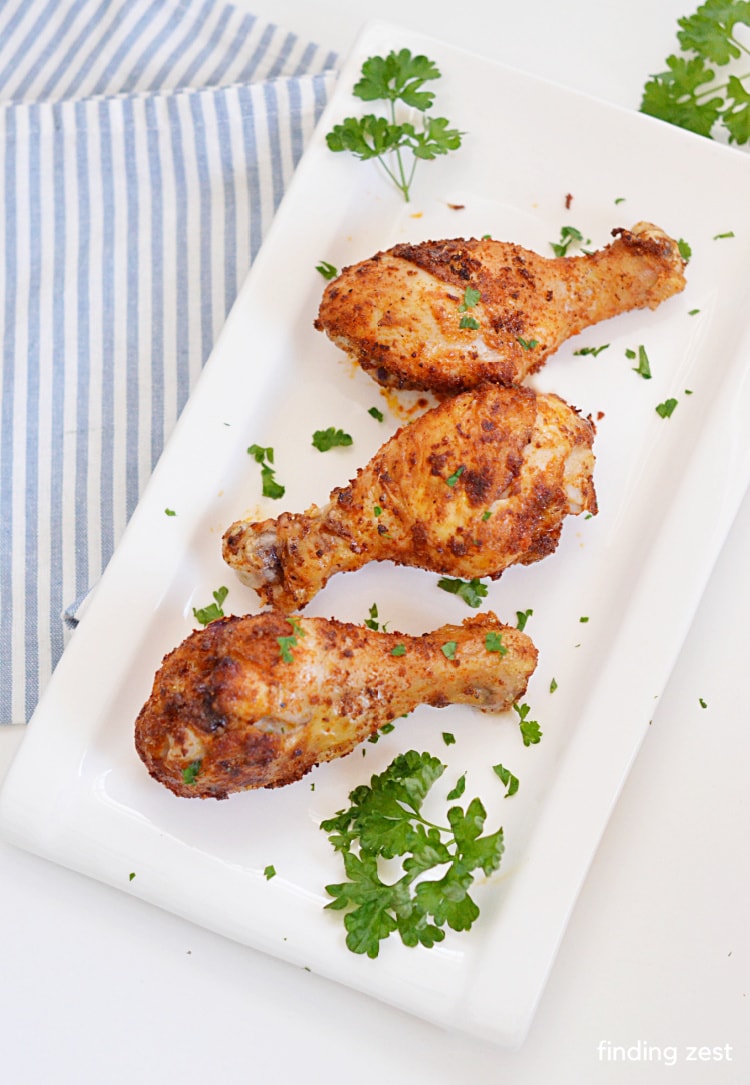 Chicken Legs in the Air Fryer Video
Here is a quick step-by-step video for how to make chicken legs in the the air fryer!
Air Fryer Chicken Legs
Air Fryer Chicken Legs are easy, delicious and super affordable. Get flavorful and juicy chicken in a snap with this simple way to cook chicken in a fraction of the time it takes to bake it. The whole family will love this simple dinner recipe!
Ingredients
6 to 8

chicken legs

(depending on size)

1

tablespoon

olive oil

2

teaspoons

paprika

1

teaspoon

garlic powder

1

teaspoon

onion powder

1/2

teaspoon

freshly ground pepper

or to taste

1/2

teaspoon

freshly ground sea salt

or to taste
Instructions
Preheat air fryer to 375 degrees Fahrenheit.

Pat chicken legs dry with paper towel. In a large bowl or gallon sized ziploc bag, pour olive oil and seasonings over chicken and toss or shake to evenly coat.

Place chicken legs in a single layer in air fryer basket or tray. Do not over pack.. Cook for 10 minutes. Turn chicken legs over and cook additional 7 to 8 minutes or until 165  degrees internal temperature, not touching the bone.
Recipe Notes
May need to cook in batches depending upon size of air fryer and chicken legs. 
This recipe was designed for 6 extra large chicken legs. Can easily do 8 smaller chicken legs.
That is all to making this easy chicken leg dinner! These chicken legs cooked in the air fryer are so cheap and easy to make, it is no wonder they are a new family favorite. My husband and kids rave about this chicken and really can't get enough.
Air Fryer Dinner Recipes:
If you are looking for more air fryer dinner recipes, here are some more great ideas: