Air fryer fried pickles are the perfect appetizer for all pickle lovers! You'll love the flavorful and crispy breading on these pickle spears. Enjoy your favorite restaurant appetizers at home using your air fryer. Serve these up with your favorite dipping sauces such as marinara, cajun horseradish sauce or ranch dressing!
Fried pickles are a popular staple at many dine in restaurants. And since eating out has become less common, now is the perfect time to try some of these favorites at home! An air fryer is a great alternative to fried foods, and still allows you to get that crispy texture we all love. From air fryer potato wedges to bacon wrapped shrimp, the air fryer offers some great appetizer and snack foods to make yourself but with minimal effort!

Air Fryer Fried Pickles Ingredients
pickle spears
panko crumbs
flour
eggs
milk
pickle juice
salt
paprika
dill
garlic powder
You can substitute pickle chips instead of pickle spears for this recipe, however it will be a bit more time consuming and require extra batches to cook. I do recommend flipping them over halfway through cooking.
Please Note: The jar of pickles featured in this post only have 9 or 10 pickles in the jar, so be sure to plan accordingly. You can also make just the single jar knowing you'll have some of the other ingredients left over.
How to Make Fried Pickles in Air Fryer
Making these air fryer pickles is a simple process. To start, you'll want to make sure you get as much liquid as possible out of your pickle spears so they stay nice and crispy when air fried. I patted my pickles dry then let them sit out on paper towels for another 15 minutes or so. Then I patted the tops dry again.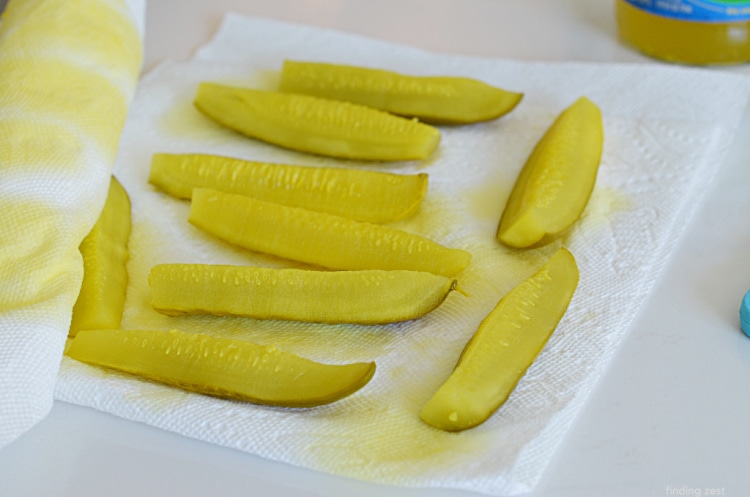 Preheat your air fryer to 400 degrees F. In three separate shallow bowls, mix your ingredients together for your flour, egg and panko mixtures. Flour, salt and paprika are mixed together in the first bowl while egg, milk and pickle juice is whisked together in another. The last bowl will be filled with panko crumbs, dill and garlic powder. Now we are ready for dipping!
Coat your pickle spear in a the flour mixture, gently shaking off excess.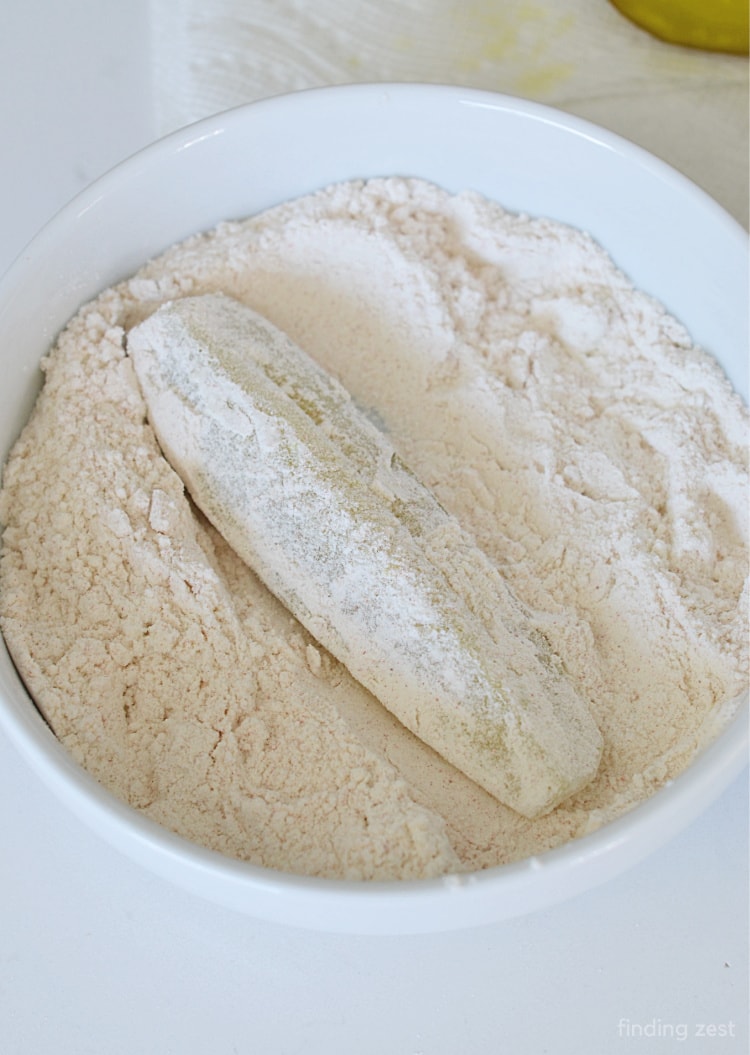 Next, dip both sides into your egg mixture.
Coat in your panko crumbs and shake off excess. Place spear in your air fryer basket and repeat with remaining spears that can fit inside your basket in a single layer without any overlap.
Be sure to coat the bottom of your air fryer basket with cooking spray or brush a little oil on your basket first to avoid any sticking. If you must do multiple batches, wait to coat your pickle spears until right be for cooking for optional results.
Cook for 6-9 minutes or until golden brown and crispy. Repeat if necessary. I used a smaller basket style air fryer and found five pickle spears fit perfectly. It was not necessary to turn the pickle spears over during the cooking process. It is hard to overcook these air fryer pickles, so keep going until you get the nice crispy texture on the outside. It took 8 minutes for me but that will really depend upon your air fryer. I find my oven style air fryer cooks hotter so I would start checking it at 6 minutes.
What to Serve with Air Fryer Pickles
When it comes to seasoned panko crumbs, I immediately think of marinara sauce. It is just a staple at our house for appetizers like mozzarella sticks and air fryer zucchini chips. But you could go the Texas Roadhouse route and make a copycat Cajun Horseradish sauce, just like they serve with their fried pickle chips! Make your meal extra special and try making these Copycat Texas Roadhouse Rolls and cinnamon butter to go with them!
My oldest son is a big pickle fan and absolutely loves these fried pickles in the air fryer. They are a unique combination of juicy with a crispy coating and are loaded with flavor. The pickle flavor has a chance to really shine instead of being overshadowed by the breading as can happen when using sliced pickles.
Air Fryer Fried Pickles
Air Fryer Fried Pickles are an easy snack or appetizer. Whether you serve them up for your next get together, holiday celebration or game day snack, you'll love these fried pickles in the air fryer which make them nice and crispy!
Ingredients
12

pickle spears

2

cups

panko crumbs

1/2

cup

flour

2

eggs

1/4

cup

milk

2

tablespoons

pickle juice

1/2

teaspoon

salt

1/2

teaspoon

paprika

1

teaspoon

dill

1/2

teaspoon

garlic powder
Instructions
Dry pickle spears well with paper towel. Let them rest on paper towels for an additional 10 to 15 minutes to remove excess liquid.

Preheat air fryer to 400 degrees F.

In a shallow bowl combine flour, salt and paprika. Set aside.

In another shallow bowl whisk together eggs, milk and pickle juice. Set aside.

In a third shallow bowl combine panko crumbs, dill and garlic powder. Set aside.

Spray in an air fryer safe cooking spray or lightly brush a little oil over the bottom of the air fryer basket.

Dip a pickle spear in flour to coat. Then dip in egg mixture before moving to panko crumb mixture and coat generously. Place in air fryer basket.

Repeat with additional spears until your air fryer basket is full in a single layer of spears without overlapping.

Cook for 6-9 minutes or until golden brown and crispy. Repeat if necessary.

Serve immediately with warm pizza sauce, ranch dressing or your favorite dipping sauce!
Recipe Notes
Be sure to really pat your pickle spears dry to remove the excess liquid. Do not skip this step.
If preparing in batches, dip and coat your pickles right before placing them in the air fryer for best results. (Do not dip and coat them all at once)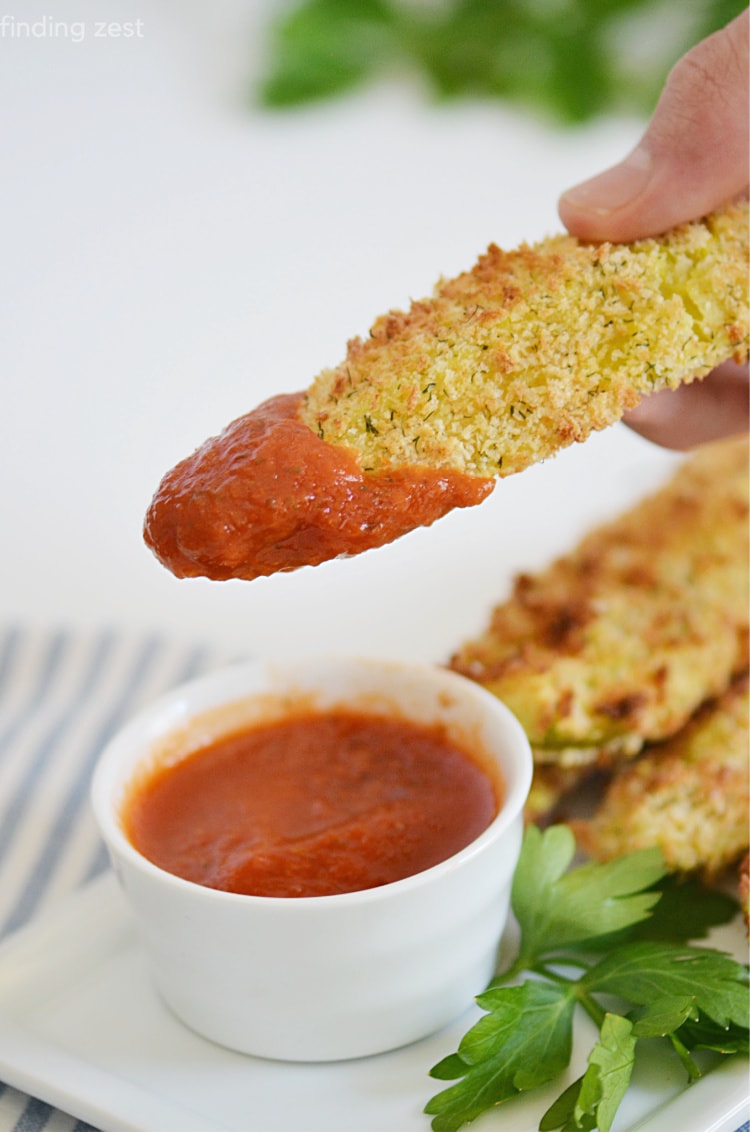 Air Fryer Fried Pickles are the appetizer or game day snack you didn't know you were missing! If you are a pickle lover, I hope you give them a try soon.