Air fryer potato wedges are quick and easy to make with just a few pantry items! Combine two russet potatoes with just a few spices and oil and you having a winning appetizer or side dish for any meal. Crispy and delicious, these air fryer potatoes are downright irresistible!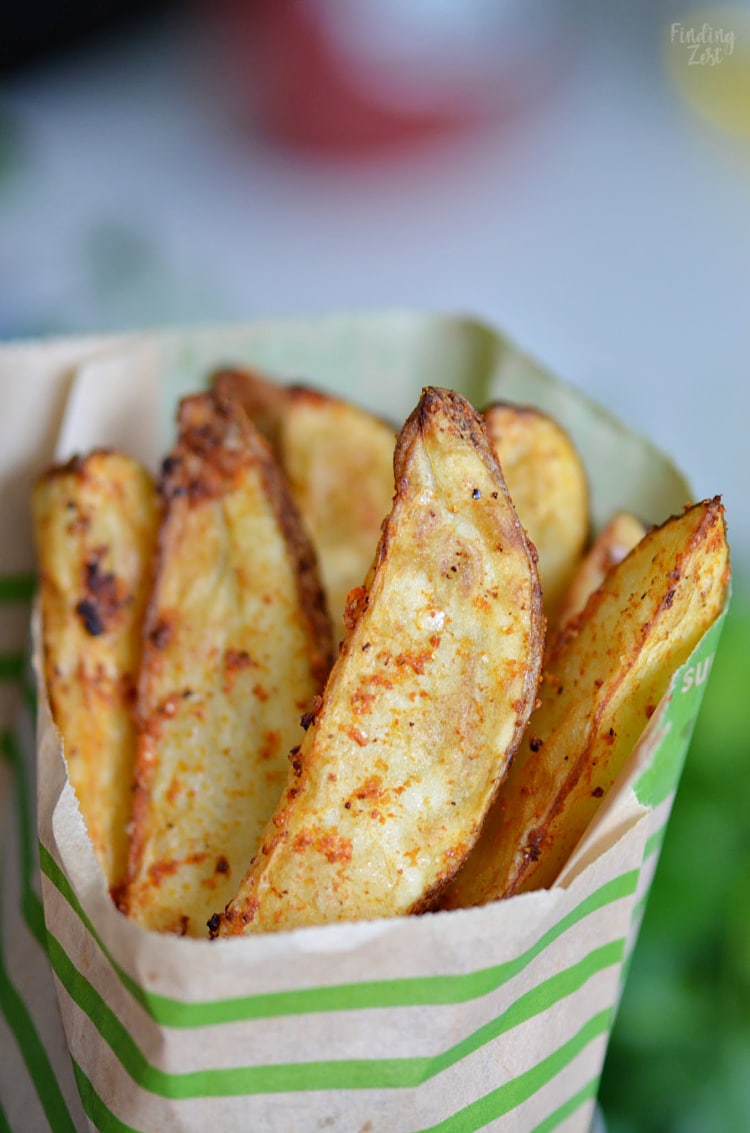 Potato wedges were something I really enjoyed eating when I was growing up. We called them JoJo's or JoJo potato wedges. Our local A&W stand would serve them with the cheeseburgers and root beer straight from the keg. Brings back memories.  We've loved trying new recipes in our air fryer (like this air fryer tilapia) since my husband received one last Christmas.  I've been disappointed in the crispiness of potato wedges cooked in the oven but knew it would be worth it to try in the air fryer. And let me tell you, they were!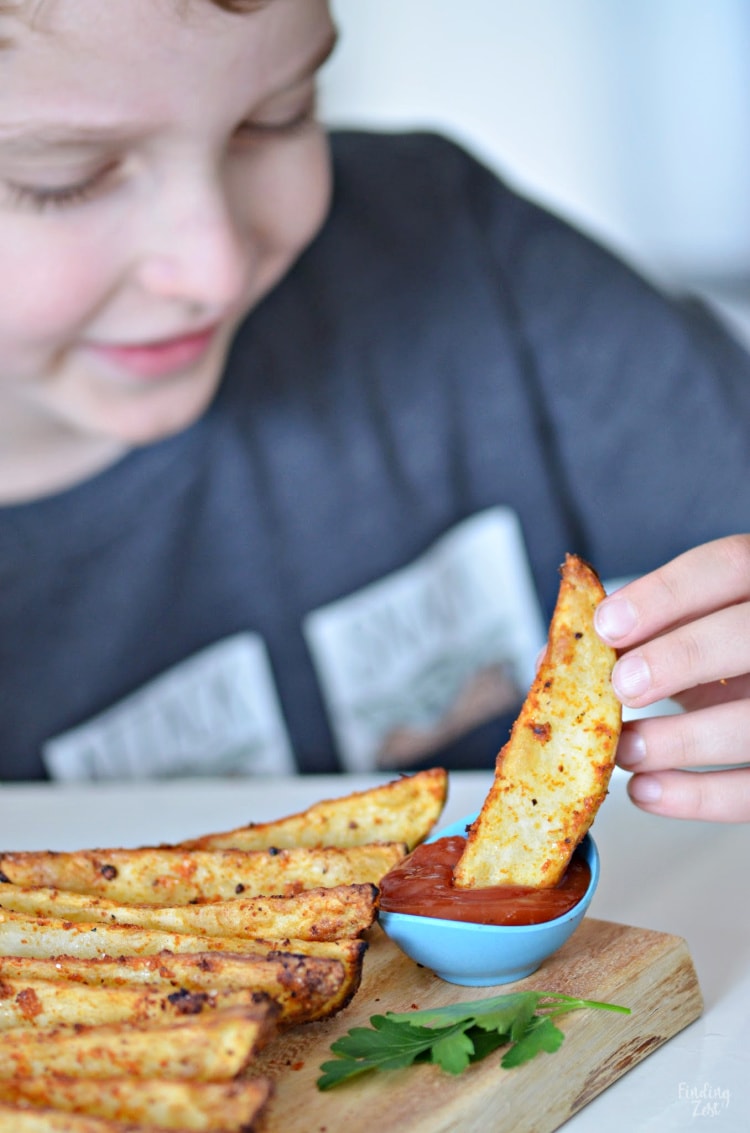 Potato Wedges Ingredients
This recipe is super inexpensive to make and only requires basic pantry ingredients! You'll need the following:
medium russet potatoes
olive oil
garlic powder
onion powder
paprika
sea salt
freshly ground pepper
That's it? Yes, that is all you need! Of course you'll also want to have some ketchup or your other favorite potato dipping sauces such as this fry sauce.
How to Cut Potato Wedges
To make your potato wedges, you'll want to first wash your russet potatoes. Cut your potatoes in half the long way, quarter them (cut the potato half in half) then cut those quarters in half again. The result is 8 wedges from a single potato.
Soaking Potatoes in Ice Bath
Once you've cut your potato wedges, give them little dip in some cold water and ice! Place them in medium bowl and cover them with cold water and ice.  Soak them for at least 30 minutes before cooking. Why give your potatoes a water bath? It removes excess potato starch, which prevents sticking together and helps give maximum crispness to your potatoes. Short on time? You can skip this step and you'll still have a tasty potato wedge. I do recommend trying to fit this step in if you really love crisp potato wedges. I've made this recipe both ways and my whole family preferred the potato wedges that were soaked in water first.
Add Seasoning to Your Air Fryer Potatoes
Add your seasonings in a large Ziploc bag. Give them a little shake to mix them up. Next, pat your potatoes completely dry before placing them in the bag. (This step is important!) Pour oil over the top and seal your bag. Give them several healthy shakes until your potatoes are well coated.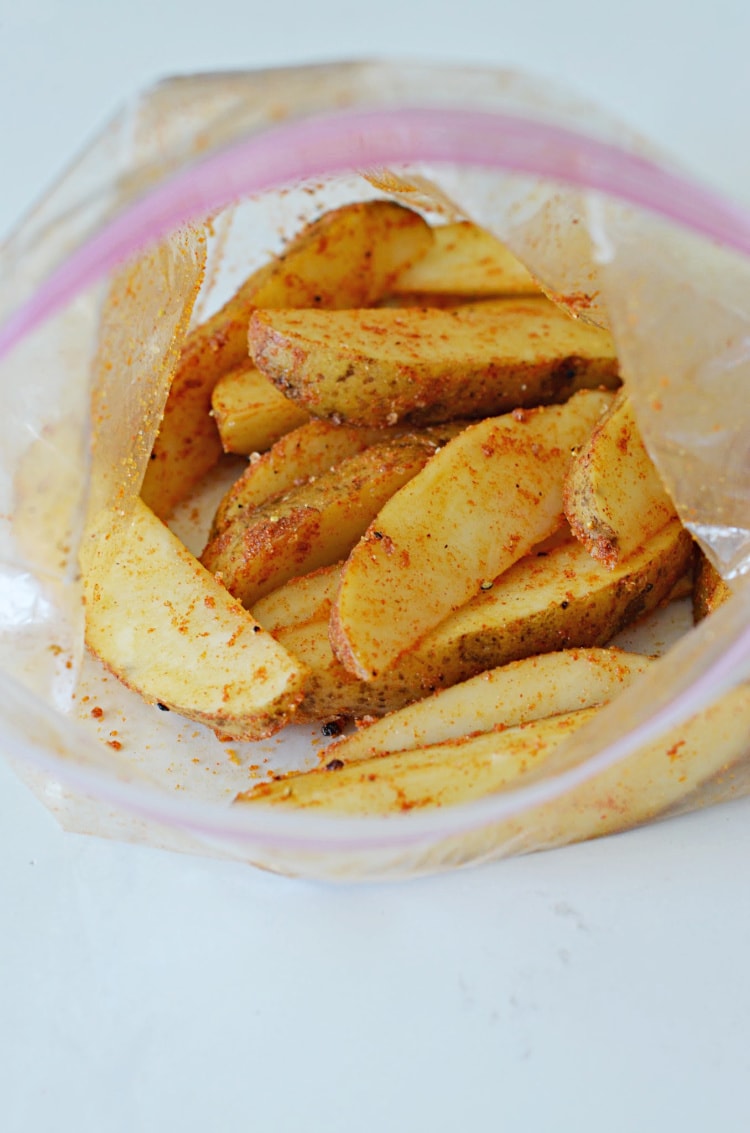 How to Cook Potato Wedges in Air Fryer
Preheat your air fryer to 400 degrees. Place potatoes skin side down, trying not to overlap them. This is critical for best results. I've tried making them just tossing them in the basket the results aren't as good. By placing them skin side up you can skip having to flip them at all and get more in your basket. Win-win. (I did check on them half way through to move them around a bit with tongs for those that overlapped just a tiny bit.)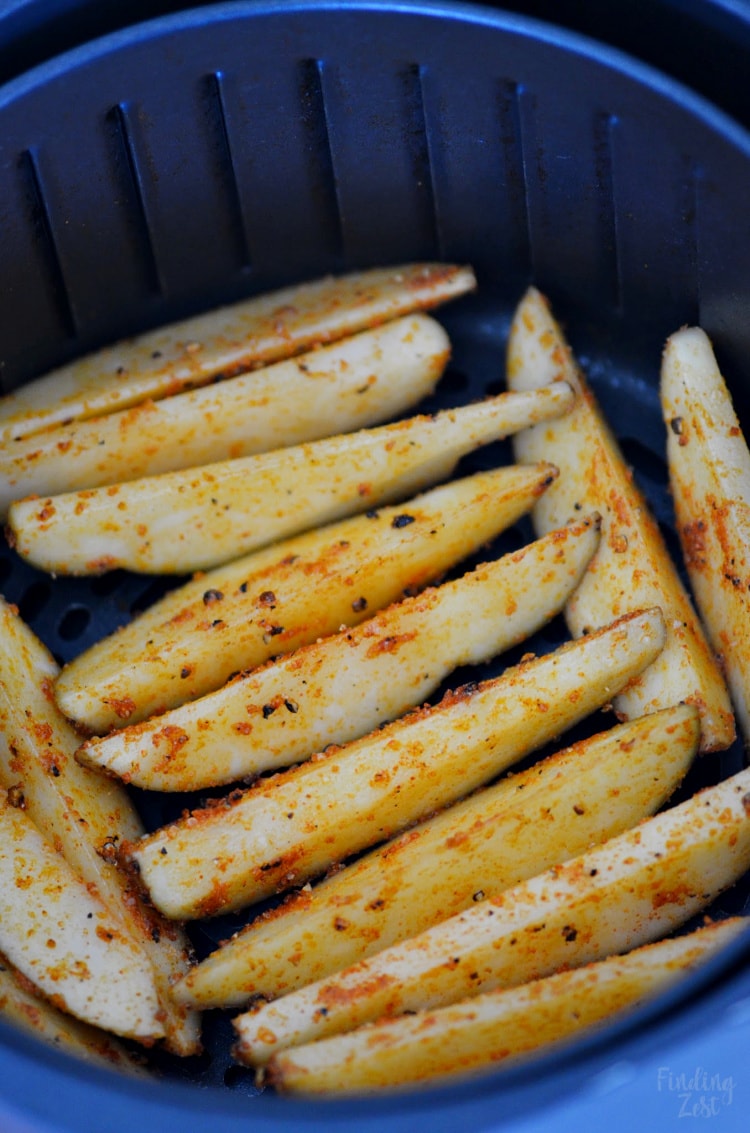 How Long to Cook Air Fryer Potato Wedges
You'll want to cook these potato wedges for approximately 15 minutes at 400 degrees F. (Make sure you preheat your air fryer.)  You could go a little less for thinner potatoes or longer for larger or crispier wedges. Fifteen minutes was perfect in my smaller basket style air fryer. No need to shake them if you put them skin side down in a single layer.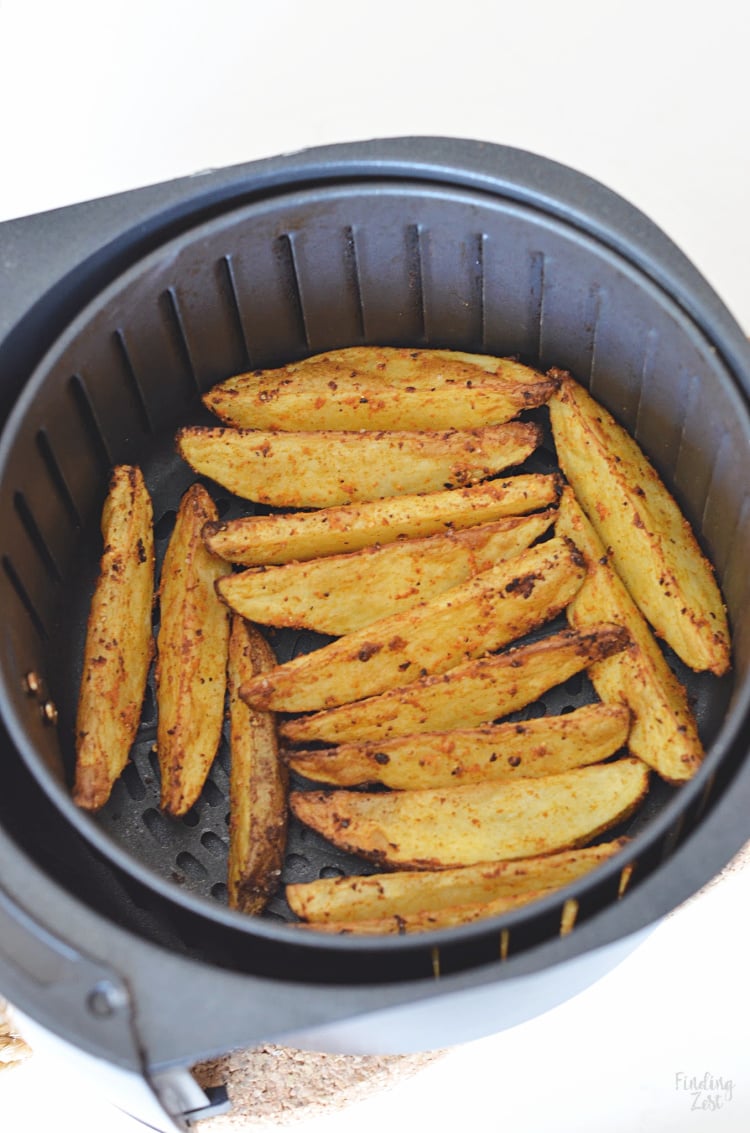 Once completely cooked, these potato wedges are ridiculously flavorful and oh-so delicious!
Dunk them in your favorite condiments for the most tastiest potato wedge! My family couldn't get enough and these potato wedges have become a new favorite side dish in our house. I can't wait to serve them on game day!
I've tried several ways to make these potato wedges but none is better than the potato wedge recipe below. It results in the perfect potato wedge!
Air Fryer Potato Wedges
Ingredients
2

medium

russet potatoes

2

teaspoons

olive oil

1/2

teaspoon

sea salt

1/2

teaspoon

onion powder

1/2

teaspoon

garlic powder

1/2

teaspoon

paprika

1/4

teaspoon

freshly ground pepper

fresh parsley for garnish

optional

water and ice

optional
Instructions
Wash potatoes. Cut each in half lengthwise, then into quarters for a total of 16 wedges. (If you have larger potatoes you may need to cut them down further.)

In large bowl, add potato wedges. Pour cold water and ice over top so they are completely submerged. Let soak 30 minutes. (This step is optional.)

Preheat air fryer at 400 degrees for 5 minutes.

Add potatoes to large ziploc bag. Pour in olive oil and seasonings. Seal bag and shake to fully coat.

Add potato wedges to preheated air fryer, skin side up in a single layer.

Cook for approximately 15 minutes or until potatoes are golden brown and tender, checking on them half way through to move them away from each other for even browning (if necessary)
Recipe Notes
Letting the potatoes soak in ice water will make them crispier, but it is not necessary for a great tasting potato wedge in the air fryer. If you are short on time you can skip this step.
If you have a basket style air fryer, it not necessary to shake them up or flip them over if you put them skin side up. They may however lean against each other so it is best to move them away from each other half way through cooking. (They will shrink a bit while cooking.)
Air fryer potato wedges are the side dish or appetizer you've been missing! Hope you love this recipe as much as we do.