Yesterday we had a very fun play date Halloween party at our house with our friends. We had a blast! But planning a party with smaller children isn't always easy.
I searched high and low for a recipe for a Halloween punch that didn't contain a bunch of extra sugar or soda. That was much more difficult than I could have imagined! I found this one from Better Homes and Gardens which uses sparkling white grape juice in place of soda for the  fizz factor. I altered it slightly and it tasted great! I look forward to trying other juice combinations. I used orange juice but if you want a redder punch, go for cranberry-raspberry. If you'd like a darker color, try using a pure pressed apple juice like that from Simply Orange.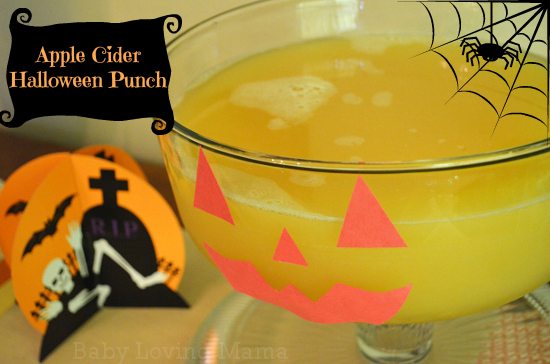 Apple Cider Halloween Punch
Author:
Better Homes and Gardens (slightly altered)
Serves:
13 (1 cup) servings
Ingredients
7 cups apple cider
2½ cups orange juice, cranberry-raspberry juice, or orange-mango juice
½ cup lemon juice
1 750 milliliter bottle sparkling white grape juice or sparkling wine
Instructions
Add juices to punch bowl and stir.
Add sparkling white grape juice slowly, right before serving.
Refrigerate any leftovers.
For added fun, I cut out jack-o-lantern face shapes from construction paper and attached them to the punch bowl with double sided tape. It did wonders to make the punch fit the Halloween theme and was quicker than creating ice cube shapes. Just be sure to have all your ingredients cold when you mix them!