Thank you to Salad Ready Tomato Wedges for sponsoring this baked caprese chicken recipe. Thoughts are my own. 
When planning meals, I'm always looking for simple recipes with simple ingredients that I know my family will love. Baked chicken is a staple but it doesn't have to be boring. Why just season a chicken breast when you can bake it with flavored tomatoes, smother it in mozzarella cheese and serve it over a bed of pasta? This baked caprese chicken is an easy weeknight meal that utilizes all the flavors you love in a caprese salad.  Even better,  it can be oven ready in just 10 minutes!
Caprese Chicken Ingredients
The key to any caprese recipe is tomatoes, basil, balsamic vinegar,  and mozzarella. You can be always be prepared with Salad Ready Tomato Wedges in your pantry. Grown in California, they are unpeeled, gently cooked and come in two varieties – classic red and vibrant tri-color featuring red, orange and yellow tomatoes. And since the tomatoes are marinated in an olive oil and Italian spice blend, you don't have to season them at all to enjoy a flavorful tomato!
From field to sealed in just five hours – a process that locks in freshness, flavor and nutrition – these delicious canned tomatoes can be enjoyed year round.  Salad Ready Tomato Wedges work great for this caprese chicken recipe!
To ensure even cooking and a moist chicken breast, I recommend tenderizing them, especially if they are extremely thick. I created a spice rub and massaged it into both sides of the breast with olive oil.  If you have time to marinate your chicken breasts even better, but it isn't required for this recipe.
I surrounded my chicken breasts with Salad Ready Tomato Wedges and fresh white onion from the farmer's market. I also drizzled balsamic vinegar over the chicken and tomatoes before baking.
Once your chicken reaches 160 to 165 degrees, sprinkle mozzarella cheese over the top and broil until the cheese is fully melted, about 3 to 5 minutes depending upon the position of your oven rack.
Kitchen Tip: Shred a block of mozzarella instead of buying shredded cheese for better melting and overall taste.
Sprinkle fresh basil over the top for garnish. I love the pop of color but you can skip this step if you don't have it on hand.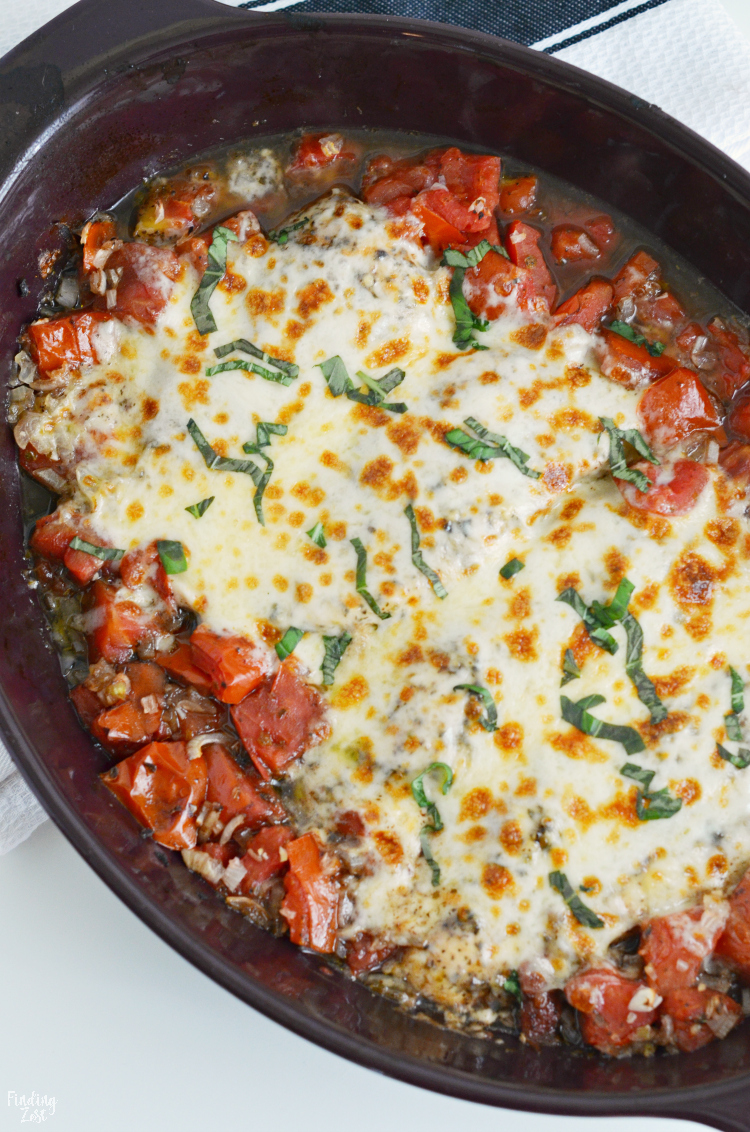 That is all there is to making this caprese chicken! Your family won't be able to resist that gooey cheese pull when serving up this baked chicken recipe.
It is so drool worthy! Serve this chicken with a side salad or over a bed of your favorite pasta. It is delicious!
Baked Caprese Chicken Recipe
Author:
Emilie at FindingZest.com
Ingredients
4 boneless, skinless chicken breasts,
2 cans (10 oz) Salad Ready Tomato Wedges in Olive Oil and Italian Spices, drained
¼ cup chopped onion
⅛ cup brown sugar
1½ teaspoons dried basil
1 teaspoon dried oregano
1 teaspoon sea salt
½ teaspoon freshly ground pepper
4 cloves minced garlic
2 tablespoons olive oil
2 tablespoons balsamic vinegar
1½ cups freshly shredded mozzarella cheese
fresh basil, chopped for garnish (optional)
Instructions
Preheat oven to 425 degrees F.
Pound chicken breasts with meat tenderizer to an even thickness.
Place chicken breasts in large baking dish.
In a small bow,l stir together brown sugar, dried basil, oregano, salt, pepper and garlic to create dry rub.
Drizzle chicken breasts with olive oil.
Massage dry rub into both sides of chicken breast.
Add canned tomatoes and onions around the sides of chicken.
Drizzle balsamic vinegar over chicken and tomatoes.
Bake for 16 to 20 minutes or until chicken is 160 to 165 degrees. (Will depend upon the thickness of chicken.)
Sprinkle with shredded mozzarella.
Broil for 3 to 5 minutes or until cheese is fully melted and bubbly.
Garnish with fresh basil, if desired.
Serve immediately.
Salad Ready Tomato Wedges
Don't forget to pick up Salad Ready Tomato Wedges to have on hand for quick and easy recipes like this chicken caprese pasta. Now available in the canned foods section of grocery stores nationwide, including Walmart, Salad Ready Tomato Wedges are perfect for any season.