Need some little mermaid party ideas? You'll love these versatile little mermaid party favors! This DIY glitter jar can be filled with your favorite candy, drink mix, slime or other trinkets to hand out to guests. The possibilities are endless with this easy party favor idea!
It is no secret that I love to create fun mermaid party ideas. You'll find a whole section dedicated to it on my blog for that very reason ranging from mermaid food to mermaid crafts.  I wanted to create a fun party favor that was versatile and I think I did that with these adorable mermaid jars. Read on to learn how easy it is to make them and tailor them to your mermaid party!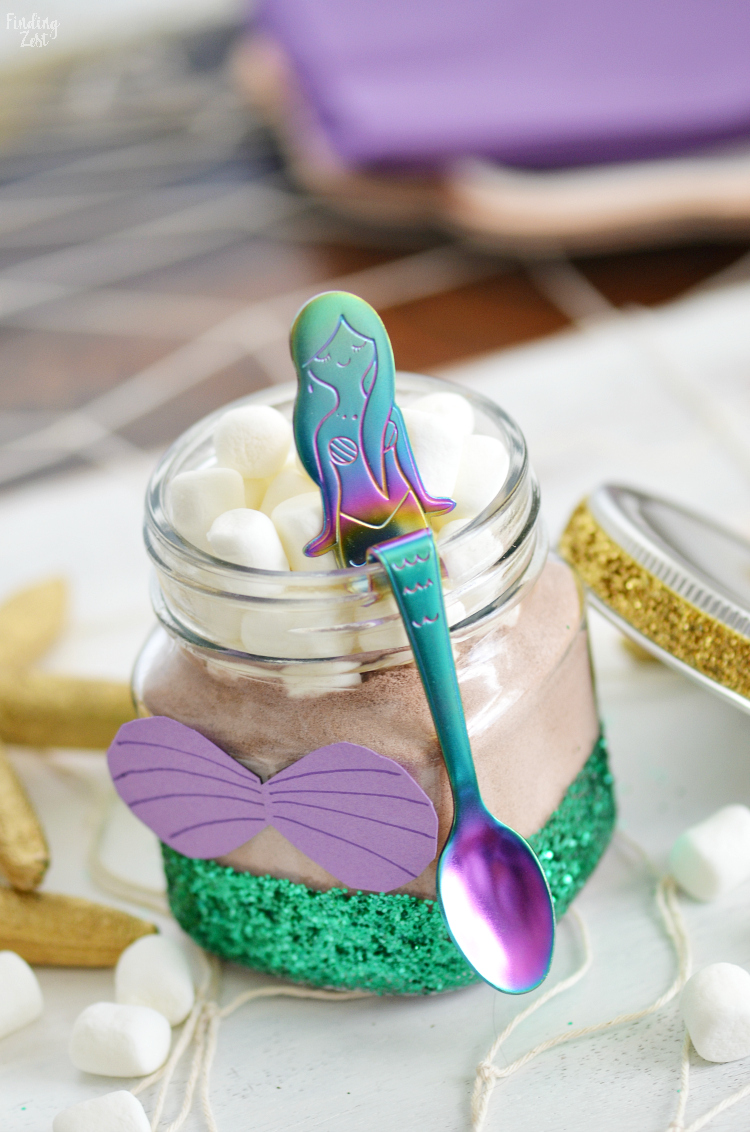 Little Mermaid Party Favor Supplies
To make these mermaid party favors, you'll need a few key supplies including small glass craft jars, glitter, mod podge and cardstock. I wanted to follow the colors of The Little Mermaid so I went with green glitter and purple cardstock to match Ariel but you can make your mermaid jars whatever color you like.
I had all of these supplies already on hand. I used 8 oz. mini glass jars from the dollar spot at Target (found in a 3 pack) but you can also find similar jars online on Amazon or locally at craft stores.  While I used glass, you could also try plastic craft mason jars. Just make sure whatever you buy, they are clear jars with no writing on them.
Golden Spoon Mason Jars, With Regular Lids, And Lids for Drinking, Dishwasher Safe, BPA Free, (Set of 6) (8 oz)
Mod Podge Darice Original 16 Oz Glue, Gloss Finish
Sulyn Kelly Green Glitter Jar, 4 ounces, Non-Toxic, Reusable Jar with Easy to Use Shaker Top, Multiple Slot Openings for Easy Dispensing and Mess Reduction, Green Glitter, SUL51125
Recollections Cardstock Paper, Blue, 8 1/2 x 11 Cool Waters
Sharpie Art Pens, Fine Point, Assorted Colors, Hard Case, 12 Pack (1982057)
Value-Pack 10-Pc Foam Paint Brush Set – Wood Handles by Industrial Tools
Large Punch – Shell
For the seashell cutouts I traced a small shell that I had from a trip to Florida. It is approximate 1 1/4 inch wide which just happens to be the size I found for this large shell paper punch. Using a paper punch would make this step much faster and all of your pieces uniform. I also used a fine tip purple permanent maker to add lines to my seashells.
Mermaid Jar Supplies:
8 oz clear glass or plastic mini jars
mod podge
green glitter
foam paint brush
purple card stock
scissors
large seashell punch (optional)
fine tip purple permanent marker
glitter ribbon or glitter tape
How to Make a Little Mermaid Party Favor Jar
To make your mermaid jar, you'll want to brush mod podge on the bottom half of your mason jar with a foam brush. I went up only about a third of the way on all sides to leave room for my seashell top in the front.
Sprinkle green glitter over the top of the mod podge, being sure to cover the whole area. Dry completely.
While your jars are drying you can make your seashell top. You can make them one of three ways:
Trace an actual seashell and cut them out.
Draw a seashell freehand, cut it out and use it as a pattern to draw the rest.
Use a large seashell paper punch. (shown above)
I then used a fine tip purple pen to draw four curved lines on the seashells.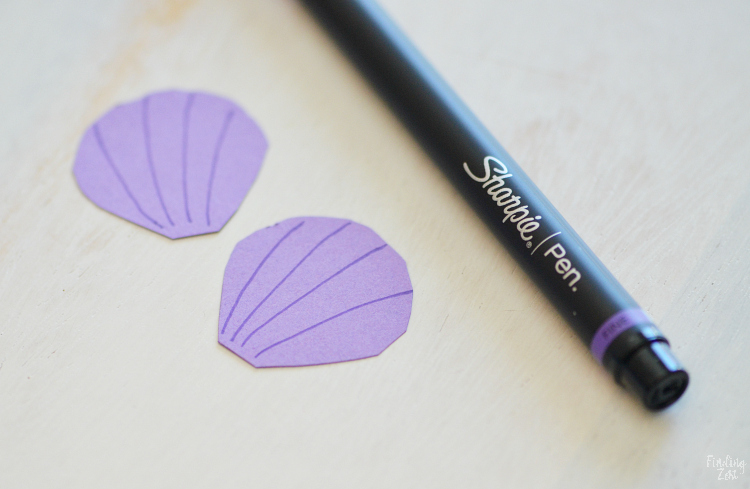 I finished off the top of the jar with gold glitter ribbon I had in my Christmas wrap stash. I think glitter tape would work even better!
How to Fill Your Little Mermaid Party Favor Jar
There are so many options for filling your mermaid jar. Since the green glitter and purple seashells mimic the colors of Ariel's fins and top, I loved the idea of using bright red candies to match her hair inside the jar.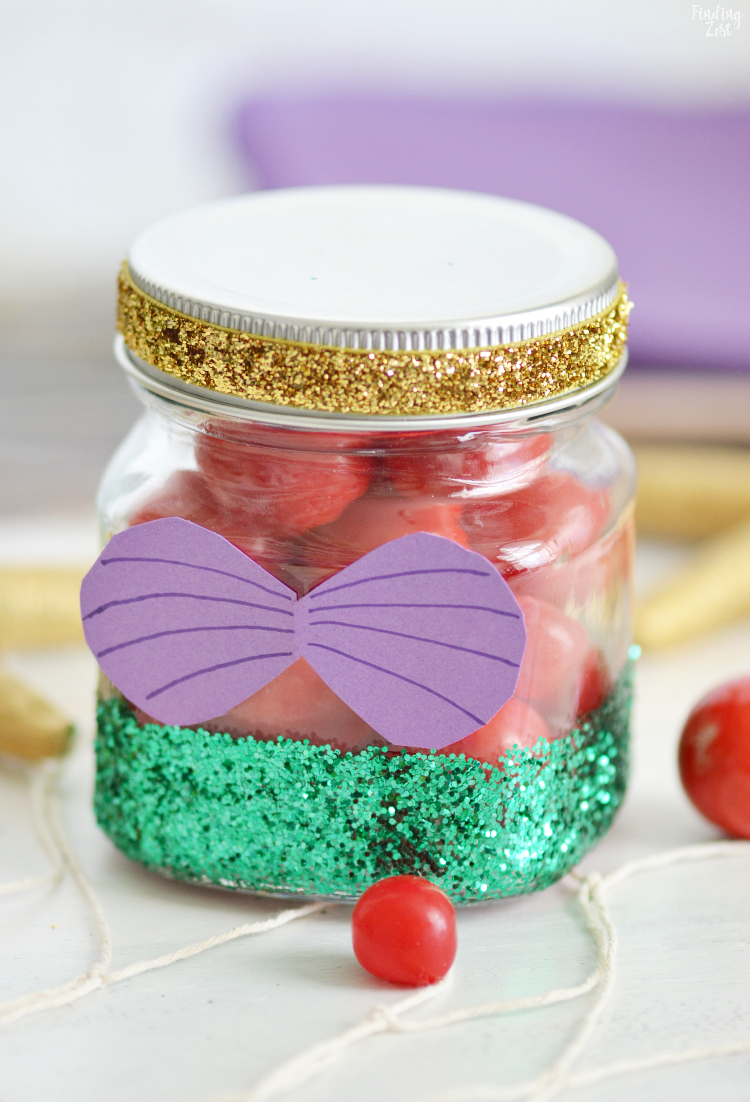 I filled my jar with red gumballs and red cherry sours but any red candies would do.
Another option is to use these adorable mermaid spoons! They are very affordable and available in wide variety of colors on Amazon.
One way to use the mermaid spoons is to fill the favor jar with hot chocolate mix and top with marshmallows to mimic white sea foam.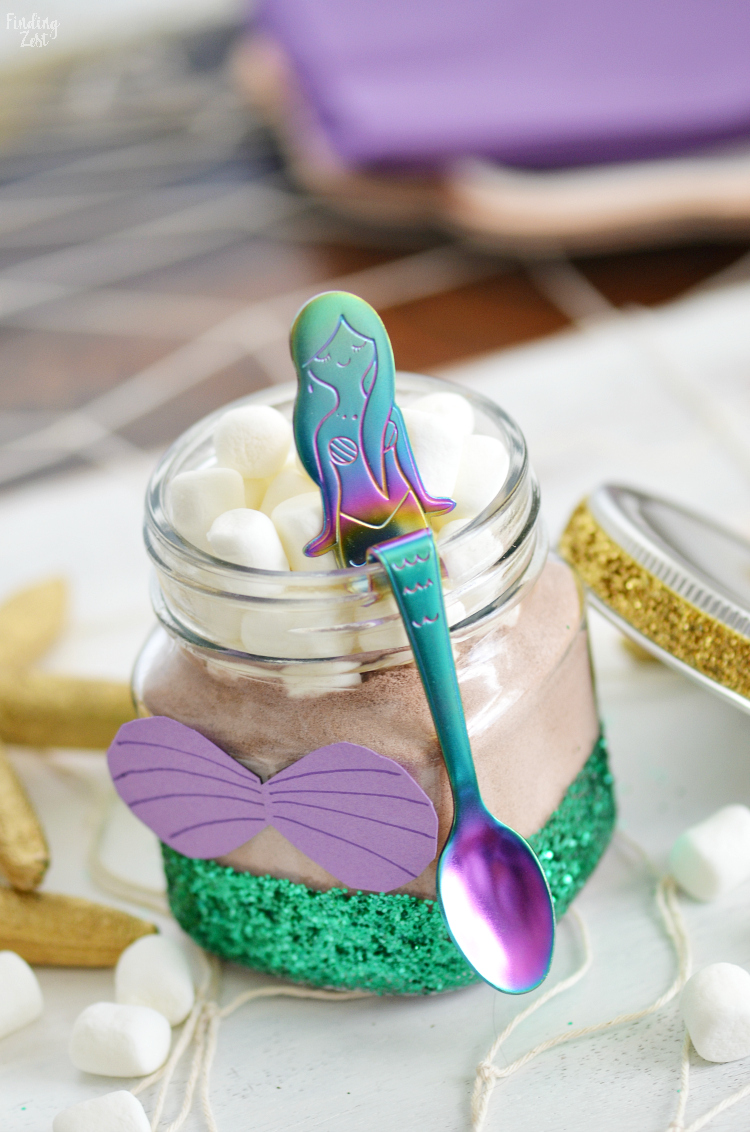 I used my glitter ribbon to attached the mermaid spoon to the outside of the party favor jar. It isn't quite as flashy as the red options but creates a really pretty effect.
Party Favor Jar Fillers
Here are a few options I found on Amazon for your party favor jars. The possibilities though are endless.
Baring Little Teaspoons Cute Mermaid Stainless Steel Hanging Coffee Spoon Teaspoon Sugar Spoon Ice Cream Desert Spoon Hanging Spoons Cup Soup Multi-functional Kitchen Tools Set (Pack of 5) (Mermaid)
niceeshop Stainless Steel Dessert Spoons, (TM) Mermaid Spoon Hanging Coffee Spoon Teaspoon Sugar Spoon Ice Cream Spoon, Rainbow Color
Sweetworks Gumball, Red, 2 Pound
Happy Candy Chewy Sour Cherry Balls – Gluten Free, Fat Free, Dairy Free – Resealable Pouch (1 Pound)
Red Hots Cinnamon Candy, 10 Ounce Bag, Pack of 6
Swiss Miss Classics Hot Cocoa Mix, Milk Chocolate, 58.4 Ounce
You could also skip the edible route and instead fill it spa items such as bath salts. Wouldn't lavender salts look so pretty? Red slime would also look awesome in this jar.
I use the spoons featured in this post also for my mermaid hot chocolate which makes a great birthday treat or any time dessert.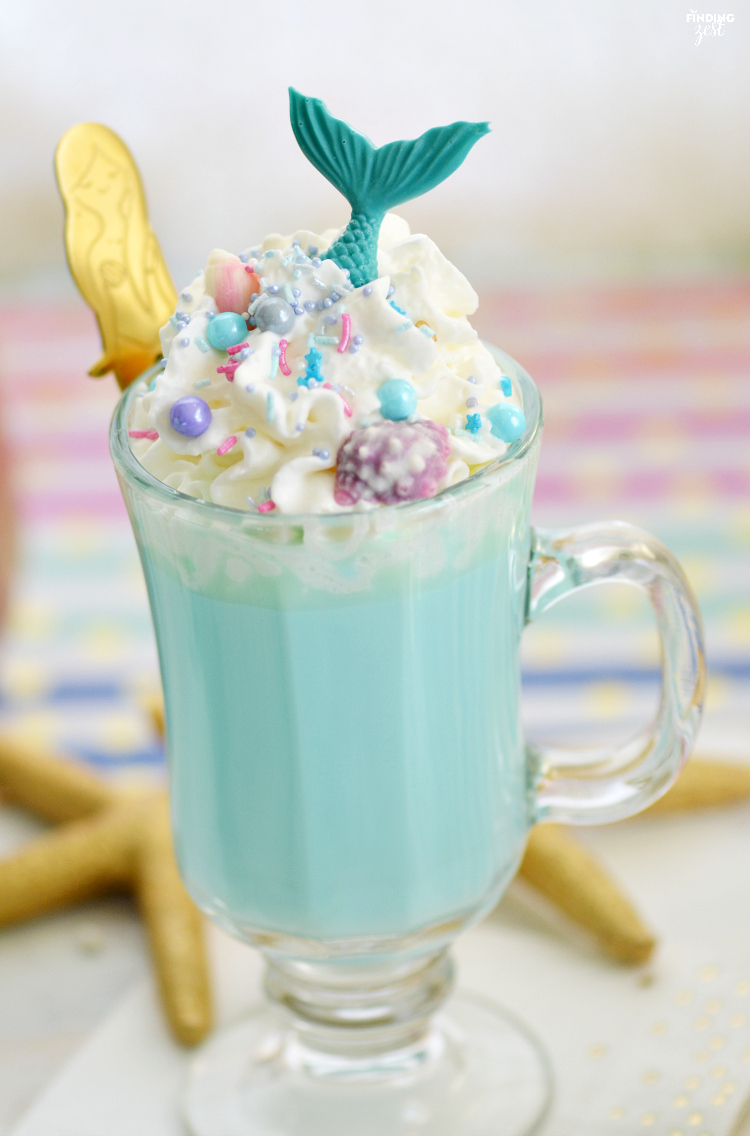 For more great mermaid ideas, be sure to check out my mermaid party section.