I am a sucker for coffee cake. Really, what is not to love about cake that you can get by with eating in the morning without guilt? And it does happen to taste great with a warm cup of coffee. Last week I made this Banana Pecan Coffee Cake with my two year old. He begged me to bake because he loves being in the kitchen with me. I happened to have some over ripe bananas on my counter so it was an easy choice.
This coffee cake was a huge hit with my family. My sons Lucian and Wesley especially went nuts and were disappointed when it was gone.
Banana Pecan Coffee Cake
Ingredients
½ cup butter, softened
1 cup sugar
2 eggs, beaten
1 teaspoon vanilla
1 cup mashed banana
¼ cup plain yogurt (or vanilla)
1½ cups flour
1 teaspoon baking powder
1 teaspoon baking soda
⅔ cup chopped pecans
¼ cup brown sugar
1 teaspoon cinnamon
Instructions
Preheat oven to 350 degrees.
In medium bowl, beat butter and sugar until well mixed. Add eggs, vanilla, mashed banana and yogurt. Beat well.
In separate bowl, stir together flour, baking powder and baking soda.
Stir together flour mixture with banana mixture, just until combined.
Pour batter into greased 8"x8' square pan.
Stir together chopped pecans, brown sugar and cinnamon.
Sprinkle over top of cake batter.
Bake 40-45 minutes or until toothpick inserted in center comes out clean.
Cool for at least 15 minutes before serving.
The recipe creates a very soft cake that is similar to banana bread, but less dense.  You can easily substitute sour cream for the yogurt and swap out walnuts for the pecans or skip the nuts altogether. I love to tailor recipes for my family!
If you love coffee cake recipes as much as I do, be sure to try this Pumpkin Coffee Cake.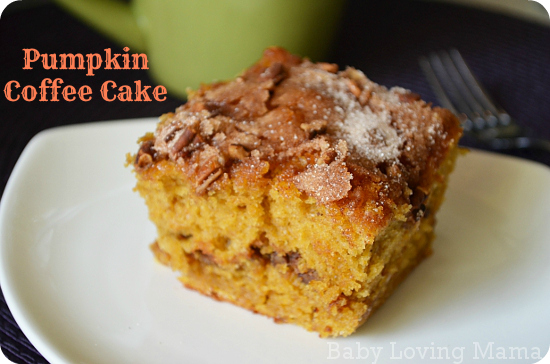 I also highly recommend this Blueberry Coconut Coffee Cake found on my baking blog, Oh My! Sugar High.
Now you can have your cake eat it too, first thing in the morning!