This is a sponsored blog; while the views expressed here were genuinely mine, consideration was paid to me by Bays English Muffins to review this product.
When it comes to pizza, there are some topping combinations that I really enjoy like Canadian bacon and pineapple or barbecue sauce with chicken. While I like traditional toppings, I find it more fun to mix things up. When I heard about the Bays Pizza Genius Sweepstakes (see more on that below), I thought it would be fun to use some of my favorite items I already had on hand in my refrigerator to create a winning combination. Since I do believe in the notion that everything is better with bacon, I decided to make a Banana Pepper and Bacon English Muffin Pizza.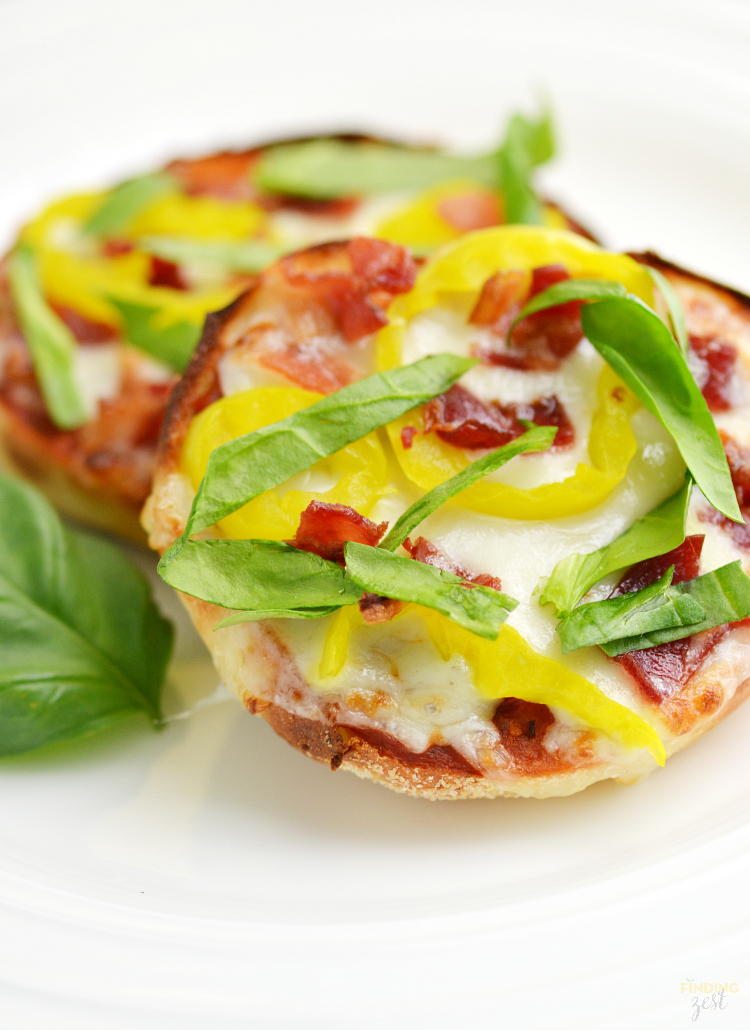 This recipe is so easy to prepare in less than 15 minutes. To prepare, you'll want to toast your favorite variety of Bays English Muffin.
Then top with pizza sauce, freshly grated mozeralla cheese, precooked bacon and some banana pepper slices.
After broiling for just a couple of minutes the cheese will be beautifully melted and your toppings nice and warm. I added some fresh spinach ribbons for more color, but you can substitute fresh basil or leave that out if you prefer.
Banana Pepper and Bacon English Muffin Pizza + Bays Pizza Genius Sweepstakes
Author:
Emilie at FindingZest.com
Ingredients
1 BAYS English Muffins, any variety, split
2 tablespoons pizza sauce
⅓ cup freshly grated mozzarella cheese
1 slice pre-cooked bacon, chopped
2 tablespoons mild or hot banana pepper slices
2 spinach leaves, slices into ribbons (optional)
Instructions
Toast English Muffins in toaster.
Place on baking sheet and top with pizza sauce, cheese, bacon and banana peppers.
Broil 2 minutes or until cheese is melted.
Top with spinach leaves, if desired. Serve immediately.
It turned out so good! I love how soft my Bays English Muffin was as a pizza base and liked I could make a pizza just for me, the way I wanted it. I definitely want to make these with the kids and offer a variety of toppings so they can make their own English muffin pizzas, just the way they want them.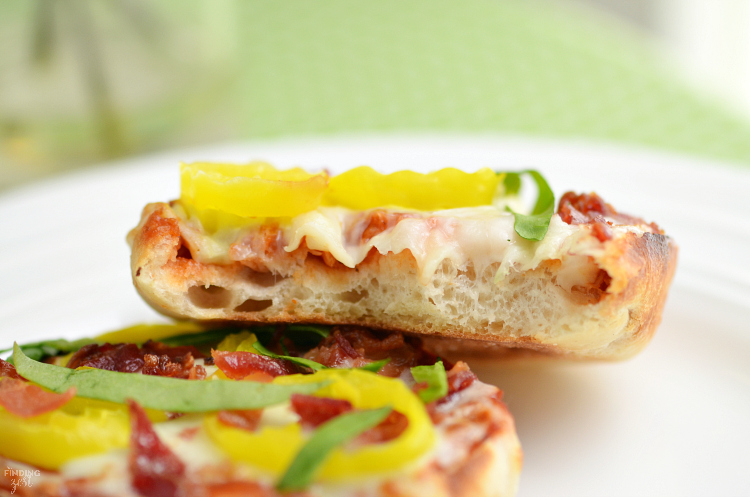 PIZZA GENIUS WANTED!
Do you rule in the kitchen, when it comes to toasting up some tantalizing treats for your family and friends?
Have you ever made pizzas on English muffins? Did you toast your English muffin before you melted the cheese on them? Did you use olive oil, tomato sauce or something else as your base? Did you broil or bake? Did you spice it right? If you haven't tried Bays English Muffin pizzas, you're missing something tasty that's super easy to make.
All you have to do is grab your favorite toppings, pour on some sauce and get toasting. Bays makes it easy, delicious and fun. And, everyone can create their own masterpiece using Bays English Muffins as the blank canvas.
The good news is that anyone can be a Bays Pizza Genius.
Enter the Bays Pizza Genius Sweepstakes
Click on this link to enter every day for a chance to WIN a countertop Pizza Maker Oven and two packages of Bays. Enter and share why you are a Bays Pizza Genius from February 27– March 18, 2017. The official rules are located at bays.com. There's no purchase necessary.
New Bays English Muffins Pizza Recipes
If you want to start cooking your Bays Pizza Muffins now, there are some terrific new pizza recipes at www.bays.com:
BBQ Chicken Pizza – Make this family friendly meal any night of the week
Gorgonzola Pear Pizza – Try this Italian flavor combo anytime
Pizza Margherita– Freshen up a classic with select ingredients
Shitake Mushroom Herb Pizza–Dress up your Bays with this elegant recipe for dinner
Fig Prosciutto Arugula Pizza– Make mouths water with this sweet and salty show stopper
Southwest Shrimp Bacon Pineapple Pizza –Fire up the fresh taste of a Hawaiian pizza
Watch this video and you will see how easy it is to be a Bays Pizza Genius!
There are four varieties of Bays English Muffins: Original, Honey Wheat, Sourdough and Multi-Grain. You can find them in your grocer's refrigerated case next to the eggs. They're great to always have on-hand for a quick meal or snack!