St. Patrick's Day is coming up in a few weeks and I like to do something fun with food for the holiday. Last year I made these super fun Fruit Rainbow Angel Food Cake and Mini Irish Flag Fruit Skewers that the kids loved. This year I'm on a roll with green food with last week's Shamrock Smoothie Bowl and now these Green Ombre St. Patrick's Day Pancakes, complete with a fresh fruit salsa topping.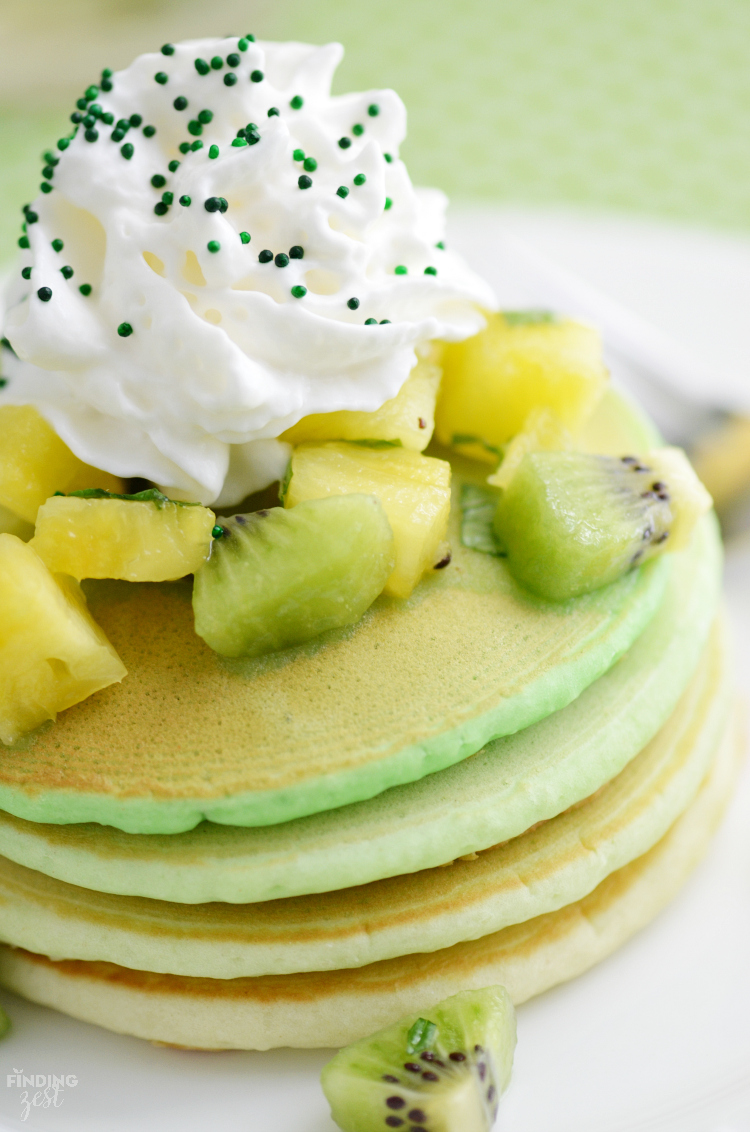 My whole family loves breakfast foods so we enjoy them all times of the day. Wesley and I made these fun green pancakes on a bright and sunny Saturday morning.
I wanted our pancakes to have some color besides with just the batter. So we made a fresh fruit topping.
It is amazing what a little honey, lime juice and mint can do to bring out the flavors of fresh fruit!
If you want to skip the food dyes altogether, you can simply make your favorite pancakes and top them with the fruit salsa. The green kiwi and gold pineapple still fit the St. Patrick's Day theme.
If you switch out the pineapple for oranges you can follow the colors of the Irish flag!
To make our green ombre pancakes, I simply prepared our usual pancake batter. I started with only three drops of food coloring. The batter turned green but the final result was really light. You may want to start with more, depending upon how dark you'd like your pancakes.
I found that the batter changed as I went along, probably because of the addition of the food coloring and the necessary stirring with each addition. Normally you want to stir pancake batter just until mixed.
I could't pass up the opportunity to add some whipped cream!
I even added a few green sprinkles for fun.
Green Ombre St. Patrick's Day Pancakes with Fruit Salsa
Author:
Emilie at FindingZest.com
Recipe Type:
Breakfast/Brunch
Ingredients
2 fresh kiwis, peeled and chopped
1 cup fresh pineapple, chopped
2 large fresh mint leaves, chopped
1 tablespoon honey
1 tablespoon lime juice
your favorite pancake recipe
whipped cream
green food coloring
green sprinkles (optional)
Instructions
To make salsa, stir together kiwi, pineapple, mint, honey and lime juice.
Refrigerate until ready to serve.
To make green ombre pancakes, start by adding a few drops of food coloring to your favorite pancake batter. How much will depend upon the amount of batter. Just to be sure to go up by the same increments each time. (I started with 3 drops and went up by increments of 3 for each group.)
Plate pancakes from lightest to darkest on plate.
Top with fruit salsa, whipped cream and sprinkles (if desired).
Serve immediately.
This breakfast was definitely a hit and a break from the norm. These are the perfect St. Patrick's Day pancakes!
What have you been up to with your mini chefs this week?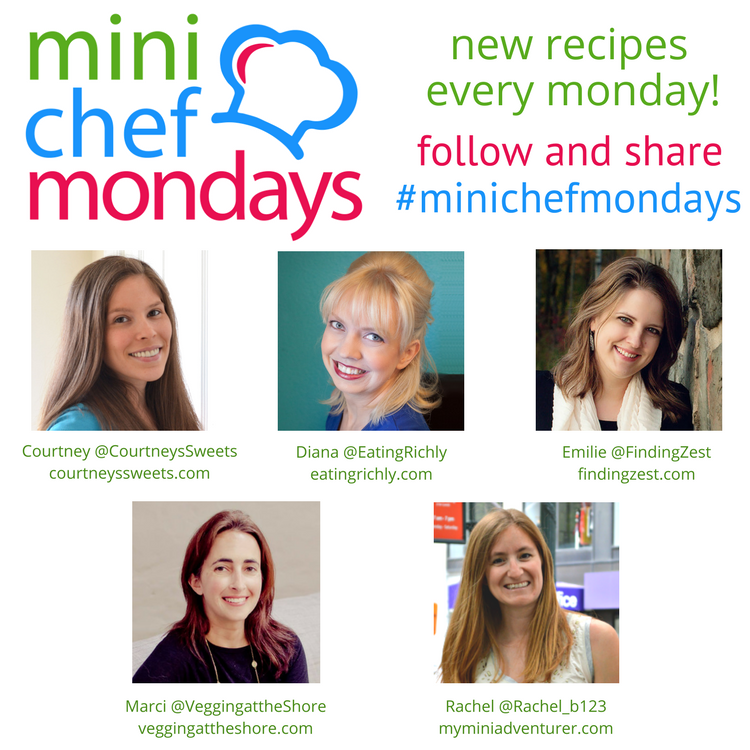 I am hosting Mini Chef Mondays along with 4 fabulous bloggers, find out more about the Mini Chef Mondays Team!
Join our facebook group to find even more recipes and share your own recipes!
Get featured and follow us too!
Be sure to check out each of their Mini Chef posts as well!