I enjoy making treats for Halloween more than any other holiday. How could I not? Nothing is off limits. I can make such a wide range of treats from cute to disgusting and both are entirely acceptable. And I'm not going to lie, my boys really love it when I make something gross. I came up with this bloody popcorn with bones for Halloween by chance and it turned out pretty awesome.  I also made a bloody bowl out of some leftover edible fake blood. I love the look for this Halloween popcorn!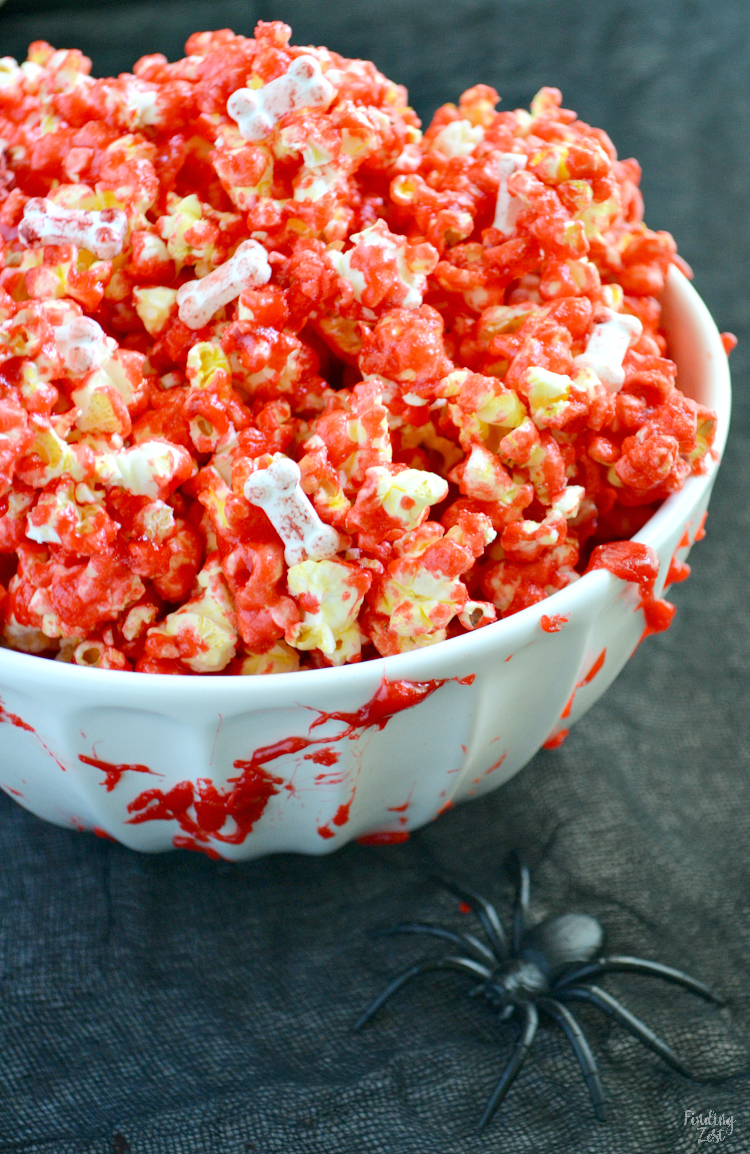 The inspiration for this recipe came from these Wilton jumbo bones sprinkles that caught my eye at Walmart.  They are not recommended for baking. In fact, they are more like a hard candy with a nice sweet taste. So while it was so tempting to bake them into some sort of red velvet cake cookie, I knew it wouldn't work. I thought a snack mix might be more appropriate, but I really wanted to play on the blood found on the bones.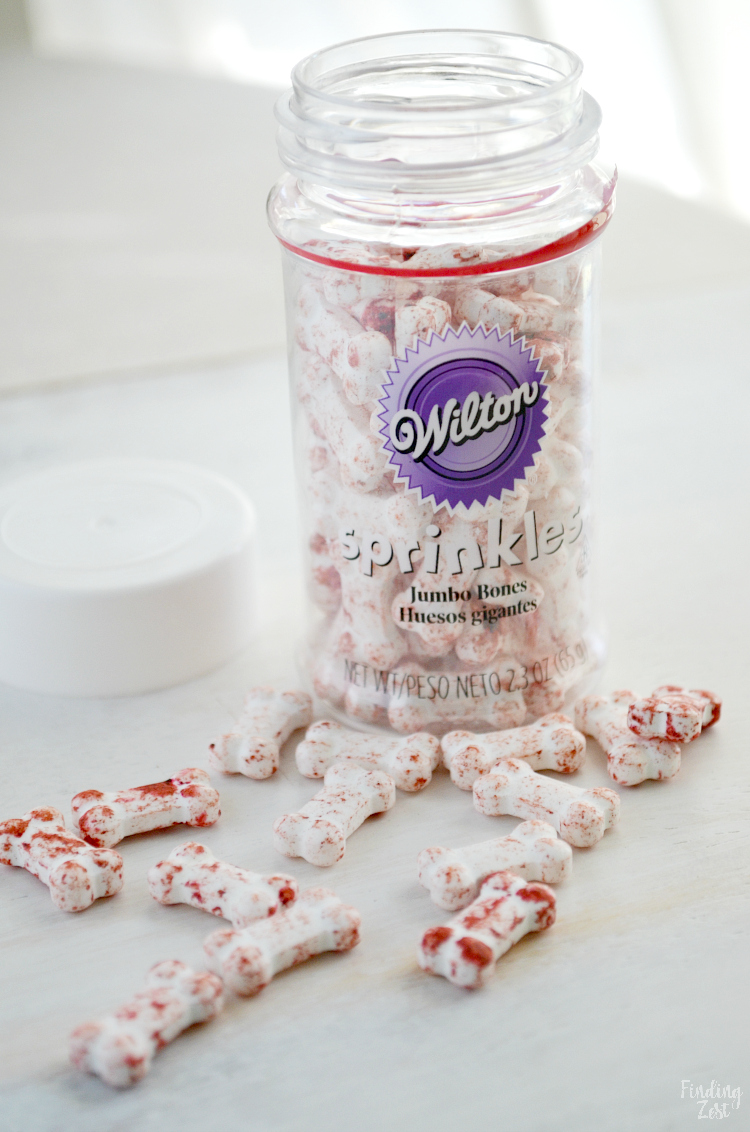 Bloody Popcorn with Bones Supplies
Wilton 710-2053 Bloody Bones Sprinkles
Wilton Skulls & Bones Sprinkles
Jell-O Raspberry Gelatin Mix 3 Ounce Box
DOWAN 2 Quart Porcelain Serving Bowls – 2 Packs, White, Anti-slipping, Stackable
I remembered seeing a recipe from Kraft for JELL-O Rainbow Popcorn and thought it would be a perfect way make a salty snack sweet and bloody.  I picked up a box of raspberry flavored JELL-O so it would have a deep red color and appear more blood like. However, you can choose your favorite red gelatin.
How to Make Bloody Halloween Popcorn
The key to this bloody Halloween popcorn recipe is to move fast. This fake blood will start to harden FAST once it is removed from heat. You'll also want to move quickly to stir your popcorn to evenly coat. I used a silicone baking sheet for baking and found it worked great to avoid a mess.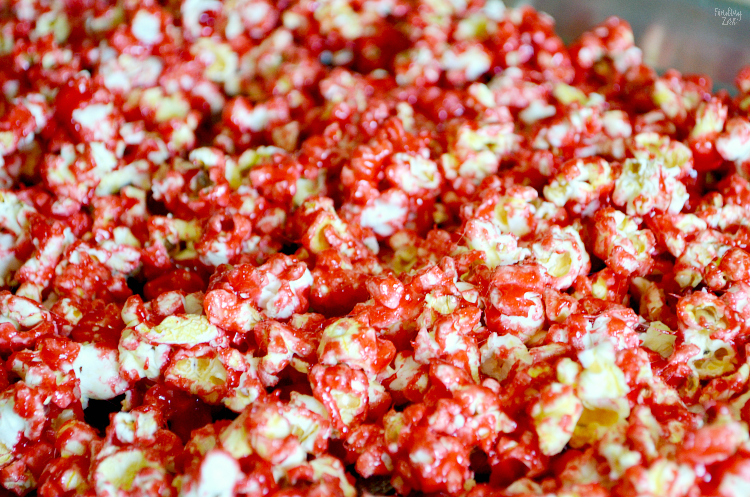 Immediately after my popcorn came out of the oven, I carefully added bones to the still wet parts of the popcorn so they would stick and pressed down lightly with a fork. Be careful not to actually touch the popcorn.
How to Make a Edible Fake Blood Bowl
You can use this same recipe to make anything appear bloody. And because it is edible and turns rock hard, you can easily make all your serving pieces match for Halloween. I had noticed a bit of left over gelatin mixture in my pot and mixing bowl after placing my popcorn in the oven. So I got the idea to use the excess to make my serving bowl appear bloody as well.  I placed the pot back onto the stove to heat so the fake blood could soften again.
Directions
Flip bowl upside on a silicon baking sheet.
Using a fork, flick the hot gelatin mixture onto the bowl. Keep in mind that this sugar and gelatin mixture can be extremely hot, so you'd want to be careful.
It will harden rather quickly so move fast to create the look you want. Larger pieces that had hardened slightly worked great to resemble flesh. I flipped the bowl back over to have some of the fake blood hanging into the bowl as well.
Allow to harden before using it for serving. To clean, simply soak in hot water and soap.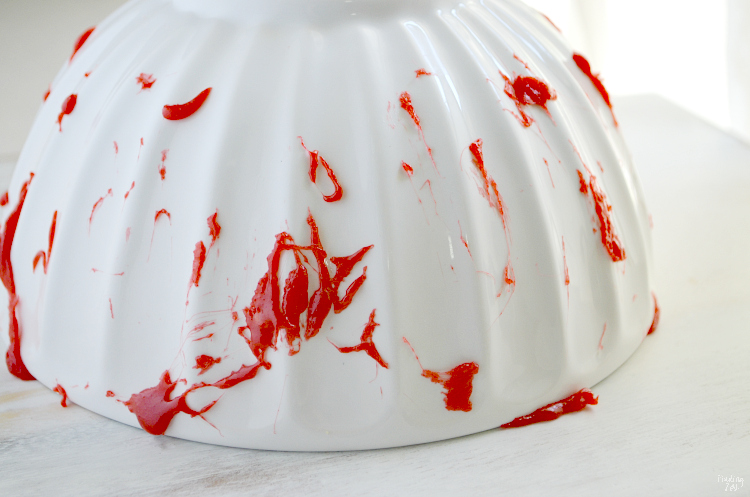 You can even create larger, fleshy looking parts by simply flicking the gelatin mixture onto a silicon baking sheet. Once it hardens, you can peel the gelatin off. The possibilities are really endless!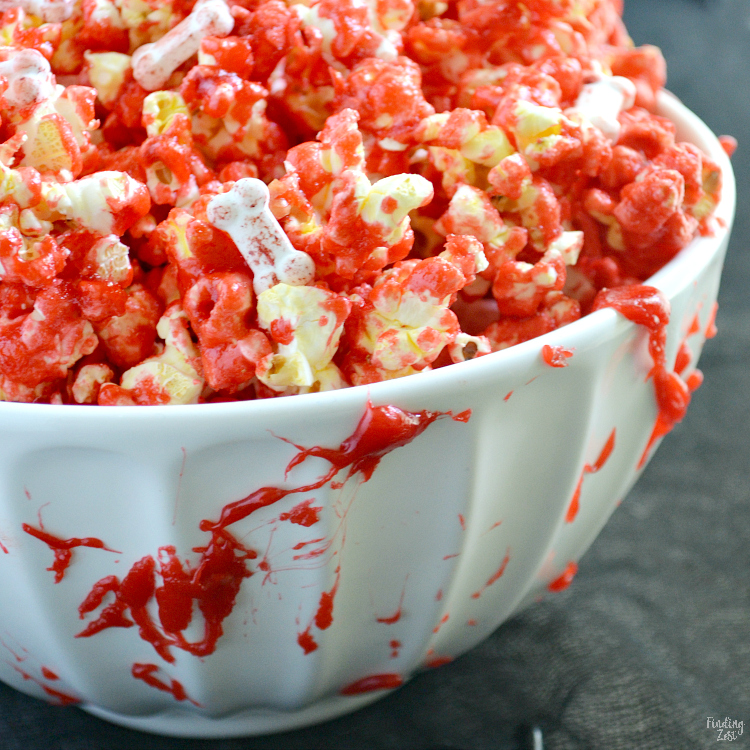 Bloody Popcorn with Bones
Author:
Slightly Altered from Reynolds
Recipe Type:
Snack, Dessert
Ingredients
9 cups popped popcorn
¼ cup butter
3 tablespoon light corn syrup
½ cup packed light brown sugar
1 pkg. (3 oz.) JELL-O Raspberry, Cherry, or Strawberry Flavor Gelatin
2 tablespoons Wilton Jumbo Bones
Instructions
Preheat oven to 300°F.
Line 15x10x1-inch (or larger) baking sheet with aluminum foil, parchment paper or a silicone baking sheet to avoid sticking.
Add popcorn to large bowl and set aside. (I used 1 and ½ bags of microwave popcorn)
In small saucepan, melt butter and corn syrup over low heat.
Add brown sugar and gelatin, stirring until dissolved.
Over medium heat, bring gelatin mixture to a boil.
Simmer 5 minutes on low heat, stirring often.
Immediately pour over popcorn mixture and toss to evenly coat. (Mixture will harden quickly)
Spread popcorn out on baking sheet, using two forks to break up evenly.
Bake 10 min.
Immediately sprinkle candy bones on popcorn, pressing down slightly with fork over popcorn. Cool.
Break into small pieces and store in airtight container.
This bloody popcorn mix is perfect for serving guests or as party favors. You can also enjoy this special treat any time. I found the popcorn to be absolutely delicious, if a bit sweet. My kids went nuts for the raspberry flavor and couldn't stop talking about their bloody popcorn.
Happy Halloween!