Wesley and I love dipping tasty things in chocolate. From healthier options like Chocolate Banana Sundae Bites to the not-so-healthy (but super fun) Chocolate Dipped Sundae Marshmallows, we've featured a lot of different chocolate dipping ideas for Mini Chef Mondays. Last week Wesley and I were dipping some heart shaped apples, but we had plenty of leftover chocolate. Rather than dip something salty like pretzels, I dug out some fruit options. We chose blueberries to try something different and created these easy Blueberry Chocolate Clusters.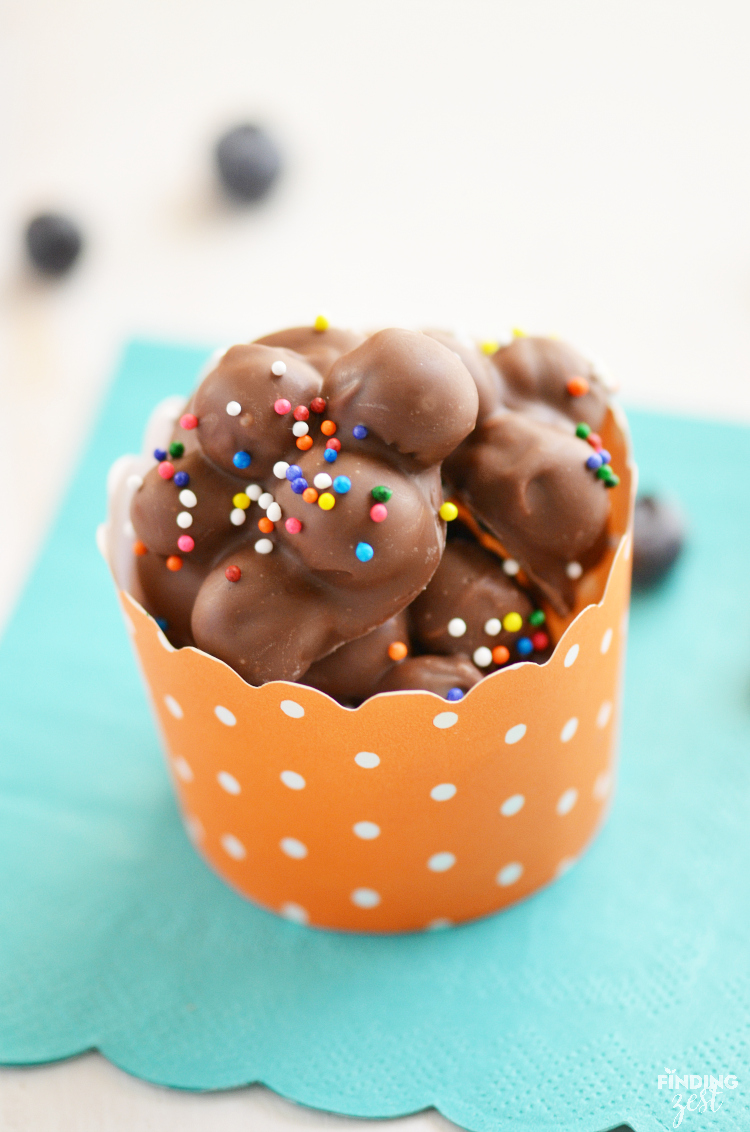 I had Wesley pick out blueberries that were nice and firm and remove any stems.
After washing we made sure to dry them really well to avoid any issue with our chocolate.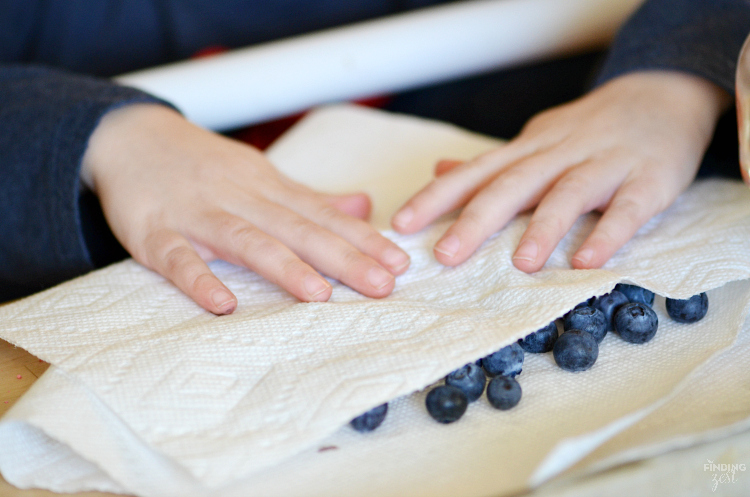 We dipped a handful at a time, but if you are very careful you can do more at once. If your mini chef is young and you think may crush the blueberries, it is best to drop a few at a time or do that part yourself.
To make our blueberry chocolate clusters more colorful, Wes added some rainbow non-preils over the top.
You definitely want to keep these clusters refrigerated to avoid your blueberries getting mushy. Because they are smaller, they heat up more than other fruits after being dipped in chocolate so I suggest moving them to the fridge to cool.
Blueberry Chocolate Clusters
Author:
Emilie from FindingZest.com
Recipe Type:
Dessert/Snack
Serves:
12 (approximately)
Ingredients
⅔ cup fresh firm blueberries, washed and well dried
½ cup milk chocolate chips
1 teaspoon oil or shortening
sprinkles (optional)
Instructions
Melt chocolate chips and oil in microwave, just until melted, stirring often..
Carefully fold in blueberries.
Gently drop by spoonfuls onto lined baking sheet.
Add sprinkles, if desired.
Refrigerate until chocolate is set.
Transfer to air-tight container and store in the fridge. Best if enjoyed within 2 days.
My husband and kids all of loved these blueberry chocolate clusters! They make a fun and easy snack or dessert and can fit any holiday based on your sprinkles. Here are some fun combinations for Valentine's Day, St. Patrick's Day, Easter or any day!
Wilton 710-4065 Rainbow Nonpareils Food Decorative, 7.5-Ounce
Wilton 710-6245 Valentine Nonpareils Sprinkles, Multicolor
Wilton 710-956 Spring Nonpareils Bottle, 5-Ounce
Wilton Sprinkle Mix, 3-Ounce, St. Patrick's Nonpareils
Wilton 710-0091 Holiday Nonpareils, 7.5-Ounce
Nonpareils Sprinkles 3oz-White
& 
What have you been up to with your mini chefs?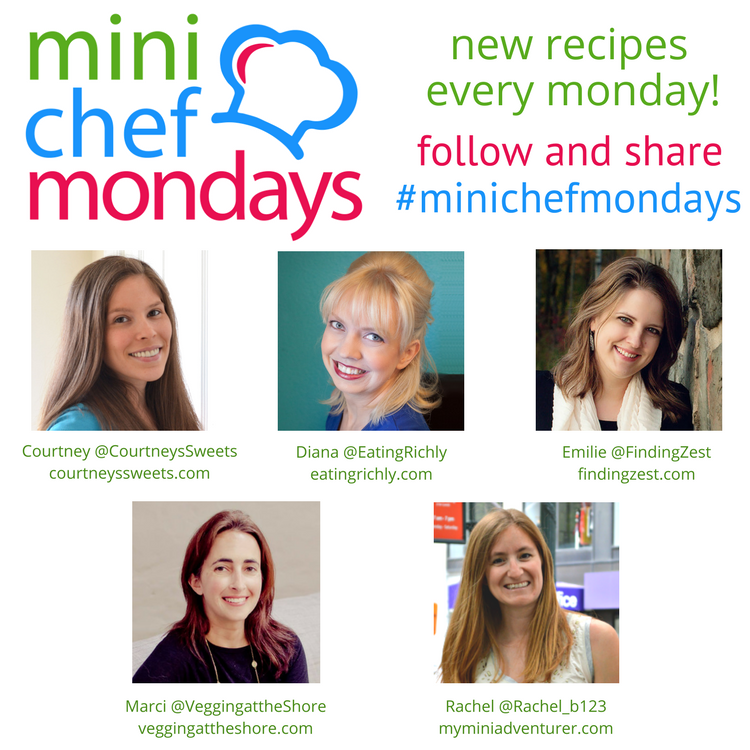 I am hosting Mini Chef Mondays along with 4 fabulous bloggers, find out more about the Mini Chef Mondays Team!
Join our facebook group to find even more recipes and share recipes too!
Get featured and follow us too!
Be sure to check out each of their Mini Chef posts as well!