This post is brought to you in partnership with Old El Paso and Walmart. Thoughts are my own.
When football season starts each year, I have a renewed sense of hope that this will be the year that my team makes it into the big game. Unfortunately, each year I've been wrong. Because I have a love of the game, I still always look forward to watching, even though my team isn't playing. It certainly makes watching less stressful when I can just enjoy what I hope will be a close game without strong feelings about who wins. The food therefore always takes center stage. I love my newest recipe, Football Taco Boats for game day. They are perfect for tailgating at home!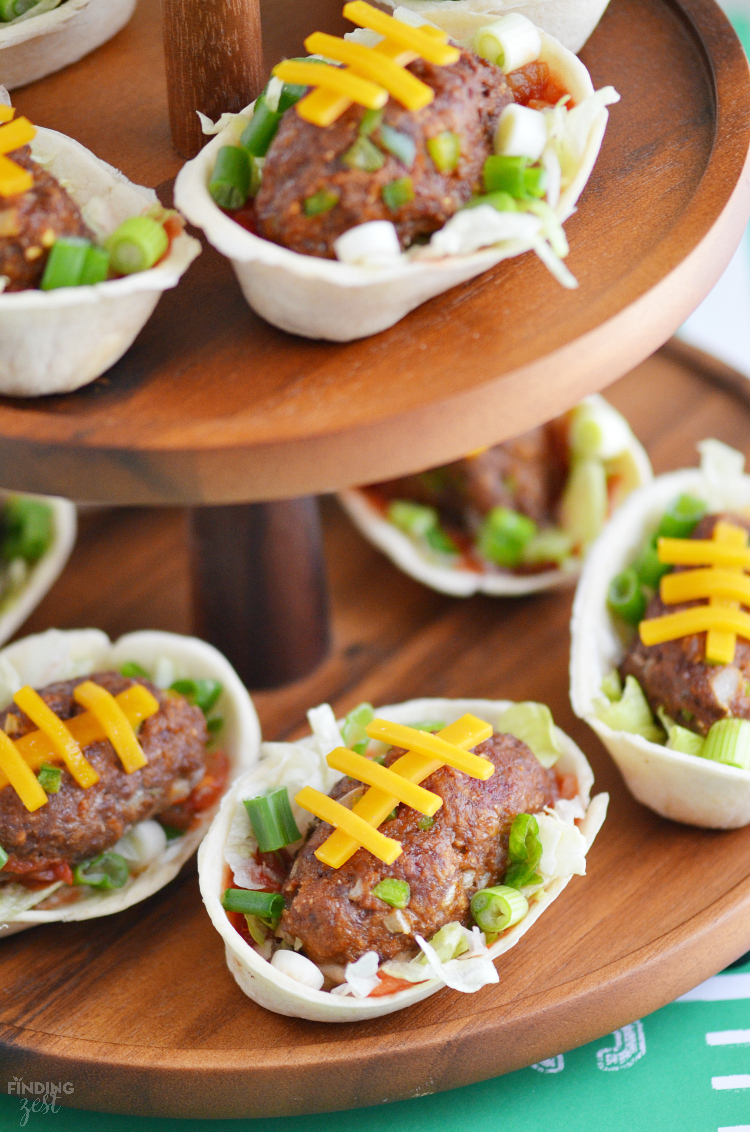 When I'm searching for the perfect fan fuel, I like things that can be served up in fun ways. These Old El Paso Mini Flour Tortilla Taco Boats are a fun twist on on a classic.
I've found that Walmart has the best selection. These taco boats are available in multiple varieties at Walmart, including this party pack of 20, perfect for feeding a crowd.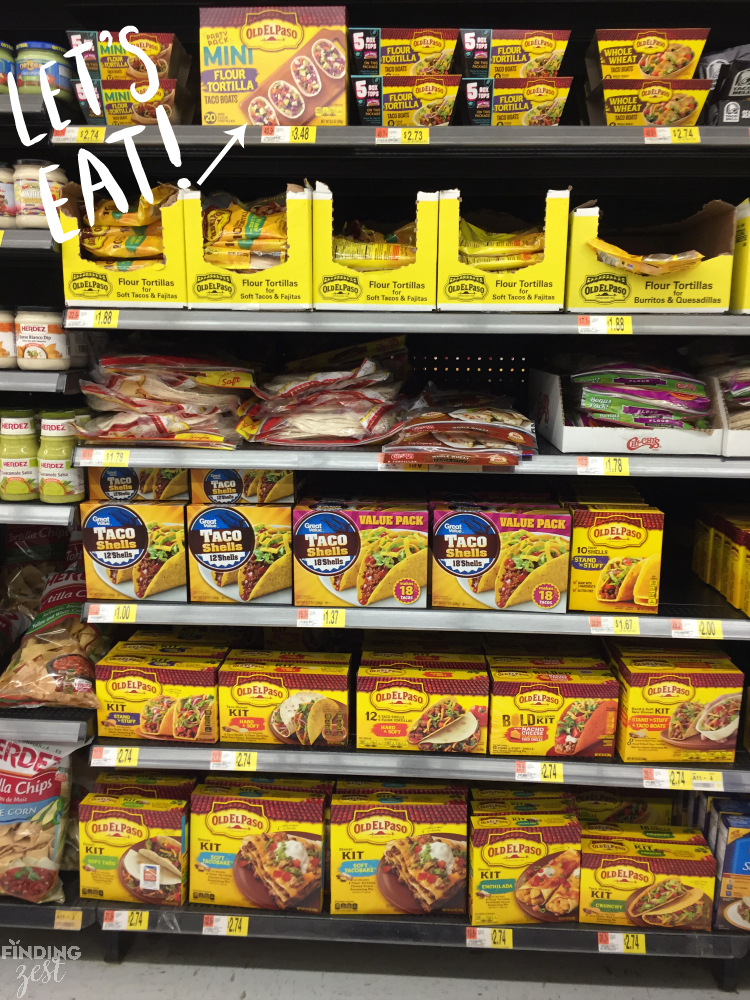 Besides these taco boats, I also picked up other game day snack necessities such as popcorn!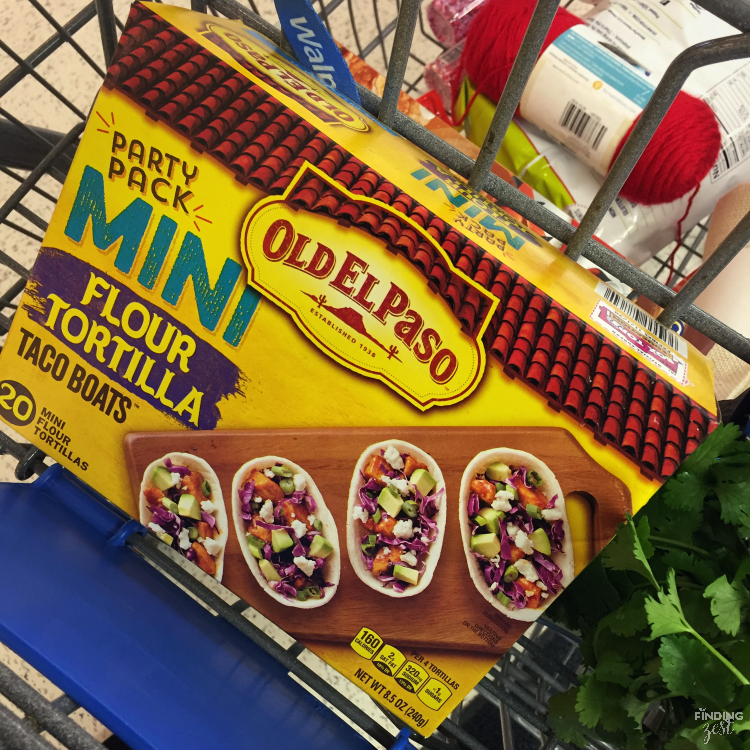 Old El Paso Mini Flour Tortilla Taco Boats come in two sealed packages of 10 each, so if your crowd is small, you can easily half this recipe.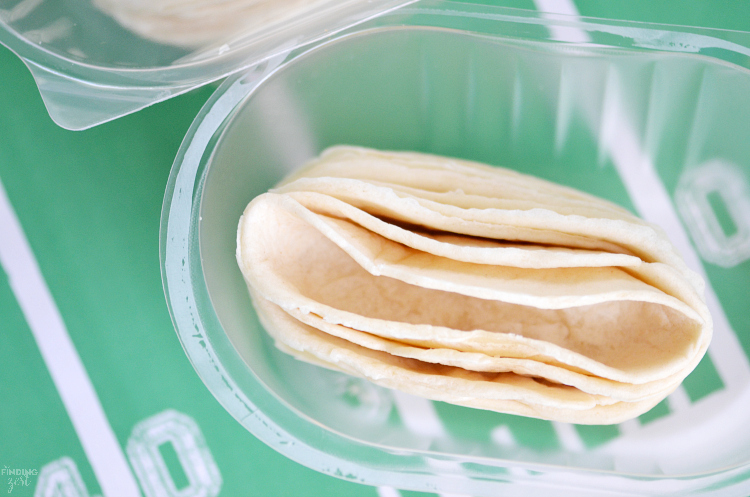 I wanted to create a meatball with a ton of flavor and I definitely achieved that. With just a few simple ingredients, these meatballs can wow your crowd.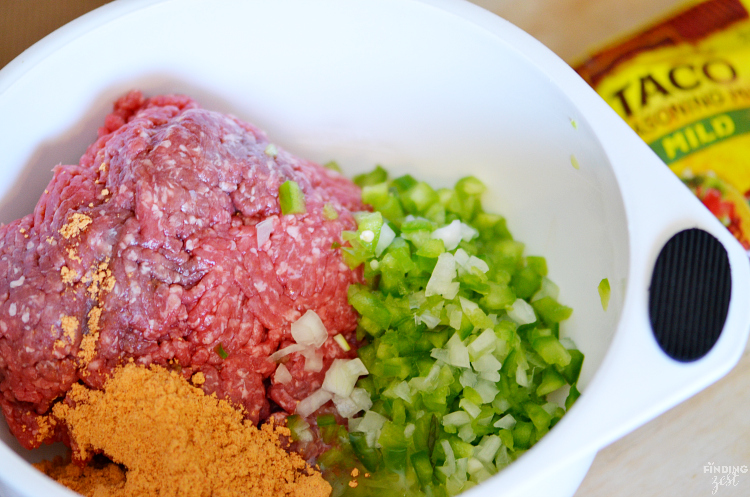 To make sure my meatballs were an even size, I used my handy 3 tablespoon scoop to create my meatballs.
Once completed, I shaped each into a football shape with my hands.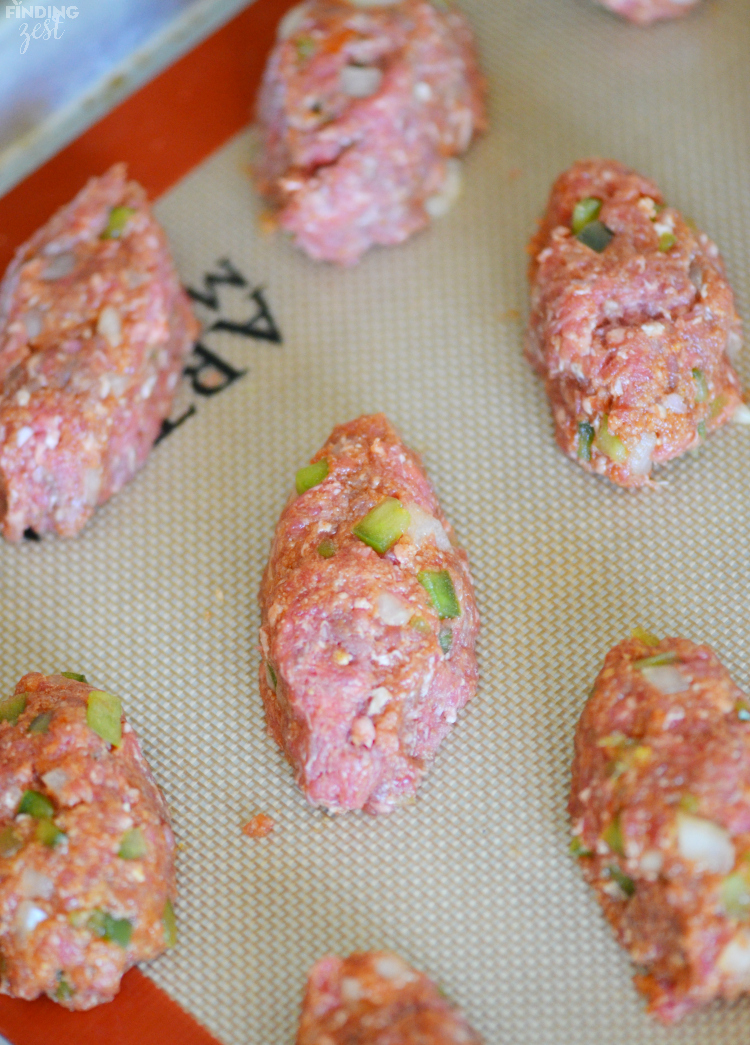 It doesn't take long for these to cook. I checked mine after 12 minutes and they were done perfectly. I suggest using the time that they cook to prepare each of your taco boats with other ingredients so you can enjoy them hot!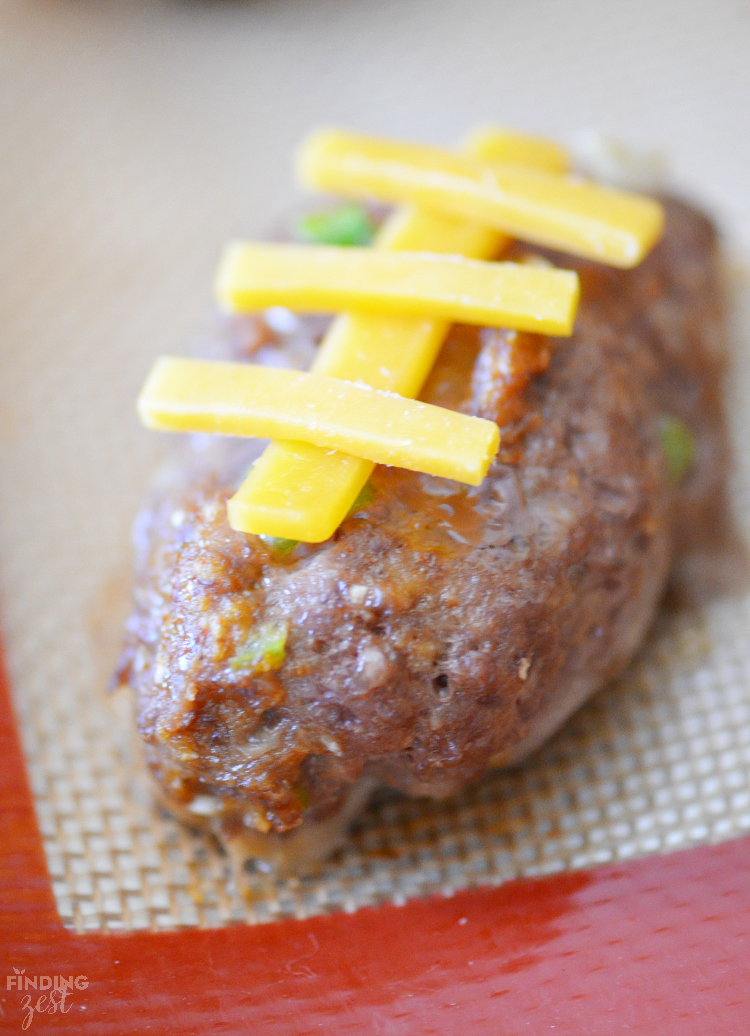 I used cheddar cheese for color and personal taste preferences but other cheese like pepper jack or monterrey jack would also be great!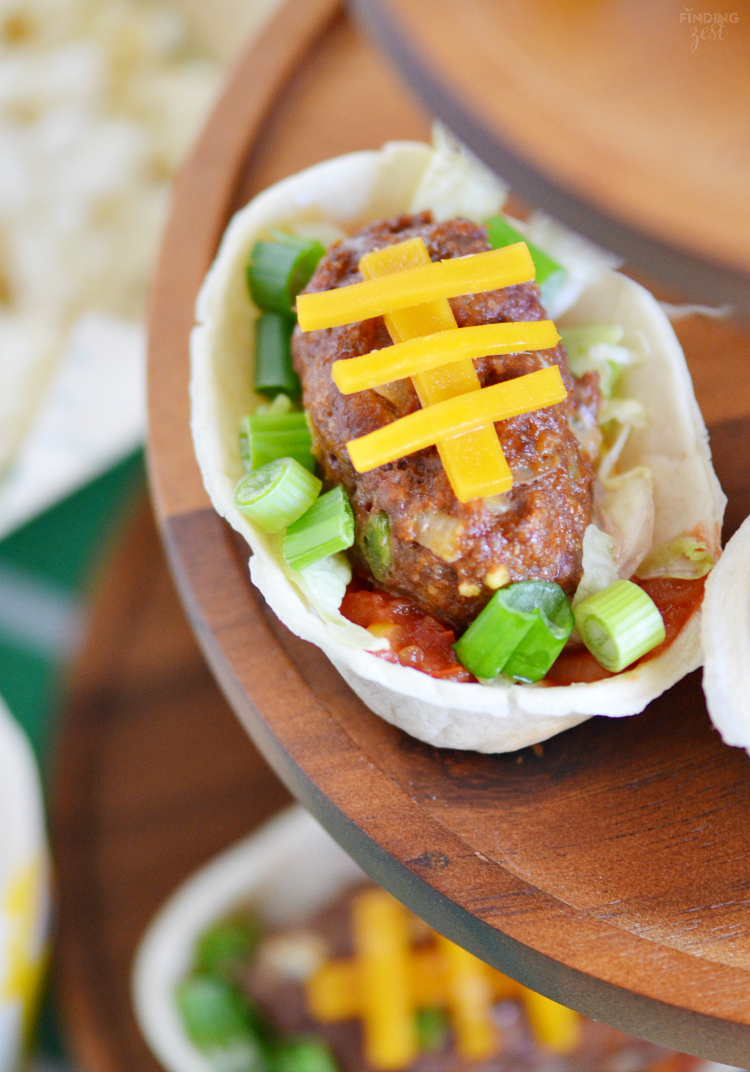 These football taco boats look great displayed on a tiered serving dish, especially made of wood. The color fits in well with the football theme, looks more masculine and really pops against my green table runner.
Football Taco Boats
Author:
Emilie at FindingZest.com
Recipe Type:
Lunch/Appetizer/Dinner
Ingredients
1½ pounds lean ground beef
½ cup finely chopped green pepper
½ cup finely chopped onion
1 package (1 oz) Old El Paso™ taco seasoning mix
⅓ cup bread crumbs
2 eggs
1 package Old El Paso Soft Tortilla Mini Taco Boats
2 slices cheese, cut into small strips for "laces"
sour cream, salsa, lettuce, green onion (or your favorite toppings)
Instructions
Heat oven to 400°F. Line two cookie sheets with a silicon baking sheet or cooking parchment paper.
In a large bowl, add beef, green pepper, onion, taco seasoning mix, bread crumbs and egg.
Use your hands to mix well.
Using a 3 tablespoon scoop or your hands, divide mixture into 20 to 24 meatballs.
Reshape each into an oblong shape to resemble a football.
Bake approximately 12 minutes or until internal temperature reaches at least 165°F.
While meatballs cook, heat tortilla boats in microwave according to package directions.
Fill with your favorite toppings such as sour cream, salsa and green onion.
Once meatballs are cooked, Immediately add four small cheese slices over the top of football boats to resemble laces.
Add footballs to top of tortilla boats.
Serve immediately.
This game day appetizer is very portable and less messy than traditional tacos.
When considering what to make for the big game, I suggest having a few small touches that really tie in well. Football shaped food like this recipe and a few themed party supplies, even in solid colors of brown, green, yellow or black and white can bring the look together without a lot of investment.
Don't forget to head to Walmart to pick up your favorite Old El Paso products for tailgating at home!
What will you be serving for the big game?