Don't you just love smoothie bowls? How would you like to learn how to make a fruit smoothie bowl heart for your valentine this year? I haven't yet gotten tired of making hearts out of food this month. Not only does my mini chef love hearts, but it feels like more than ever I'm showing him my love with food. And while it might seem fitting because Valentine's Day is approaching, the idea works year round. Every day is an opportunity to let our family know we care.  If something as simple heart shaped food puts a smile on their faces, then it puts a smile on my own. Last week Wesley made this delicious breakfast with me.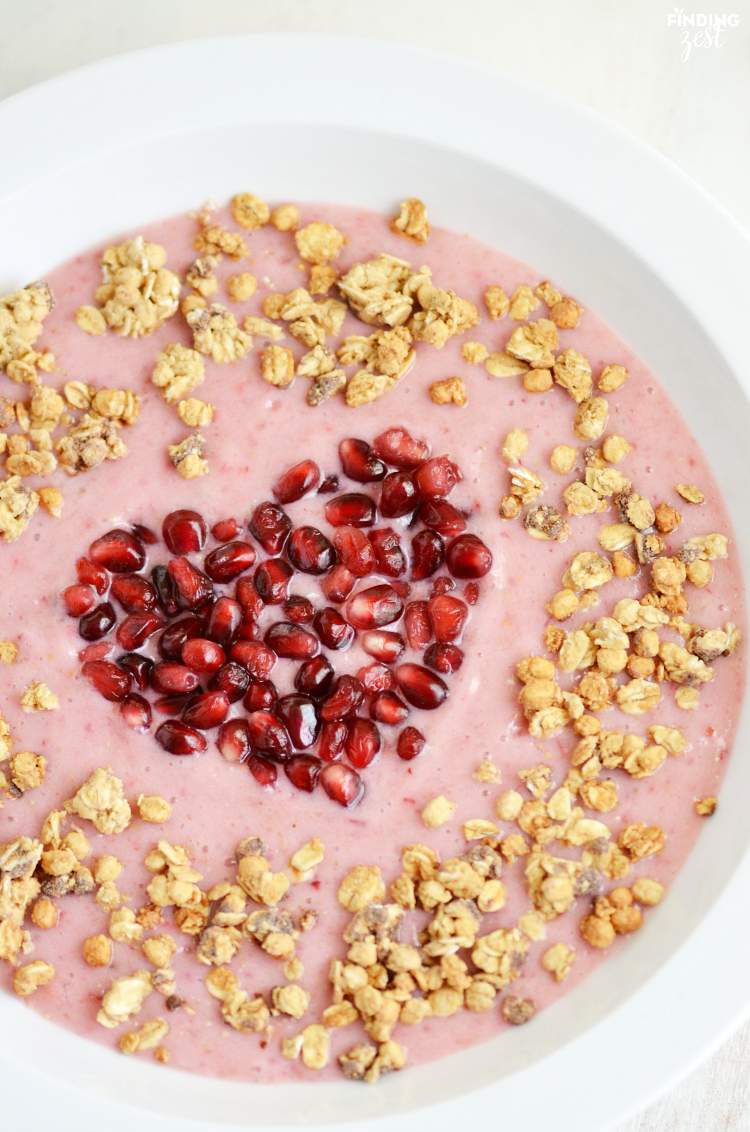 How to Make a Heart Smoothie Bowl
For this recipe, Wesley  handled almost everything.  He washed and prepared all of our fruit, added in the yogurt and blended everything in our awesome Ninja blender.
From experience making smoothie bowls, I've learned to make my smoothie thick if I don't want my toppings to sink at all. And since the point of this smoothie bowl is to show off a heart shape, I definitely didn't want to add any ice or liquid.
For my heart shaped cutter, I went into my cooking cutter collection. I have this Wilton 101 Cooking Cutter Set which had the perfect size for my bowl. This is a seriously great deal at less than $10 with free prime shipping. It works great for crafts and various projects.
I tried a mini cutter to test out on another smoothie bowl and found the shape just wasn't as clear. You'll want one that is at least 2 inches and fits your bowl. Here are a few options that can ship to you from Amazon!
Wilton From The Heart Nesting Cookie Cutter Set
Wilton Nesting Heart Cutter Set
Wilton Comfort Grip Heart Cutter
Wilton 2304-1104 101 Piece Cookie Cutter Set
&
We made a pomegranate heart because not only are they in season, they are also the perfect color and shape to make a heart. If you go with another fruit you'll need to cut them into very small pieces to make sure you can form the shape of the heart. You can also give another heart shaped breakfast a try.
Fruit Smoothie Bowl Heart
Author:
Emilie at FindingZest.com
Ingredients
½ cup strawberry, cherry, raspberry or vanilla yogurt
1 banana, frozen
½ cup raspberries
½ sliced strawberries
4 tablespoons pomegranate arils
granola, chia seeds, mini chocolate chips or nuts
Instructions
Blend yogurt, banana, raspberries, strawberries and 2 tablespoons pomegranate seeds in blender.
Add to bowl. Place a 3 to 4 inch heart cookie cutter in center. Fill with remaining pomegranate arils.
Sprinkle granola, chia seeds, mini chocolate chips or nuts around heart.
Careful remove cutter.
Serve immediately.
Smoothie Bowl Toppings
Wesley asked for granola in his smoothie bowl, but your favorite nuts, chia seeds or even a few mini chocolate chips are all great options to sprinkle around your heart. We used Nature Valley Protein Oats 'n Dark Chocolate because that is Wesley's favorite.
Wesley loved this breakfast! He gave it two enthusiastic thumbs up.
What have you been up to with your mini chefs?
I am hosting Mini Chef Mondays along with 4 fabulous bloggers, find out more about the Mini Chef Mondays Team!
Be sure to check out each of their Mini Chef posts as well!