Whenever possible I love reusing the leftover ingredients for one recipe to make another. Last week I shared this super easy Peppermint Puppy Chow and I knew I could come up with something to make using the candy canes and peppermint M&M candies.  I've seen many people over the years make various treats using mini candy canes and chocolate including hearts and reindeer. One way I had never seen them served before was as a lollipop. So we set out to make these Candy Cane Reindeer Pops because doesn't everything seem better on stick?
I wanted the reindeer to be fairly secure so I had Wesley place the sticks halfway up the middle of the heart he created out of candy canes. We used these 8 inch Wilton cookie sticks but 6 inch cookie sticks would also work well.
Candy Cane Reindeer Pops Supplies:
Wilton 100-Pack Lollipop Sticks, 8-Inch
Wilton 60Count Cookie Sticks Mega Pack, 6 Inch
Wilton Candy Eyeballs,0.88 Ounce,Count of 50
Bobs Mini Candy Canes – 280-ct. tub
M&M's White Peppermint Candies for The Holidays, 8 Ounce
Wilton Candy Eyeballs, 56 Count
If you are planning to have your child fill the candy cane hearts with chocolate, a small ziploc bag filled with chocolate would be a great option. A child or adult with a stead hand can fill them with a spoon like we did. I highly recommend putting the chocolate in the center of the heart and gently pushing the chocolate out from the center.
While a cinnamon drop or regular red M&M candy would work great, I thought the extra large peppermint M&Ms would be best for Rudolph. Wesley really liked adding the candy eyes!
I love how cute these reindeer candy canes are! I considered adding pretzels for antlers but felt they looked so cute without them.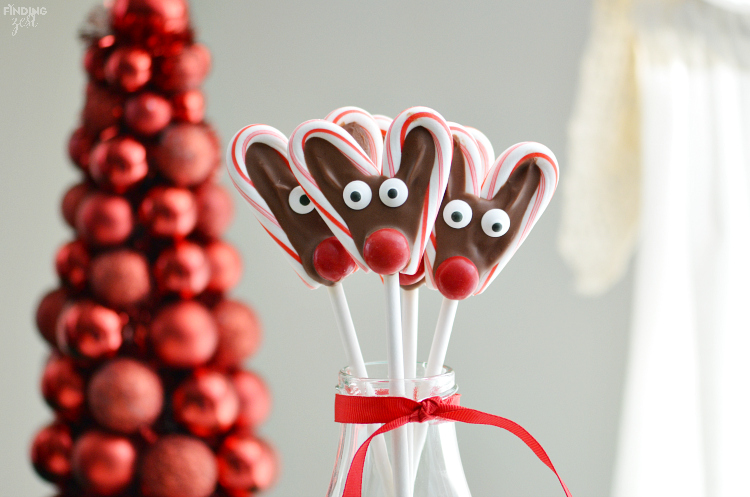 Candy Cane Reindeer Pops
Recipe Type:
Dessert/Snack/Homemade Gift
Ingredients
16 mini candy canes
⅔ cup milk chocolate chips
1 teaspoon canola or vegetable oil
8 red peppermint M&M candies (or your favorite variety of M&M)
16 candy eyes
lollipop sticks
Instructions
Line large baking sheet with silicone baking sheet, parchment paper or foil.
Lay candy canes in a heart shape around lollipop stick, with the stick coming up halfway into the bottom of the heart.
Melt milk chocolate and oil in microwave, just until melted and stirring often.
Add chocolate into a zipper baggie, snipping off end. Fill candy cane hearts with chocolate, including the lollipop stick.(You can also just use a small spoon instead if preferred).
Let dry slightly. Add candy eyes to the middle of the heart and M&M candy to bottom of the heart.
Let dry completely.
Store in an airtight container.
This makes for a great no-bake holiday treat. If you like to make homemade food gifts or just want something cute for guests to take home, some cellophane bags would be perfect to present these reindeer candy canes. You should also try making these
chocolate dipped candy canes
as well. They are so easy and delicious!
Wesley loved eating his Candy Cane Reindeer Pop! If you don't have sticks or just feel like skipping them, they still look great.
What have you been up to with your mini chefs this week?
I am hosting Mini Chef Mondays along with 5 fabulous bloggers, find out more about the Mini Chef Mondays Team!
Be sure to check out each of their Mini Chef posts as well.