I'll admit it. Sometimes I feel a bit lazy when I'm baking. My time feels limited, but I love having something delicious baking in my oven. And in the past couple of weeks, I've fallen in love with with the idea of open-faced pies. These pies are so simple and quick. For this recipe, I cheated in pretty much every way possible. I used a Pillsbury Refrigerated Pie Crust, Wilderness Apple Pie Filling and Kraft Caramels to create this dessert. And I have no regrets because it turned out awesome and took minimal effort. That is winning!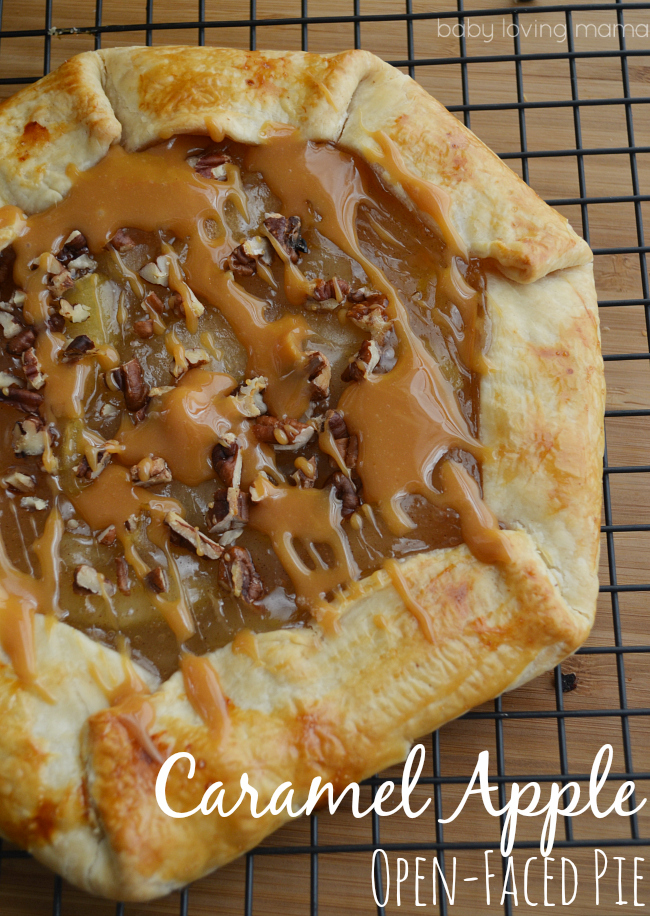 Caramel Apple Open-Faced Pie Recipe
Ingredients
1 pre-made refrigerated pie crust
½ can apple pie filling (21 oz)
2 tablespoons chopped pecans
1 egg (separated)
6 caramels
1½ teaspoons milk
Instructions
Preheat oven to 400 degrees.
On a parchment paper or silicone mat lined baking sheet, lay out pie crust.
Prick center a few times with fork to avoid bubbles.
Spread out ½ can apple pie filling into center, leaving about a three to four inch space all the way around.
Sprinkle with chopped pecans.
Fold over crust edges, all the way around to create a pocket. Prick edges a few times with a fork.
Brush top crust with beaten egg white.
Bake for 30-40 minutes or until crust is a nice gold brown.
Cool for 5 minutes. Transfer to wire rack to cool completely or to platter to serve warm.
Right before serving, melt caramels and milk in microwave. (Be sure to heat at intervals and stir periodically)
Pour caramel sauce over top of pie and serve.
Notes
Can substitute caramel sauce for caramels and milk.
We always seem to have caramels on hand but you can easily use pre-made caramel sauce instead.  You can easily double the recipe and use two crusts and the entire can of pie filling.
If you prefer to use homemade ingredients, substitute the ingredients for your favorite apple pie recipe, cutting the filling to about half or even a third depending upon the recipe.
TIP: I would suggest only putting caramel on any part of the pie you plan to serve right away. If the caramel sauce has a chance to sit, the moisture from the apples with make the caramel sauce a bit watery and separate over time.
This was a huge hit with my family! If you like caramel apples or apple pie, you are sure to love this version.