Brought to you by JELL-O. Anything can go wrong during the holidays. Except these recipes.
If there is one holiday that really focuses on the celebration of food and family, it is Thanksgiving.   One of the best ways to enjoy the holiday (and keep a single person from slaving away in the kitchen) is to make time in the kitchen a family affair. Get the kids involved by finding tasks that help them to contribute.
Dessert is always the favorite course for my kids to help me. Something about all the sweets brings them running in. Who can blame them?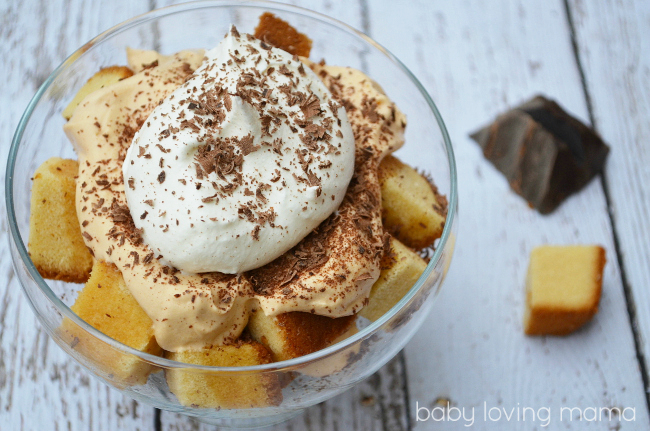 Kraft shared with me a recipe for Caramel-Macchiato Tiramisu Parfaits which would be easy to let the kids join in making. This is a coffee dessert that uses very simple ingredients but creates a very rich experience.  I experimented with several different ways to prepare this recipe, and I have some tips to help you have a successful holiday dessert!
Kid-Friendly Version
I created two parfaits special for my boys which did not include coffee. I omitted the coffee with caramel mixture and added a layer of caramel ice cream topping over the pound cake. If you have non-coffee drinkers or children partaking, I highly recommend this option!
Serving Sizes
When I received the recipe, it wasn't clear the size of the parfait glasses so I experimented with three separate sizes I had on hand. In order to create the layers as stated in the original recipe you will need a larger parfait glass or one that is quite tall. I had several that were larger and they turned out beautiful. However, I did feel that the portion sizes were rather large. Given the decadent flavors, I feel this recipe is better served in smaller sizes.  The smallest size I tried was a 6 oz mini glass which looked fantastic but didn't allow for quite as many layers of the dessert. To accommodate the size, simply omit a layer of the cream cheese mixture and cut the pound cake a bit smaller. If you don't have these size glasses, they are relatively inexpensive. Plastic versions can also be found at party supply stores.
Time Sensitive Option
If you are running short on time or don't have enough parfait glasses at your disposal, consider making this recipe into a beautiful trifle. You can use a trifle bowl or your favorite deep glass bowl. Consider even a plain wide glass vase for a unique look. (Make sure it is safe for food.)
This recipe is made quite simple with no baking required. The steps take a little bit of time but are easy.
Caramel-Macchiato Tiramisu Parfaits for Thanksgiving
Ingredients
4 oz. (1/2 of 8-oz. pkg.) PHILADELPHIA Cream Cheese, softened
1-1/2 cups cold milk
1 pkg. (3.4 oz.) JELL-O Butterscotch Instant Pudding
1 tub (8 oz.) COOL WHIP Whipped Topping, thawed, divided
½ cup hot brewed strong MAXWELL HOUSE Coffee
¼ cup caramel ice cream topping
1 pkg. (16 oz.) frozen pound cake, cut into ¾-inch cubes
1-1/2 oz. BAKER'S Semi-Sweet Chocolate, grated
Instructions
Beat cream cheese in large bowl with mixer until creamy. Gradually beat in milk. Add dry pudding mix; beat 1 min. Gently stir in 2 cups COOL WHIP.
Mix coffee and caramel topping until blended. Place half the cake cubes in 10 parfait glasses; drizzle with half the coffee mixture. Cover with half the cream cheese mixture, then ⅓ of the grated chocolate. Repeat.
Top with remaining COOL WHIP and chocolate. Refrigerate 4 hours.
Notes
Refrigerate up to 24 hours before serving
Special Extra: Garnish each parfait with a fresh raspberry just before serving.
My boys really loved the kid friendly version and I'm glad I made some accommodations so they could enjoy this dessert too. It was perfect after a night of pumpkin carving. Check out Warren enjoying his on
Instagram
. This would be a beautiful addition to any Thanksgiving spread!
What desserts will you be making for your Thanksgiving meal?
Disclosure:  This post is brought to you in partnership with Mom Spark Media and  JELL-O. All thoughts remain my own.