*This post was made in partnership with Kraft Foods. All thoughts are my own.*
If there is one thing we've teased my mom about over the years, it is the one time she made that soufflé. I was young, but I still remember it well. My mom slaved away in the kitchen making a soufflé that turned out beautiful. It was perfect except for one thing.
No one liked it.
Not even my dad who will eat just about anything.
There was actually nothing wrong with the soufflé except for that it contained cooking sherry. And no one could stand the taste.
My mom was so bummed out. But my sister and I were pretty excited. My mom is a fabulous cook and always had a wonderful dinner on the table each night. This was the first time that she had anything go wrong.  So it was the first time we ever got to go to McDonald's on a whim. Since then, it is the one thing that we've been able to tease my mom about. And we've done it over and over again in jest.
Because of this constant build up, it is one thing I've never wanted to tackle in the kitchen. After all, if my mom (an absolutely amazing cook) failed to make it taste good, then why would I want to attempt such a dish? And then Kraft asked me the unthinkable. They asked if I would make their VELVEETA Soufflé and share it with my readers.
*gulp*
Me? Make a soufflé? There are so many things that could go wrong.
But I did it.
I did it, and it turned out good.  Not exactly gorgeous but  really good.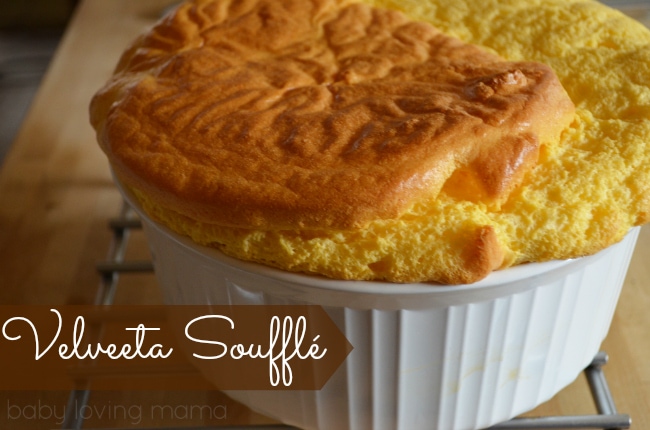 VELVEETA Soufflé
Ingredients
4 Tbsp. butter or margarine
4 Tbsp. flour
½ tsp. salt
Dash of ground red pepper (cayenne)
1-1/2 cups milk
½ lb. shredded VELVEETA
6 eggs, separated
Instructions
PREHEAT oven to 300°F. Melt butter in medium saucepan on medium-low heat. Stir in flour and seasonings. Gradually add milk, stirring until well blended. Cook until thickened, stirring constantly. Add cheese; cook until melted, stirring constantly. Remove from heat. Beat egg yolks lightly. Gradually add to cheese mixture, stirring until well blended. Cool slightly.
BEAT egg whites in small bowl with electric mixer on high speed until stiff peaks form. Add to cheese mixture; stir gently until well blended. Pour into 2-quart soufflé dish or casserole dish. With tip of spoon, make slight indentation or "track" around top of soufflé 1 inch from edge to form "top hat."
BAKE 1 hour and 15 min. or until center is set and top is lightly browned. Serve immediately.
If you've ever wondered if you could make a soufflé, I'm going to tell you that you can. Really, you
can
.
But….
Make sure you leave yourself plenty of time in which to make it and don't try it for the first time with guests. Why not? There are two important things I discovered while making this dish.
1. It will take longer to make than you think.
2. You must serve it right away. A soufflé can and will cave in around 5 to 10 minutes after you take it out of the oven.
When I mentioned I was making this to my mom and that I wasn't looking forward to shredding my Velveeta, she told me about Velveeta Shreds . This nifty product takes all the work out and is the exact amount you'll need for this recipe. Look for it in the refrigerated cheese section of your grocery store.
 I highly recommend getting all of your ingredients together and measured before starting.
You'll be spending some time at the stove as you thicken your sauce.
For the first several minutes, you might be asking yourself, "Will it ever thicken?"
It will.
Or perhaps, "Is this thick enough?"
If you have to ask yourself that, it isn't.
After around 5 to 7 minutes of constant stirring, I started to notice a difference in the thickness of my sauce.  And around 8 to 10 minutes, it was fully thickened. This might be slightly different timing for you, but one sign you'll want to look for is if you tilt the pan, does some of the liquid stay at the top? Is it coating the pan as you tilt and move it? If so, it should be thick enough. If not, keep stirring until you see this.
The next steps of melting the cheese and adding the egg yolks are very simple and don't take a lot of time at all.
Afterwards you'll have this beautiful, cheesy sauce.
The next step can also be a bit tricky.  If you don't have a lot of experience beating egg whites until they are stiff, I highly recommend this visual guide to beating egg whites for reference. It will help you to determine what is actually stiff versus soft or firm peaks.
While the eggs whites have volume after a couple of minutes, they are definitively not ready yet.
You'll want to look for your egg whites to start standing up on their own. When you lift the beaters up, you'll want to see stiff peaks at the ends that don't cave in at the tips.
I like using a hand mixer for full control but keep in mind, this may take much longer than you expect. (Be careful not to over-beat.)
Once I achieved stiff peaks, I added them back into my pot without thinking. If you really do use a medium pot, don't do that. You won't have enough room to properly stir your ingredients. You'll want plenty of room for your stiff egg whites.
I immediately noticed my mistake and gently transferred to a bigger bowl.  It is also important that you use a proper casserole dish if you want your soufflé to puff out and over the sides. I borrowed my mom's actual 2 quart soufflé dish, and I'm glad I did!
After creating the top hat with the tip of my spoon and putting the dish in the oven, all I could do was wait.
Be sure to leave plenty of room for rising in your oven! I made the mistake of not lowering the rack in my double oven and my top hat started to hit the heating element on top. Thankfully I noticed this when it started to happen mid-way through cooking and adjusted. It did change the look of my top hat, but I'm still pleased with the results!
It felt like a work of art. Something amazing that I accomplished when I took it out.
It did start to deflate about five minutes after removing it so keep that in mind. As far as the taste, it was delicious! I would describe it as extremely fluffy, melt in your mouth cheesy eggs. My husband and seven year old son both loved it too. My 5 year old didn't like it so much, but that wasn't a shock. He likes plain eggs with no cheese. My 20 month old wouldn't even try it but since he won't eat any eggs, I wasn't surprised by that either.
This wasn't an every day, make any time you want kind of recipe. And I won't lie, it did take some work. But it was awesome to say I conquered this recipe. To say that I made a soufflé and it tasted good.
And really,  you can too!
Kraft Recipes.com has some great
casseroles
and other one dish recipes as well! Don't forget to follow Kraft Foods via 
Facebook
 and 
Twitter
 to stay connected and get more recipe ideas.
Have you ever made a soufflé? Is there a dish you've always wanted to make but have been too afraid to tackle? 
___________________________________________________________________
Disclosure: This post was created in partnership with Kraft Foods. All thoughts remain my own and are not influenced by monetary compensation received.