There are a few ingredients that always take any appetizer to the next level. For me and my family, that is cheese and bacon. It is a killer combination that is sure to make anything I put in front of my family a winner. And let me tell you, this Cheesy Bacon Pull Apart Bread that I made over the weekend blew my family away. You'll definitely want to try out this appetizer recipe at your next holiday gathering or game day celebration!
To keep this recipe as easy as possible to put together, I opted to cut a few corners by using already shredded cheese and pre-cooked bacon. When you use quality ingredients like Crystal Farms® Shredded Cheese, you know it will be good regardless. After all, they are made by cheese lovers, for cheese lovers!
For my bread I went with the cheddar jack variety. I love the way this cheese combination looks, tastes and melts! You can find this combination in the refrigerated dairy section of your local grocer.
For the bread, I opted for a wider Italian loaf. Alternatively you could choose a baguette or sourdough variety.
Load your bread up with garlic butter, green onion, bacon and lots of Crystal Farms Shredded Cheddar Jack cheese before wrapping it in foil and baking in the oven. You can even broil it for the last minute or two if desired. I did to get that nice toasted look.
The end result is nothing short of amazing. Look at that cheesy goodness.
Cheesy Bacon Pull Apart Bread
Ingredients
1 large Italian Loaf (or other firm bread)
½ cup butter, melted (1 stick)
3 cloves garlic, minced
1 tablespoon chopped fresh parsley
sea salt
freshly ground black pepper
2 green onions, chopped
6 slices precooked bacon, chopped
1½ cups Crystal Farms® Shredded Cheddar Jack Cheese
Instructions
Preheat oven to 350 degrees F.
Using a serrated knife, make crosshatch sliced in your bread every inch in both directions and making sure to not slice all the way through the bottom or sides of the bread.
In a small bowl, stir together melted butter, garlic, and parsley, salt and pepper.
Brush bread with melted butter mixture, making sure to get inside your crosshatch slices.
Stuff each crosshatch with green onions, bacon and cheese.
Wrap bread completely in foil and bake for 20 minutes.
Remove foil and bake additional 5 minutes or until golden brown. (Can broil for a minute or two if you like the edges more toasted but watch carefully.)
Cool slightly before serving.
Even my picky pants kids who typically don't like green onion or too much garlic raved about it!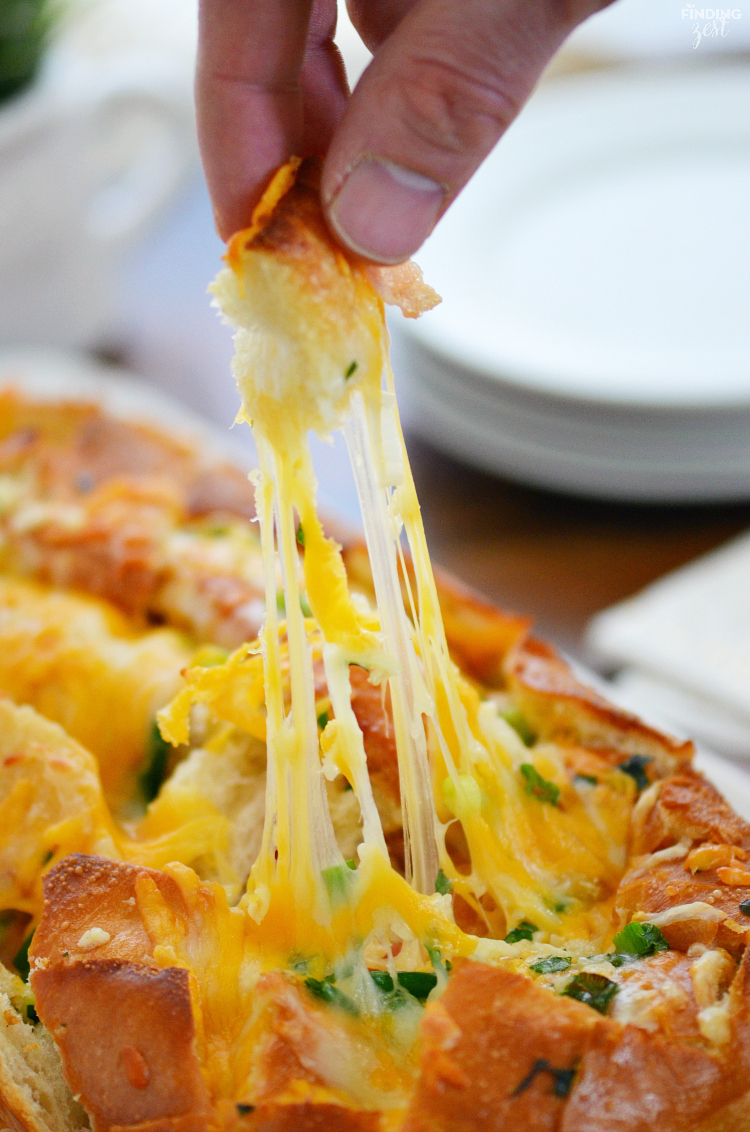 You can easily slice your bread and prepare your ingredients in advance if you are short on time.  I can't wait to serve this for guests!
Be sure to enter the giveaway below for your chance to win three free Crystal Farms Cheese product coupons!
a Rafflecopter giveaway