While my boys spend plenty of time on valentines for their classmates, our hardworking teachers are often overlooked. Valentine's Day is a great way to surprise them with a little something extra to remind them that you care. Isn't that what this holiday is all about? I can't imagine just how tough being a teacher day in, day out can be so a little token of appreciation goes along way. My awesome contributing writer Janelle happens to be a graphic designer. I asked her to create this fun You Color My World Valentine Free Printable to offer readers and she knocked it out of the park!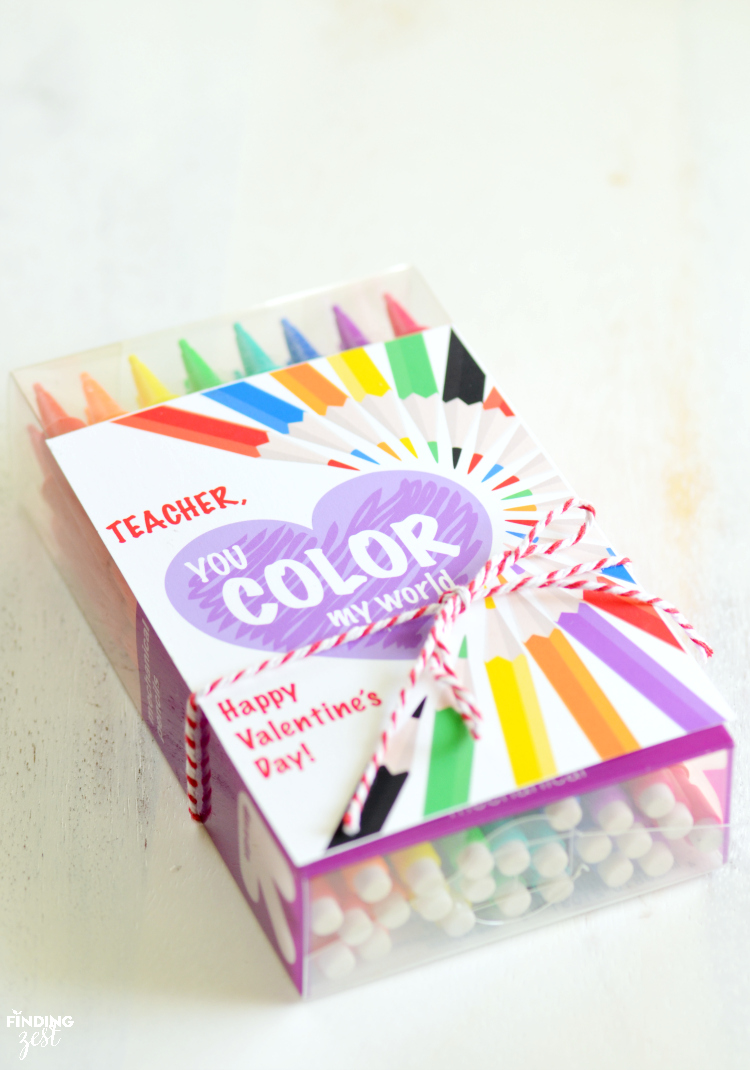 These valentine "You Color My World" free printables are offered in two varieties, one with teacher and one without. You can easily use these for classroom valentines or for others that are special in your life, especially for art lovers.
I wanted to include a colorful gift with mine so this box of rainbow colored mechanical pencils from Target worked perfectly in both size and theme. It was a very inexpensive gift option. I attached the card with red and white baker's twine
.
Colored pencils, permanent or washable markers, crayons and pens are all great non-candy alternatives and could be attached with a single item to safe costs.  You could even create a fun bouquet or basket with assorted items, including adult coloring books. Getting creative with colors and school supplies is half the fun! Here are some other great options to pair this You Color My World valentine free printable.
Colored Pencils

Colored Markers

Colored Pens

Adult Coloring Books

You Color My World Valentine Free Printable 
Click on one of the links below to receive your valentine free printable that you can cut out with four valentines on each page.
CLICK TO DOWNLOAD:
Teacher You Color My World Valentine Free Printable (pdf)
You Color My World Valentine Free Printable (pdf)
Please Note: This printable was custom made at my request. I am offering it at no cost but for personal use only. Feel free to link to this blog post, but do not take the file and upload it anywhere for distribution. Thank you!