A Christmas Tree Coloring Page can be a great holiday activity. This hand drawn art is a free printable coloring page for adults or kids! Kids will love to color or even paint with watercolor this pine tree coloring page. Fight boredom at home and color to relax. (Scroll to the bottom for printing instructions.)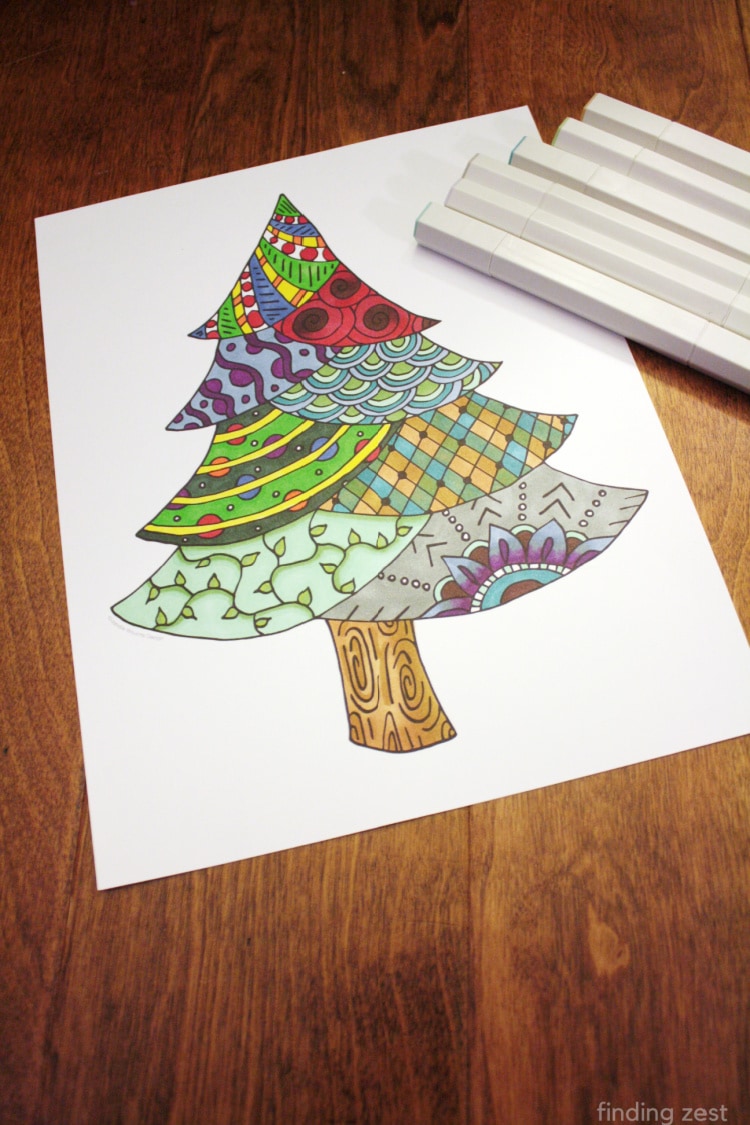 This is a hand-drawn tree coloring page with fun doodles. While this pine tree coloring page works well for adults, kids also love it!
Tools for Christmas Coloring Page
While crayons, colored pencils or markers are pretty standard for coloring for both kids and adults, you can also switch things up. Try printing your coloring page on cardstock and use watercolor paints for this tree coloring page design. You could even use a palette of metallic watercolor paints which add a shimmer to the page.
For this pine tree coloring page, Twin Tip Artist's Markers in rich colors were used. These markers are also available in larger sets for more variety of colors.
Using multiple tones from the artist's markers really add some depth and is a good option with this particular coloring page printable.
While some traditional colors were used such as with the ornament section, non traditional was added for this Christmas Tree Coloring Page. Feel free to mix things up and try something new!
Whether you are on the hunt for Christmas coloring pages for adults or Christmas tree coloring pages for kids, this printable works well for all ages. As an added bonus, it also works great as just a winter pine tree. Switch up the colors to reflect winter and you've got something that lasts past the holiday season.
Tree Coloring Page Download >>>
Print your Christmas tree coloring page by clicking the link below.
Be sure to check out our other coloring pages for download. Try this rainbow coloring page or this shamrock coloring page for some fun options this spring! Printable coloring pages are cheap boredom busters. Watch for more printable Christmas coloring pages in the future!
Please respect my design copyright (©Janelle Wourms Design) for this free printable, as well as the original link to Finding Zest where I'm sharing this printable. I am offering it for free but do not take the file and upload it anywhere for sale or distribution. If you share this design please give me credit and link to the original post. Thank you!