On a lazy weekend morning, I love to surprise my family with something special. I don't want to spend a lot of time in the kitchen making it, however.  Sometimes just using the simplest of ingredients prepared in a slightly different way can be downright magical.
And while you might be thinking, "Did she just say breakfast can be magical? Really?", but trust me. If you tried one of these amazing little cinnamon roll twists, I'm sure you'd agree that magical is a great description.
Cinnamon Cream Cheese Twists
Ingredients
1 can (13 oz) Pillsbury Flaky Supreme Cinnamon Rolls
3 oz cream cheese, softened
1 tablespoon sugar
2 tablespoons finely chopped pecans
Instructions
Heat oven to 375°F. Line large cookie sheet with silicone baking sheet or parchment paper.
Beat cream cheese and sugar in small bowl until well combined.
Separate dough into 8 rolls.
Unroll each cinnamon roll to form 8 strips.
Spread light layer of cream cheese mixture on bottom half of cinnamon roll.
Sprinkle pecans over cream cream cheese.
Carefully wrap top half of dough up and around to create a twist shape with rounded top. Place each twist on cookie sheet.
Bake 14 to 16 minutes or until dough is golden brown and baked through.
Immediately drizzle icing that comes with rolls on tops of warm twists.
Serve warm.
These twists make for a beautiful presentation, but they are much easier to create than they look!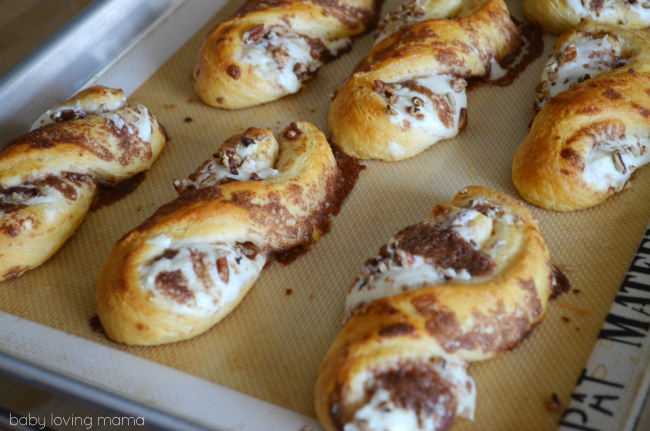 My family went nuts for these cinnamon twists, and I'm certain you'll love them too. They taste a lot like a cream cheese danish and cinnamon roll mixed in one.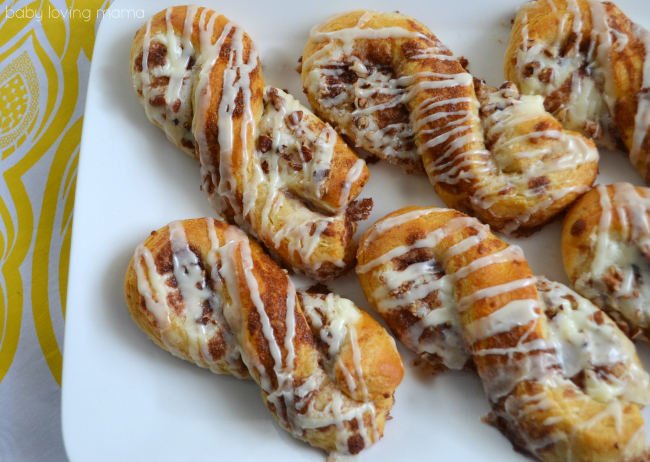 The only surprising part about these twists is how simple they are to make. So try them with your family. Make them on a lazy Saturday morning and enjoy them with a cup of coffee.
Then come back to tell me what you thought. I'll be here waiting!