Sponsored post by Mirum. All opinions are my own.
I'm always on the lookout for simple recipes to feed my family on weeknights. By the end of the day, I'm exhausted and want something I can put on the dinner table fast. If it can be prepared in a single pan and minimize my dishes, even better! The new Marie Callender's Dry Dinner Mix is an easy dinner solution for busy families like ours!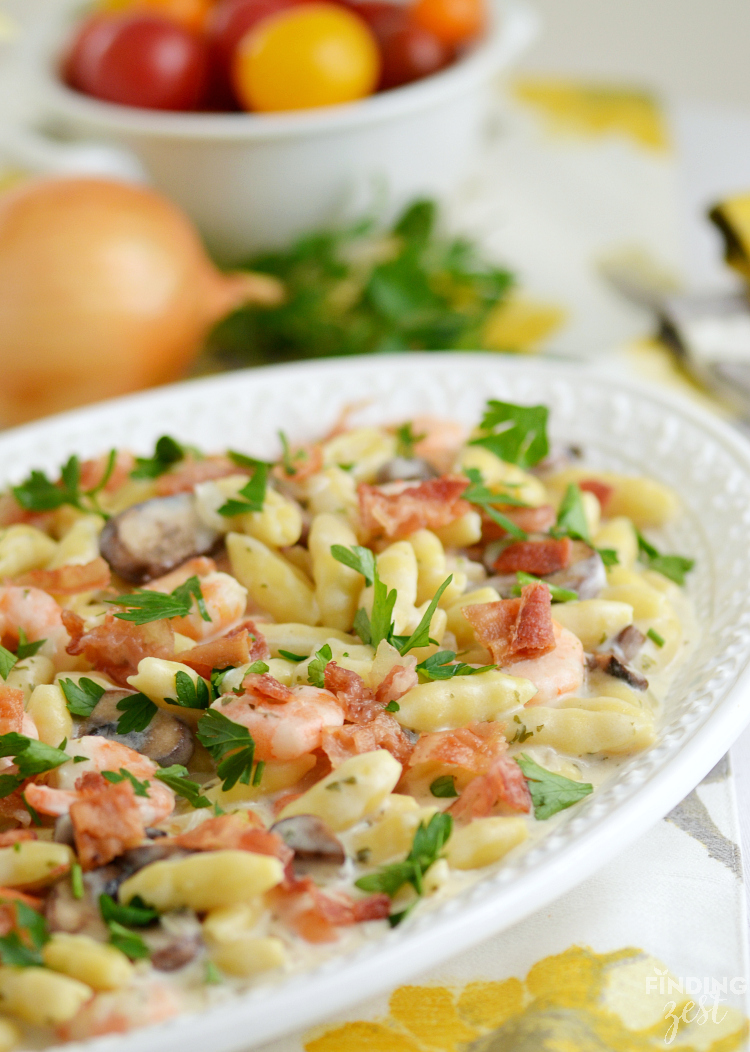 They are available exclusively at Walmart in five different flavors including family favorites like Homestyle Stroganoff and Creamy Alfredo. I recently tried out the Parmesan Garlic.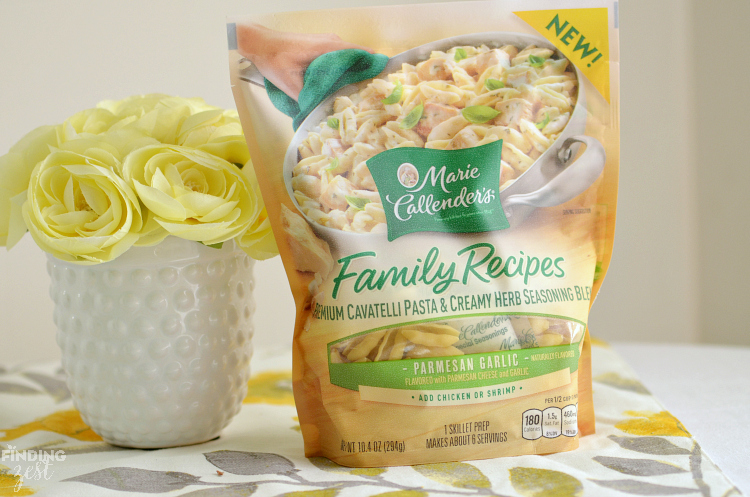 I headed to my local Walmart to pick up everything I need to prepare my meal. You can find them with the other dinner mixes!
You can easily switch up your dinner to suite your own family's taste by adding mix-ins. Consider your favorite veggies and meat options to add a unique twist.
I decided to add fresh portobello mushrooms and diced onion to our mix along with shrimp.
Because I opted for already cooked and thawed shrimp, I simply added it in halfway through cooking to warm it up.
You know that bacon makes everything taste even better, right? I decided to kick dinner up a notch and added crumbled bacon and fresh parsley to the top. By purchasing already cooked bacon and heating it up in the microwave, it took minimal effort.
Creamy Shrimp and Garlic Pasta
Ingredients
1 package Marie Callender's Family Recipes Dry Dinner Mix Parmesan Garlic Flavor
1 pound pre-cooked shrimp with tails off, thawed
2½ cups of milk (or part heavy cream option on package)
¾ cups of water.
3 tablespoons butter, divided
2 cups sliced portobello mushrooms
1 small onion, diced
4 slices pre-cooked bacon, crumbled
fresh parsley for garnish (optional)
Instructions
Heat large skillet over medium heat.
Saute onions and mushrooms with 1 tablespoon butter just until softened. Remove from pan and set aside.
Add 2½ cups milk (or milk and cream), water and butter into pan. Stir in pasta and dry cheese mix.
Bring to a boil. Cover and cook according to package instructions.
Halfway through cooking, stir in shrimp. Cover.
Two minutes before your pasta is finished, stir in mushrooms and onion. Cover.
Top with crumbled bacon and parsley (if desired).
Serve immediately.
You can have this on your table in less than 30 minutes!
To make ours extra creamy, I did go with the part heavy cream option in the package instructions. I really like how it turned out!
Next time I'd love to try fresh asparagus and chicken! What would you add to yours?
Sweepstakes:
How would you like the opportunity to win a $500 Walmart gift card to make your weeknights easier? Enter below for your chance at over $4,000 in prizes! Marie Callender's Discover a Fresh Take on Dinner Sweepstakes.