This post is sponsored by Kohl's.  I was paid for this post and received the included Carter's clothing as compensation.
As a mom, I always want to encourage creative play with my kids. It is why my house is often scattered with art projects and cut up boxes that double as costumes or houses. It is why my arts & crafts cart is in my dining room so it is easily accessible, even though it doesn't match the decor. The evidence of kids just being kids is abundant. And while I wish that my house would stay clean for just one full day, I know that it is more important to let them use their imaginations. I'm always amazed at the things they come up with!
When it comes to style for my kids (and even myself), there has been a shift over the years.  When I first became a parent I searched for the cutest things but now comfort is always top of mind. I still want fun styles for my kids, but I want also clothing that is soft, wears well over time and allows them to move.  Because of this, Carter's has been one of my favorite brands over the years.  I love buying Carter's clothing at Kohl's because I can get great deals there. Kohl's is one of my happy places. Now that Wes is turning 5, it was time to update his wardrobe with some bigger sizes as he transitions into spring.
Over winter break I took my kids to our local children's museum. It is a great way to allow them some awesome creative play and move their bodies when the weather in Minnesota doesn't make it easy to play outside. Wesley wore this Carter's Dinosaur Skeleton Graphic Tee from Kohl's that fit in perfectly with their dinosaur excavation exhibit.
I love how this tee wraps around the back and features such a vibrant blue color. Wesley had so much fun exploring the museum and he was able to move easily through the exhibits in style!
The kids didn't want to leave! We had so much fun that I bought a year long membership so we can go back again soon. 
Wesley felt pretty cool when he found out what this shirt says. He chose this World's Most Awesome Tee from our local Kohl's and couldn't wait to wear it. It fits him perfectly!
I have to admit I wish I could steal these French Terry Marled Jogger Pants for myself. Besides looking cool, they are ridiculously soft and so comfy. Perfect for playing with our dog on the floor.
On a Saturday morning, Wes decided we should make some pancakes and I couldn't have agreed more! We made some Green Ombre Pancakes with a delicious fruit salsa and he did it all wearing a pair of pajamas from this Dinosaur 4 Piece Pajama Set. We are stuck in that strange transition period in Minnesota where some nights his extra warm pajamas leave him sweating. I like having cooler options like these that I know will stay up on his narrow waist. Wes loves the design and feel of the fabric.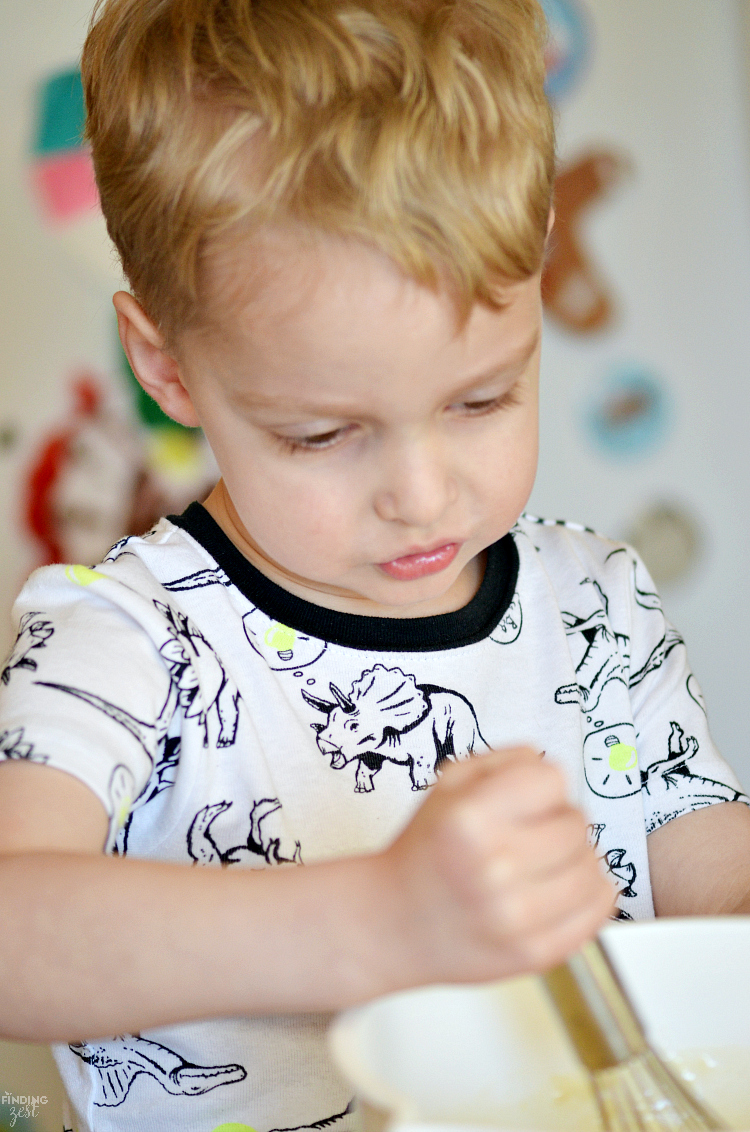 Our kids play with building toys most of all. We have bins of different styles of magnetic, snap and brick systems. No need for lights or sounds. No pieces to break. These are toys that spark their creative play all day and never go out of style.
I picked out this Number Applique Hooded Henley for him since he loves anything with a hood. He was so excited! This is a great filler piece for the end of winter season that I know will still fit next fall.
We do own some jeans for Wes but he hates the feel of the buttons. Since I opted for comfort for clothing with my last child, he got used to being free and less constricted. But he loves his new jeans from Carter's which feature an elastic waist with a working drawstring. Perfect for my little bean who has a hard time keeping his pants up. They are also less stiff than traditional jeans so they don't hold him back!
I also picked out several shirts that will transition well into spring and summer like this Sunglasses Parakeet Graphic Tee. This shirt made Wes smile and I like the bright colors.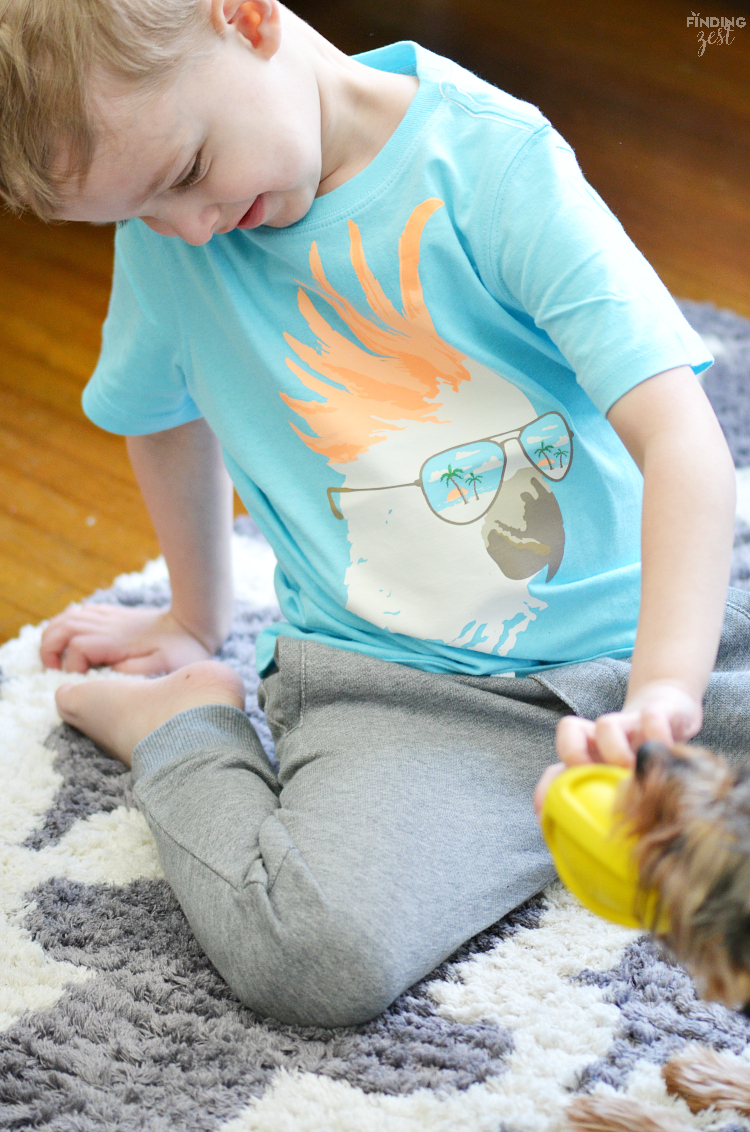 I paired it with Solid Jogger Pants for now but also picked up these Plaid Cargo Shorts to wear with it once the weather heats up.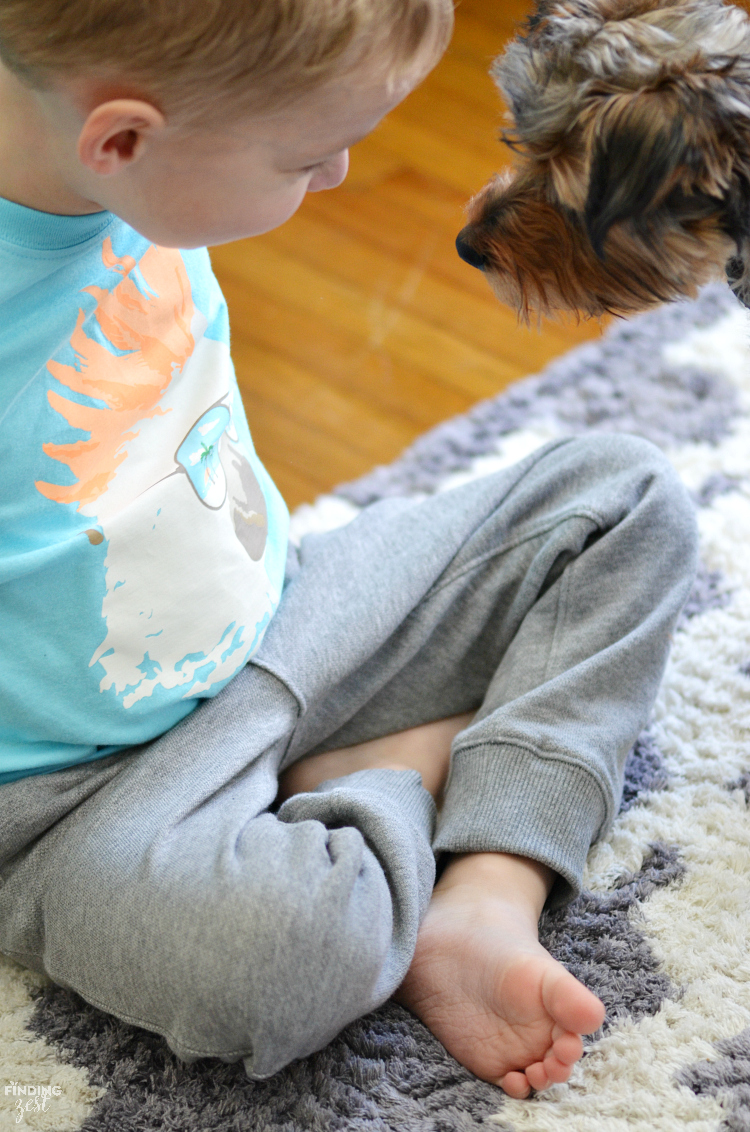 If you have an artist on your hands you have to check out this cool Paint Splatter Pattern Pocket Tee. Wes is obsessed with shirts that have pockets and when he saw the cute detail on it, he said he had to get a paint brush to store in it!
This tee is definitely one of my favorites. It might not be able to cover up those paint stains from an art session, but it fun and edgy! You can even get it as a pullover.
Check out all the pieces I picked out to round out Wesley spring wardrobe from my local Kohl's and Kohls.com so Wes can have creative play all day. My selection in store was a bit limited but I found a wide variety online at great prices! My store doesn't carry 5T in store so it was nice to have that option online.
Kohl's Kid Sale
Want to save while updating your own child's wardrobe? The Kohl's kids sale runs March 17th through April 2 and offers $10 off a $40 purchase with promo code KIDSALE10!  Don't forget to combine it with Kohl's other great offers including Yes2Rewards, Kohl's Cash and extra savings available with your Kohl's charge card for the best deals!
My blog may contain links to other websites. I am not responsible for the privacy policies of those other websites. When you click on a link, your information may be collected by those websites so I encourage you to read their privacy policies. These affiliate links are not associated with Kohl's.