This is a sponsored post. All thoughts are my own.
Spring is almost here! To say I'm excited for some warmer weather is an understatement. When you live in Minnesota, you live with very long winters so any signs of spring are welcome. With Easter coming up it seemed the perfect time to make some spring cookies with my little guy. Since I'm often short on time, I appreciate options that make the cookie making process just a little simplier. These Easter Bunny Cookie Sandwiches can be ready to enjoy in under 30 minutes!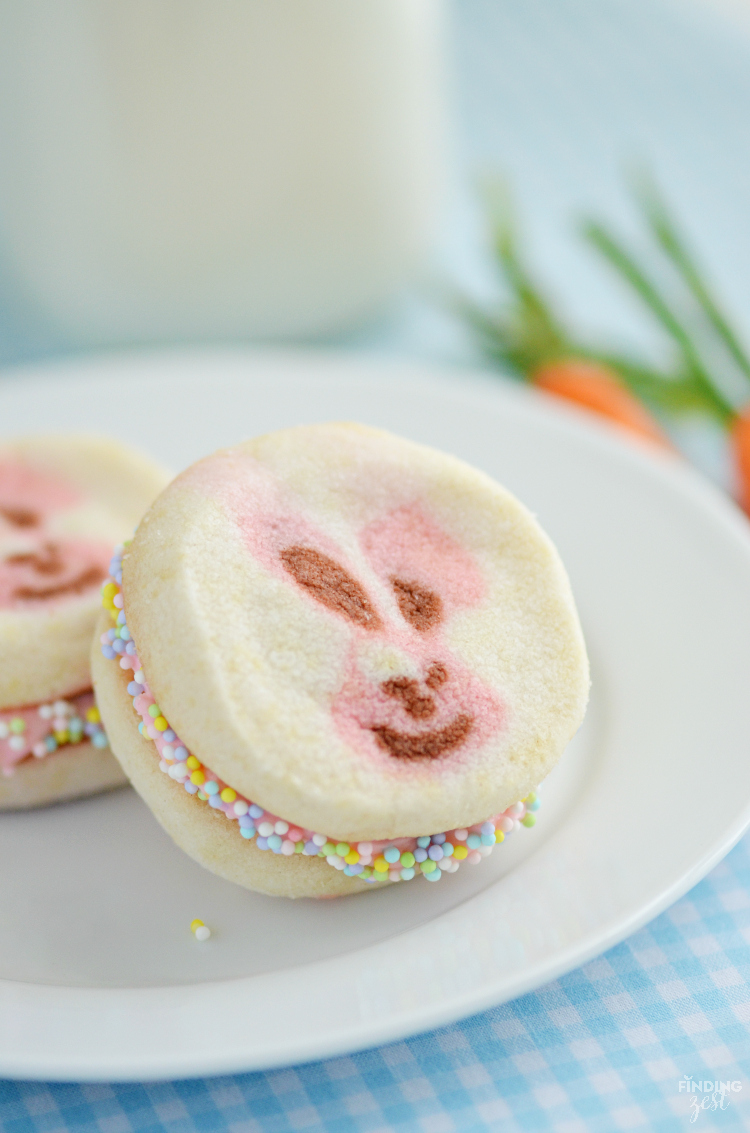 To make these cookies, you'll need Pillsbury Ready to Bake Bunny Shape Sugar Cookies. You can find them in the refrigerated section of your local Walmart. Because this is a seasonal product, they may be located in special displays. If these are no longer available you can definitely apply this same idea to other Pillsbury Ready to Bake Cookies.
Wesley was more than happy to help me put the bunnies on the baking sheet. He is an adorable helper, isn't he?
Since the cookies are smaller, they make perfect cookie sandwiches. I originally had the idea of using a fresh strawberry puree mixed with cream cheese. While it tasted amazing, it just couldn't hold up and got a bit messy.
Instead, I filled them with a thick cream cheese layer and a few drops of food coloring to get that pink look I wanted. I then added some pastel nonpareils all around for a more festive look.
You can substitute your favorite flavored cream cheese flavors such as strawberry or pineapple for the cream cheese mixture. It is a great way to save time and add additional flavor!
These cookies turned out delicious! My kids all loved them, especially my son Warren. My husband offered to buy the boys lunch with shakes after a long session of sledding. He turned a shake down asking if he could have another one of these cookie sandwiches instead. Knowing how much Warren loves shakes, he must really have loved these cookies!
For more spring recipe ideas like these Bunny Cookie Sandwiches, be sure to check out Everyday Recipes on Walmart!