Whether you homeschool or just want to work on letters with your preschooler, these DIY Wood Alphabet Learning Slices are a great teaching tool. As a bonus, they can look beautiful in your home displayed in the featured burlap bag on a shelf or the slices can be placed in a decorative bowl.  These wooden letters could even be used for building activities with your child. There are really so many possibilities. Be sure to read to the end of the post for four learning activities with these rustic learning slices.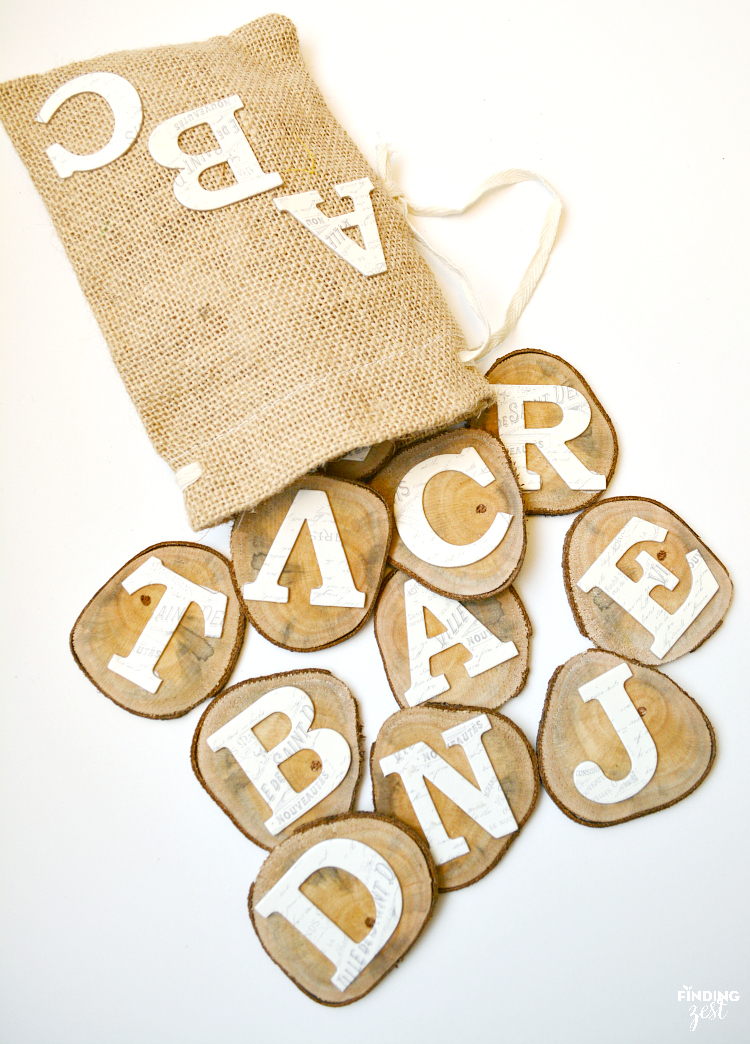 DIY Wood Alphabet Materials:
Wooden craft slices (You can make your own as I did or from a craft store.)
Alphabet letters (These are cardboard, but you can use stickers or any other type and size.)
Craft glue for wood
Burlap sack (I have seen this in the Dollar Spot at Target)
Poly finish (optional)
Amazon has many craft supplies available online! You can get everything you need there, but you'll want to pay attention to what size wooden slices you buy and your alphabet letters. The smaller wood slices do make this project more affordable.
NUOLUX Wood Slices Wood Disc Log Slices for DIY Crafts Wedding Centerpieces 7-9CM
Tinksky 20pcs 5-6CM Wood Slices Log Discs for DIY Crafts Wedding Centerpieces
Mini Assorted Size Natural Color Tree Bark Wood Slices Round Log Discs for
Cosmo Cricket Vinyl Letter Stickers (Pack of 3), White
Gold Metallic Glitter HandCut 1.5″ Chipboard Letters Alphabet set Sickers Uppercase
Graphic Products Permanent Adhesive Vinyl Letters and Numbers (183 Pack), 1″, Silver
THE PEEL PEOPLE Wall-Safe Removable Letters & Numbers – Neon (390 Total Stickers)
Permanent Adhesive Vinyl Letters and Numbers 1″-Gothic/Black
&
Small Wooden Slices
If you'd like to go with smaller discs than what was used in this project, here are a few options from Amazon. Be sure to carefully consider each disc and size of each letter. I found information on the exact size of these stickers in the questions or review section.
Goodlucky 30pcs 1.9″ – 2.4″ Natural Wood Slices Wood Discs with Tree Bark
Fuhaieec 30pcs 2.5″-2.8″ Unfinished Natural Wood Slices Circles with Tree Bark Log Discs
OULII Wood Log Slices Discs Christmas Wedding Centerpieces for DIY Crafts, 4-5CM, 30pcs
Carson Dellosa Alphabet Shape Stickers (168033)
Multi-Colored Stickers-Tropical Letters
[email protected]! Cardstock Stickers 4.5in X 6.5in Sheets 8/Pkg-letters
Sticko Alphabet Stickers, Watercolor
Pioneer Photo Albums 3D Gold Letters Stickers
&
Additional Materials
Elmer's Craft Bond Wood Craft Glue, 4-Ounce, White
Rust-Oleum 7872830 Specialty Polyurethane Spray, Satin, 11.25 Oz
10″ X 14″ Burlap Bags with Drawstring – Lot of 25
Partay Shenanigans 12 Pack Premium Quality Burlap Jute Treat Bags 5″ x 7″
&
Keep in mind the size of your burlap bag will really depend upon the size of your wood slice.
Instructions:
1. Begin by gluing one letter of the alphabet to the front of each of your wooden slices with craft glue. If you are using a thicker cardboard like we did, be sure to press and hold for several seconds to be sure they adhere correctly.
2. While the letters are drying on the wood, glue a few more with the same craft glue to the front of a small burlap sack. This will be your storage for the wooden letter slices when they are finished, and will help you remember what is in the bag, as well as give it decoration.
3. As an optional step, you can put a coat of poly finish over each wood slice if you wish, to further protect the letters and seal them in place.
Learning Activities with this DIY Wooden Alphabet
Letter Lineup – This activity is simple. Have little ones line up the letters in alphabetical order. This is a great activity for learning preschoolers.
2 Letter Words – Another simple activity to do with your wooden learning slices is to create simple two letter words. This sets the foundation for word building.
Simple Word Construction – The next step up from 2 letter words would be simple word construction with the wooden slices. Have children create words such as "cat" or "pet". This is a perfect learning activity for kindergarten level children.
Letter Sound Combinations – A slightly more advanced activity to do with your wooden learning slices would be to create letter sound combinations, two or more letters that when put together create a new sound. For instance, "ar", "ow" and "ph" are all letter combinations.
Thanks to Kathleen Bunn for sharing this awesome DIY Wood Alphabet Learning Slices project!