St. Patrick's Day can be exciting for kids of many ages. It doesn't matter whether or not you are Irish, it is still fun to celebrate with leprechauns, pots of gold and rainbows! Check out this fun St. Patrick Day activities kids list to inspire you!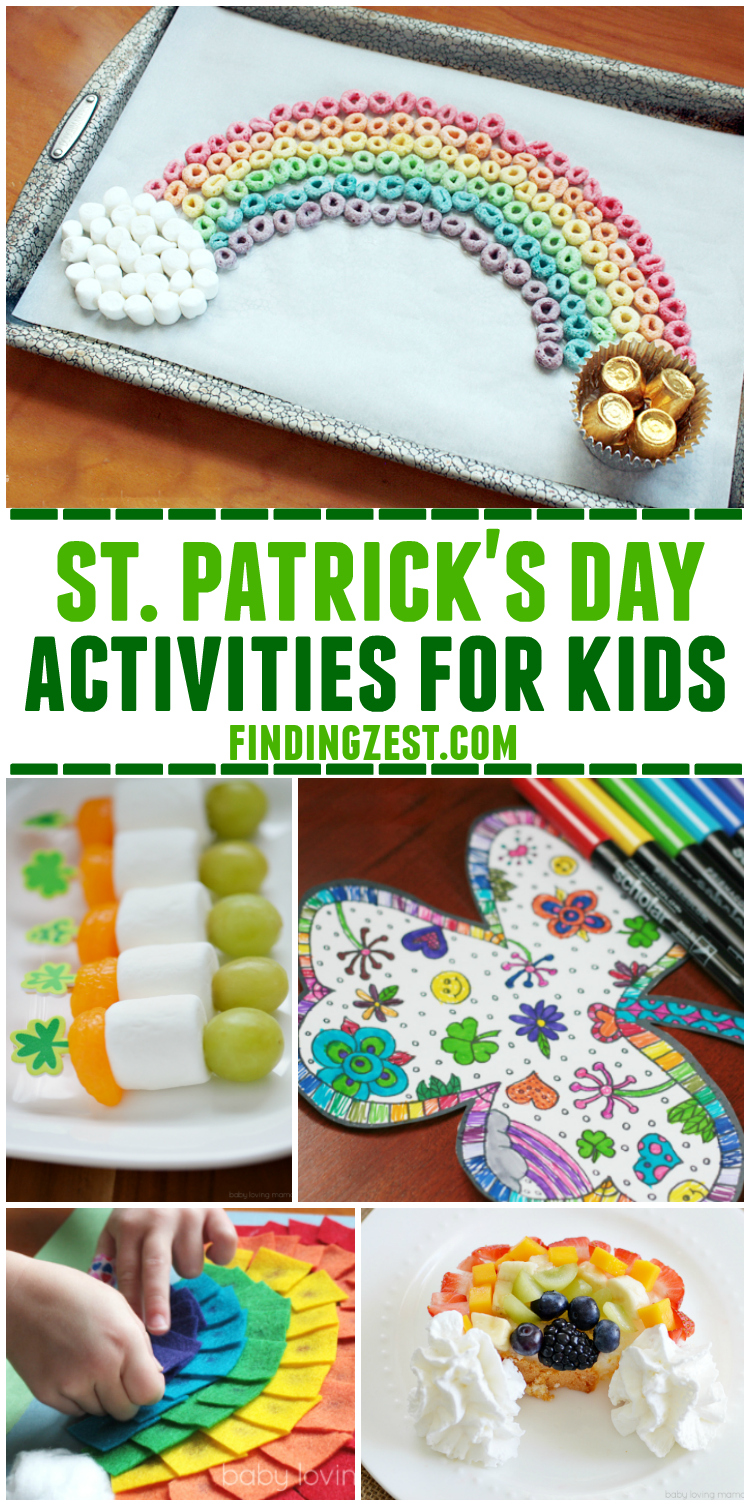 Rainbow Art
Have your child separate Fruity Cheerios or Fruit Loops into their color groups, then you can do a variety of activities that involve rainbows. You can have them glue the pieces to paper in a rainbow shape and add cotton balls or marshmallows for clouds. Alternatively you can string them in rainbow order onto string and make an edible rainbow necklace. If you want to keep the project completely edible, see this Edible Rainbow from my contributing writer Janelle.
You can also have fun with Rainbow Felt Art. This is a great activity to practice cutting skills and increase hand strength in a fun way!

Gold Glitter Slime
Kids always love slime! Mix 1 1/2 cups of Sta Flo Liquid Starch, and two 5 ounce bottles of clear Elmer's glue. Then add in some gold glitter. Mix well and enjoy playing with the gooey slime! It should mix to a consistency where it will not stick to everything. Similar to playdough but more elastic.
Ready to try this fun slime? Here are the only supplies you need which can be shipped to you free from Amazon!
Purex Sta-Flo Liquid Starch, 64 Ounce
Elmer's School Glue, Clear, Washable, 5 Ounces
Pacon Spectra Glitter Sparkling Crystals, Gold, 16-Ounce Jar (91780)
&
Fruit Treats
Create a rainbow with angle food cake, fruit and whipped cream for clouds like we did in this Fruit Rainbow Angel Food Cake.  Or you could let kids make a rainbow with a bowl of yogurt or smoothie bowl using rainbow colored fruits!
You can also have fun for breakfast with these Green Ombre St. Patrick's Day Pancakes featuring a delicious fruit salsa in green & gold!
Show off the colors of the rainbow with these silicone baking cups from Amazon!
Mirenlife Reusable and Non-stick Silicone Baking Cups / Cupcake Liners/Muffins Cups in Storage
Cutequeen Trading 24pcs (12pcs Round and 12pcs Rectangular) Silicone Baking Cups / Cupcake
Mirenlife Reusable and Non-stick Mini Silicone Baking Cups/ Muffin Cups/ Mini Cupcake Liners/
&
If you don't have your own silicone baking cups, they have so many uses. Besides baking cupcakes and muffins in them, they work great for dividing food in kids school lunches. You can fill them with fruit, cheese, small snacks, etc.
Irish Flag Snack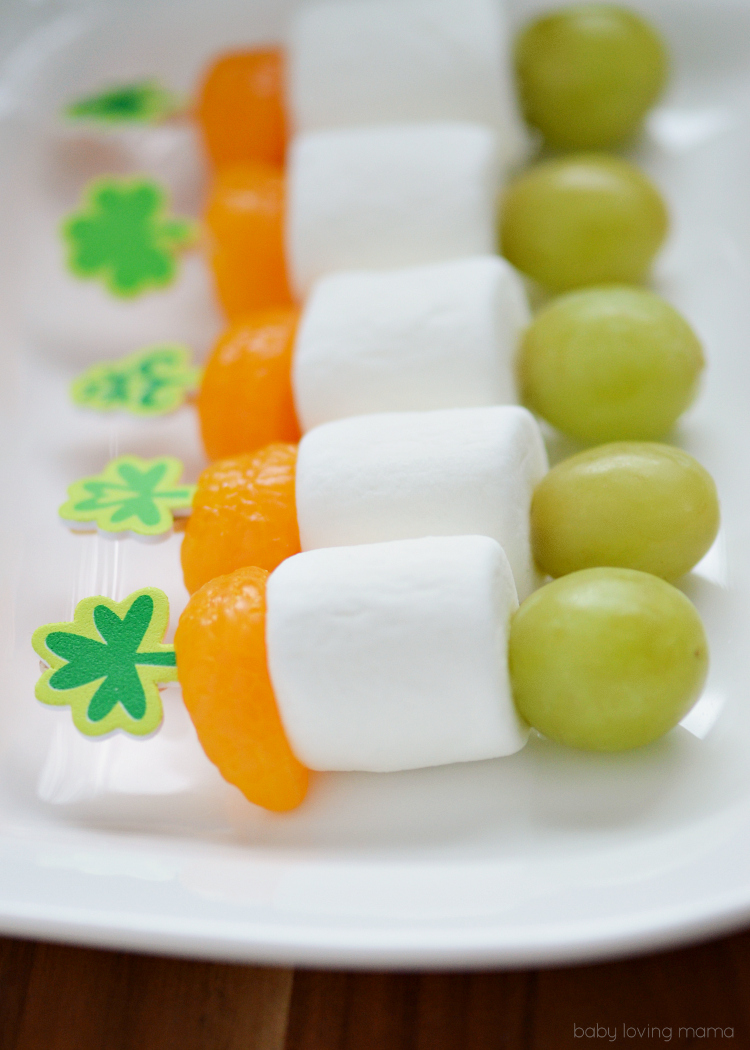 Represent Ireland's colors with these Irish Flag Fruit Skewers featuring green grapes, mandarin oranges and marshmallows. Some bamboo skewers topped off with foam stickers make this an activity for children of all ages.
Rainbow Ice Cubes
With your child helping, create 'rainbow' ice cubes, dye a few slots in the tray with each color (red, orange, yellow, green, blue and purple). A drop in each will be more than enough dye. Then wait for them to freeze (great opportunity to explain how water freezes), and when they are done, add them in order to a glass of water. Enjoy your rainbow drink with your favorite treat! You can even take this idea a step farther with a fun ice cube mold.
Wilton Gel Food Color Set, Primary
McCormick Food Colors and Egg Dye Vials, .25 Ounce
Food Coloring Liqua-Gel – 6 Color Rainbow Kit in .75 fl. oz. (20ml)
Camco 44100 Mini Ice Cube Tray – 2 pack
Outset Hex Ice Cube Tray
&
DIY Leprechaun Foot Prints
Before they head to sleep the night before, tell them that a leprechaun might come and leave them a present in the morning (or use whatever story you'd like). Place leprechaun footprints cut out of green paper in a path starting at their door to the location you choose to leave the little basket of goodies. (The goodies can be anything you'd like, similar to an Easter basket.) Placing it in a cupboard or similar area is a good idea in case the children wake up before you. Have them follow the foot prints to find their pot of gold! For older children, make this a scavenger hunt for added fun.
Here are some fun gift ideas to leave from the leprechaun!
SweetGourmet Milk Chocolate Gold 50c Coins (2Lb)
Gourmet Rainbow Candy Coated Popcorn Gift Tray 6-section
A TE Charm Bracelet Murano Glass Beads and Green Crystal St. Patrick's Day
Rainbow Delta Kite, LARGE – Easy to Assemble, Launch, Fly (200' of Line)
Luck O' The Irish Large: St. Patrick's Day Gourmet Gift Basket
St. Patrick's Day Set; St. Patrick's Day Light up Glasses, Giant Bow Tie,
Barbie Dreamtopia Rainbow Cove 7 Doll Gift Set
Kids Fizzy BUBBLE Bath Bombs with Toy Surprises Inside(Gender Neutral) – Rainbow Colors
&
St. Patrick's Day Free Printables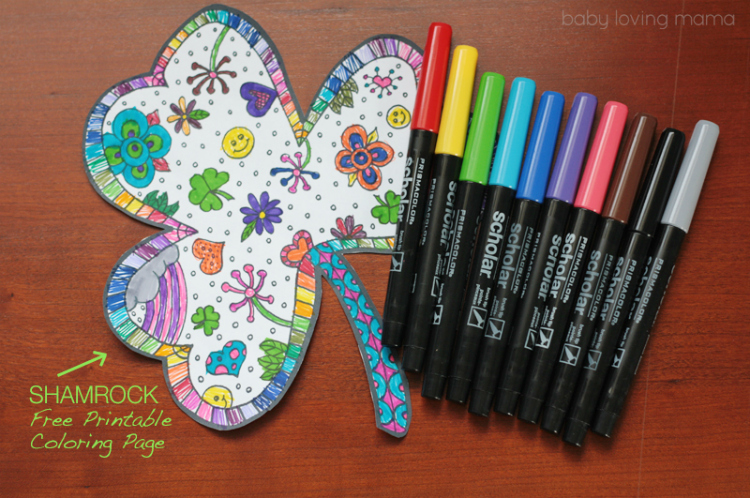 Search for fun coloring pages and other free printables that you and your child can do together. Give Janelle's adorable Shamrock Coloring Page Printable a try! Here is a list of more coloring page printables to download:
St. Patrick's Day Coloring Pages & Activities for Kids from Honey & Lime
Adult Coloring Pages for St. Patrick's Day from You Should Craft
Printable Coloring Pages for St. Patrick's Day from Land of Nod
Happy St. Patrick's Day!