Thank you to Blue Lizard for sponsoring today's kid activity. Thoughts are my own!
When it comes to warmer weather outdoor activities for my kids, sidewalk chalk is a must.  Sidewalk chalk is such a fun, inexpensive way to enjoy the great outdoors no matter how big or small your space. My kids love using our walkway or driveway as their canvas. I appreciate this activity is one that all my kids can enjoy together, even with a 5 year age difference between my youngest and oldest. I typically just buy my chalk from the store but was inspired to try and make my own. Here is how to make an easy homemade sidewalk chalk in fun shapes!
Sidewalk Chalk Materials
Making sidewalk chalk  is surprisingly easy and only requires a few supplies that can be found at your local craft/art supply store. Many major retailers like Walmart also carry these supplies. Tempera paints are a must. While you can get creative with mixing primary colors, I went for this non-toxic tropical tempera paint set but unfortunately this is now out of stock. I found some similar tempera paint sets on Amazon. What size you need will really depend upon how many chalk bugs you want to make and how many different colors you choose. I had at least half of each color paint when I was finished using this mold twice. You'll also need some Plaster of Paris as well.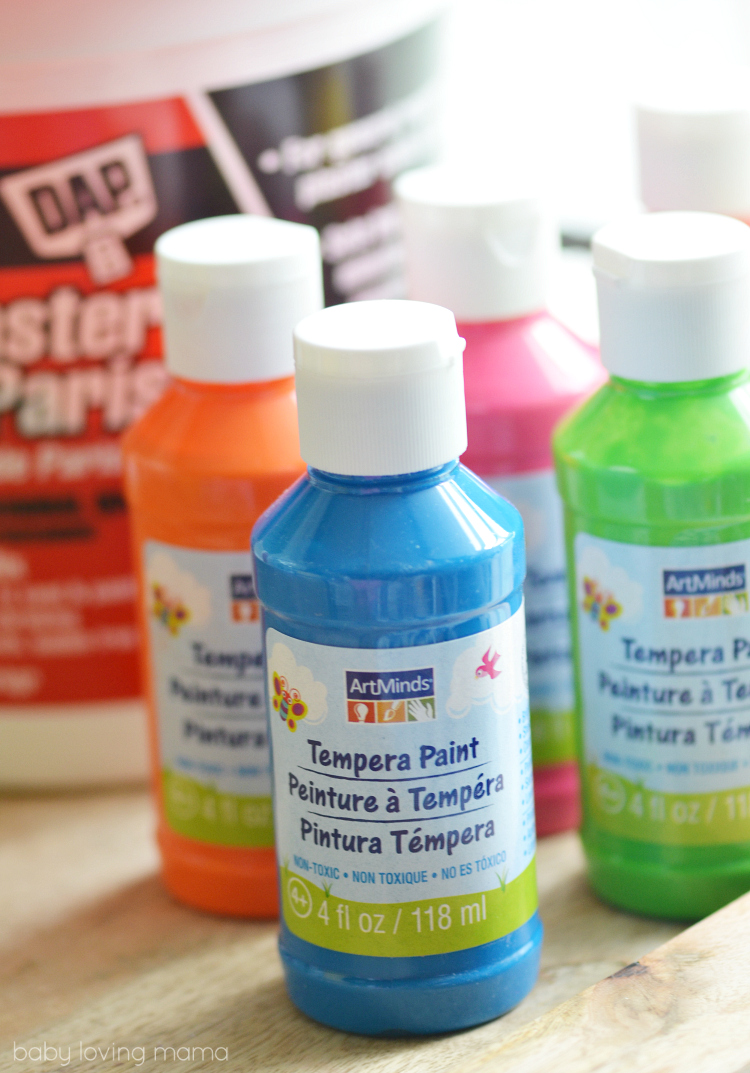 Mold for Chalk Bugs
To make fun chalk shapes you'll also want a silicone mold. I thought this very inexpensive 8 Cavity Insect Silicone Mold from Amazon would be perfect for the job.  I liked the larger size. It doesn't take long for my kids to run through their chalk so I didn't want small pieces that would wear down too quickly.
Cautions for Using Plaster of Paris
Because Plaster of Paris is not something you want down your drain, I highly recommend using disposable bowls and spoons to mix your ingredients. You could use inexpensive plastic dishes or recycle by using plastic whipped topping or large yogurt containers.  If you do decide to wash these out after be sure none of the Plaster of Paris ends up in your sink! (Consider hosing it down outside or using a plastic lined bucket instead.) Also protect your work surfaces with newspaper or cardboard before starting.
How to Make Sidewalk Chalk
I mixed one cup of the Plaster of Paris to 3/4 cup water and stirred to mix. Then I added some tempera paint, about two tablespoons. Measuring it out isn't really necessary. How dark you want the color will really depend upon how much paint you add.
I thought I'd be creative and do one that looked like the paint was swirled in and didn't mix it up as much. Don't do that. The result is spots of paint that never harden properly.
I did create purple by mixing my blue and red paint together since it wasn't included in the paint set. This could be a great art lesson for kids to make their own unique colors.
With a long cookie stick I scraped off the excess mixture on the top so I'd have smooth bottoms. (A paint stick or popsicle stick would also work. I just wanted something long that I could throw away.) I didn't care about some of the colors mixing together on the bottom but if that bothers you, you could do one color at a time or be more careful about how you scrape it off.
About two cups of Plaster of Paris and 1 1/2 cups of water are needed to fill the eight cavity mold. You can also do what I did and make multi-color chalk. I only did it with my leftovers but you could do an entire batch like this! The results are pretty amazing, aren't they?

Homemade Sidewalk Chalk Bugs Supplies:
Here are the supplies you'll need to make your own sidewalk chalk bugs. Amazon has everything you need and will ship it directly to you. So much easier than shopping around in stores! I've even included some bags in case you decided to use these as party favors.
Leegoal 8 Cavity Insect Silicone Cake Mold Pan (Random Color)
Dap 10310 Plaster of Paris Tub Molding Material, 8-Pound, White
Crayola Tempera Paint Set, 2-Ounce, 6 Count
Colorations Simply Washable Tempera Paint – 16 oz., Set of 11 Colors (Item
School Smart 1439213 Non-Toxic Washable Tempera Paint Set, 1-Pint Plastic Bottle, Assorted Color
Handy Art Little Masters Tempera Paints Set, 16 oz, Pack of 6 .
Wilton Cookie Sticks, 20-Count, 8-Inch
Wilton 1912-1294 100 Count Party Bags, Clear, Mega Pack
Homemade Sidewalk Chalk
These sidewalk chalk bugs are a great summer craft. Kids will love to draw with these adorable chalk bugs. If you are throwing a bug themed birthday party, this chalk makes a great party favor!
Ingredients
2

cups

Plaster of Paris

1 1/2

cups

water

4

tablespoons

tempera paint

disposable bowls

plastic spoons

8 cavity insect silicone mold 2 3/4" X 2 3/4" X 1 1/4" (or other mold)

wooden stick
Instructions
Slowly mix together Plaster of Paris and water.

Add in paint to desired color. Stir until fully combined.

Pour into mold cavities.

Scrap off excess to create flat bottoms with a wooden stick.

Let sit at room temperature until dry, approximately three hours.

Gently remove shapes from mold.
All my boys were itching to try out these homemade chalk. Before letting any of my kids play outside, I like to lather on some sunscreen. The Blue Lizard Australian Sensitive Sunscreen is a chemical-free, paraben-free and fragrance-free option making it perfect for kids.  Blue Lizard® Australian Sunscreen was born in Australia, where standards for sunscreens are the highest in the world. While their products are now manufactured in the U.S., they continue to adhere to the most stringent Australian standards because they want to protect your skin while you play under the sun.
They also have a patented Smart Bottle™ that changes colors from white to blue when exposed to Ultraviolet rays. What a fun reminder to apply sunscreen. My four year old Wesley loved watching the bottle change colors. I like that it went on nice and smooth and didn't leave behind that strong scent found in many sunscreens.  It is also dermatologist and pharmacist recommended offering more peace of mind.
These sidewalk chalk insects are the prefect size for Wesley's hand and easy to grip.
We spent the morning outside making all kinds of fun scenes.
Because the chalk was so fresh, it went on nice and thick. Wesley was careful to blow away any excess from his picture.
These homemade sidewalk chalk bugs would be super fun for kids to make themselves. Try experimenting with different molds and colors. They would make a great end of the year classroom gift for students or as a birthday party favor using a party themed silicone mold. 

Just don't forget the Blue Lizard sunscreen before your kiddos head outside to play!