This is a sponsored event but opinions are my own.
If you followed me via social media for a while, you might have seen me talking about the Ultimate Online Baby Shower last year with Sampler! But did you know they have sampling events all year long? I'm working with them again on their latest event, Mom's Week. Along with several other bloggers, we'll be bringing moms some awesome samples and flash giveaways from fabulous brands.  Here is what you can expect from this super fun event!
What is Mom's Week? This event will be taking place all week May 2nd -6th. It packs a one-two punch with both a sampling event and giveaways. Both will require you to be fast!!
The Sampling Event
A whopping 37,000 samples from various brands are up for grabs this week through Sampler. You will need to be fast in order to claim them and you can't claim them for yourself.  Instead you can send them up to up three of your friends. So if you want to snag some samples, you'll want to buddy up with a friend so you can send samples to each other! Note: You can claim coupons for yourself. 
Wish for It
Before the event begins you can wish for samples you'd like to receive so your friends and family know to send you one. If you buddy up, you can each fulfill each other's wishes. After "RSVP'ing" on the MomsWeek tab, you will receive exclusive access to the calendar and will have a chance to go share your wishes on social media!
Flash Giveaways
There are 10 flash giveaways during the event.  Each participating blogger will have a flash giveaway on their Facebook page during the event. Entering will be easy. Be sure to watch my Facebook page and Twitter feed for links to giveaways as they go live!
RSVP to Win & Calendar of Events
The final giveaway will be for a Grand Prize Basket worth over $300 to one lucky winner who RSVPs to the event! You'll definitely want to enter because it will also register you for the event, giving you access to the calendar of events. This calendar will let you know when each of these awesome brands is holding their Sampler event.
**Click here RIGHT NOW to RSVP on the Sampler App Facebook page and be entered to win.
Participating Brands
At this point, I'm sure you are all dying to know what brands are participating in this fun event! Here is a quick run down on all the companies.
Healthy Skoop
One of my favorite products to arrive was the Healthy Skoop B Strong Plant-Based Protein Shake. Since my husband is a runner and works out all the time, we typically have a protein powder available in the house but it is always chocolate. We've never found a good tasting vanilla, even though that is my preferred flavor in almost everything. Both my husband and I agreed that this vanilla protein powder is absolutely delicious! I've had it several times mixed with 10 oz of milk while my husband just used water. I can't wait to throw it into some smoothies! This makes for such a great start to my morning.
What is so great about it? B-Strong has 16 grams of lean, clean, plant-based proteins and is more than just a typical vegetarian protein powder. Works great as a fast breakfast, snack or post-workout recovery option.
Want to try Healthy Skoop? Wish for It during right here. (US ONLY)
Perfect Bar
When I'm overly hungry I typically reach for something fast and easy but don't always make wise choices. I need to start having some protein bars from Perfect Bar on hand!
When my sample pack arrived on ice my husband was itching to try one. Protein bars are another staple around here, but none have ever been quite like these. These are the freshest nutrition bars ever created.  Perfect Bars are refrigerated and yet last 9 months in the fridge. My very favorite was the Lite Cranberry Crunch but I admit I didn't get to try every variety. My husband kept taking them every morning with him to work and enjoyed them as his breakfast after a morning workout. His favorite was the Carob Chip and Fruit and Nut. We both loved that they tasted so fresh and weren't dry.
The mini bars are a great snack option with only 100 calories. I found them to be a great boost and were a perfect way to tide me over between meals.
All the bars are gluten-free, vegetarian, non-gmo and full of high-quality whole food protein.  You'll find no refined sugar but plenty of complex carbohydrates and over 20 nutrient-dense organic super foods. (While most contain dairy, the vegan Almond Coconut Perfect Bar does not.)
Be sure to Wish for It during Mom's Week right here. (US ONLY)
MyChelle
I take sun protection seriously, especially with kids! I love spray sunscreens for most body parts but really appreciate a stick for the face.  No one likes a spray in the eyes, mouth or hair, right? I like the control that a stick can bring so I'm excited to try out the MyChelle Sun Shield Clear Stick with an SPF 50 during the hot summer months and see how it holds up. It has almost no scent and goes on smooth.
Of course since the product  is free of parabans, NON GMO and free of artificial fragrances and colors, there is a whole lot to love.
Want to test out MyChelle yourself? Be sure to Wish for It during Mom's Week right here. (US ONLY)
FATCO
I love having super soft skin! (What woman doesn't?) Nothing beats a really good body butter on the legs after a shower and shave, especially in the summer months. This FATCO body butter almost immediately started to melt on my fingers just from normal body heat. It glides on super smooth (like butter, baby) and is available in multiple scents. While it does leave a bit of grease on you until it has a chance to soak it, the results speak for themselves with very soft skin.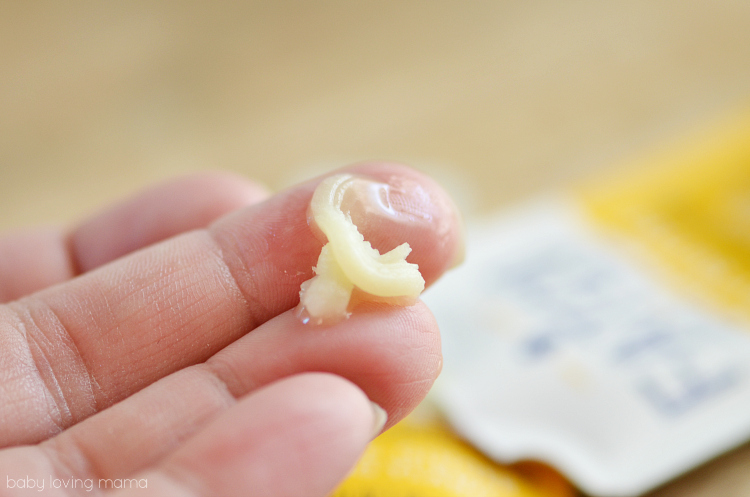 FATCO offers paraban free, paleo products using a "Nose to Tail" philosophy.  They believe that no parts of an animal should be wasted, including the bones and fat.
Wish for It during Mom's Week right here. (US ONLY)
Parissa
I'm not going to lie, waxing isn't fun. It doesn't matter what part of my body it is, removing hair by ripping it out is not my idea of a good time. But the results can certainly speak for themselves. Waxing is a great alternative to shaving with better results. If I'm going to save money and do it in the comfort of my own home, I definitely want a quality product I can trust. Parissa offers an all-natural hair removal that works wherever you need it. Yes, even your private lady bits. *ahem*
Wish for It during Mom's Week right here. (US AND CANADA)
Apricot Power
Lately I've been trying to add additional ingredients to my smoothies to make them even healthier. But I'm learning that some products can be added to much more than just smoothies to increase their nutritional value. Apricot Power offers a wide range of products and supplements to health conscious customers around the world like their Ground Superfood Mix in Chocolate Brownie.
This multi-functional, multi-purpose formula is the world's first B17 infused superfood mix made from whole foods.   This innovative blend is perfect for creating delicious and healthy smoothies, shakes, muesli, raw or fresh-baked meals, muffins, and more! Enjoy the delicious chocolate brownie flavor!
Their products are bitter raw, California grown, vegan, gluten free and pesticide free.
Be sure to Wish for It during the Mom's Week right here. (US ONLY)
DeVita Skincare
I'm not always great about taking care of my skin, especially on my face. But I'm getting older.  I have to remind myself of this because even though my skin looks fine now, I need to be taking better care of it. And as a mom, sometimes I just need products that will help to give my face a little boost. Whether it is because I'm tired or fighting allergy face, I'd love some new skincare products on hand!
DeVita Skincare is 100% vegan and paraban free. They are considered Gluten Sensitive Safe and never contain GMO's. DeVita products are never tested on animals (only humans!). They sent me their nourishing Revitalizing Eye Lift Creme which helps reduce the look of puffiness and dark circles, while adding needed moisture.  It is so soft and smooth. I love it!
Be sure to Wish for It for Mom's Week right here. (US ONLY)
Bitsy's Brainfood
I'm no stranger to Bitsy's Brainfood. Ever since we tried out their tasty letter cookies (now a favorite of my youngest) we often have them on hand. My kids couldn't wait to offer their opinion of these organic Smart Crackers.  After testing all of them there was a clear winner. The Sweet Potato Cinna-Graham received top honors but the Maple Carrot Crisp was a close second. While they liked the Cheddar Chia Veggie it couldn't compete with the other two flavors. I liked them all too!
These crackers come in a fun puzzle shape which my kids enjoyed building into different animals and objects. The back of the box had some great inspiration!
Look for these crackers at your local Target. Be sure to Wish for It right here. (US ONLY)
Danskin Now
I'll admit I've fallen into the mom trap of yoga pants and messy bun. It is really hard not to want to be comfortable all day when you can. While I do still get properly dressed when I leave the house, I live in lounge clothing at home. Whether you are looking for something to workout in or just want something you can move around in, Danskin Now has some great inexpensive options like this tank for just under $5. (Yes, you read that right!) You can also buy them in a two pack for only $9.50.
Look for them at Walmart and Wish for It right here. (US ONLY)
Buddha Teas
I absolutely love assorted iced teas. From from sweet tea to fruit flavored to unsweetened, it is all good to me. But when I want something hot, I typically reach for coffee instead. (Unless I'm in a Chinese restaurant. Then bring on the hot tea!)  I often find traditional teas to be too bland or slightly bitter. After trying Buddha Teas I've changed my mind on that!
For the past couple of days I've been suffering from my seasonal allergies. I was looking for something without a lot of caffeine to soothe my sore throat. I tried the Skinny Buddha Blend which features a sweet, tangy and citrus flavor. It was perfect! I loved the taste as is and didn't feel the need to add anything to it. You can see how strong the caffeine level is by the handy graph on each box.
This morning I gave the Matcha Tea powder a try. Buddha Teas sent me a Matcha Bamboo Whisk Set which made all the difference. If you've ever tried making matcha with a spoon, you know what I mean. If you want a nicely mixed, smooth and frothy matcha tea, you definitely want this set. Making this tea brought back memories watching Karate Kid 2! (I'm not the only one, right?) It is a stronger tea but very good!
What sets us apart from other tea companies? We start with a philosophy of living in harmony with nature, not using it for profit. Buddha Teas uses only fresh, pure organic or sustainably wild harvested ingredients and maintains their natural purity in every tea we sell. We have also created the "Teas for Trees" campaign, planting 5000 trees a year to offset the paper use in our tea bags. Each of our tea bags is bleach-free to eliminate the risk of chemicals, and our boxes are made from 100% recycled material. When you buy Buddha Teas, you'll enjoy the fresh, full flavor of a truly natural tea in every sip.
Be sure to Wish for It right here. (US ONLY)
Solves Strips
It is so tough as a mom to see your child sick. Solves Strips offers some piece of mind with a convenient, travel sized way to quickly restore electrolytes when suffering symptoms of flu, vomiting, diarrhea and heatstroke. Packed with electrolytes, these strips are specifically formulated for children and dissolve quickly with no sugar or carbs!
Be sure to Wish for It right here. (US ONLY)

eureka! Organic Bread
I can't help but laugh when I read all the names of the eureka! Organic Bread varieties. With names like Sweet Baby Grains, Saaa-Wheat and Seeds the Day, they certainly are fun.  Even better, they have no high fructose corn syrup, no artificial flavors, colors or preservatives. And if that didn't grab you, they also are certified vegan and made with sustainable packaging. Pretty awesome, right? I'm was itching try some out but I had to wait until my local Walmart had more in stock since they were sold out my first try.
I made this amazing Turkey Guac sandwich with eureka! Grainiac Bread for lunch. I piled it high with turkey, colby jack cheese, guacamole and shredded lettuce. It was so good and very filling! I love that this bread was super fresh and even sized throughout the loaf. No searching for a good match near the ends!
Be sure to Wish for It right here. (US ONLY)
Greeniche
Greeniche is a Canadian company that offers many natural vitamins for complete nutrition regardless of dietary restrictions. Their products are gluten free, dairy free and vegetarian. They also offer the safest and most versatile sugar substitutes available and are a champion for alternative diets and diets in diverse communities.
Be sure to Wish for It right here. (CANADA ONLY)
Kiju Organic
Nothing beats a refreshing glass of cold juice any time of day! That is why I'm rather jealous that I can't give Kiju Organic a try yet. What makes it so great? You'll find that this certified organic product also has no added sugar and is non-GMO.
Our mission: to produce the finest-tasting organic beverages that support the health and wellness of our consumers, the economic well-being of our grower-partners and the sustainability of our environment.
If you live in Canada be sure to see Kiju Organic available in your area.  You can find it in natural food stores, and natural sections of most major retailers. If you live in the US, this product is currently popping up in the US Northeast in restaurant and cafes.
Be sure to Wish for It right here. (CANADA ONLY)
So there you have it. All the brands participating in the Mom's Week Sampler Event, all in one spot. Be sure to RSVP by going to the Sampler App on Facebook page to participate in this event. Don't forget to watch my Facebook page and Twitter feed for links to giveaways and sampling events so you don't miss out. Remember, things will go FAST so be at the ready.
Have fun!