This is a sponsored post for SheSpeaks/Rubbermaid®.
When I worked full time in a corporate office, I was not very responsible when it came to my lunch choices. In the beginning I made more of an effort to bring my own lunch, but it wasn't long until I fell into the habit of eating out or bring a microwavable meal. I was just too busy and wanted something easy. But now, there are so many more delicious lunch ideas and new ways to easily bring them on the go like the Rubbermaid® BRILLIANCETM Salad & Snack Set, especially if you try this easy salad kit lunch hack!
Doesn't that look like a delicious, yet healthy lunch? This 9 piece lunch set is the answer to keeping your entire lunch fresh and organized.
With build in dividers, tops that lock in place and containers that stack, keeping your lunch together has never been easier. I love that these stain resistant food storage containers also make perfect meal prep containers.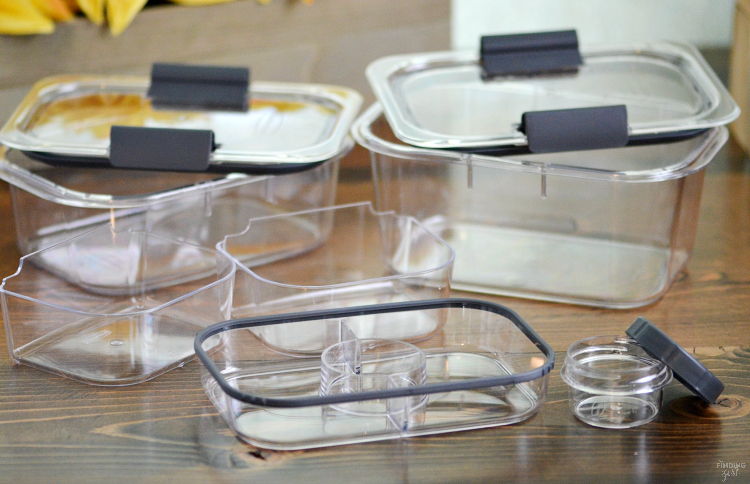 Salad Kit Lunch Hack
Salad kits are a great way to enjoy a variety of salads but they are hard to enjoy at lunch because they typically include more than one serving. Dividing them up in the Rubbermaid BRILLIANCE Salad & Snack Set is a great way to still use salad kits but keeping them fresh and spread out through multiple days.
Day One
For this lunch, I put together divided up my favorite salad kit into two days worth and added in some fresh mozzarella cheese pearls.
Day Two
For the next day I switched things up and added flatbread, deli ham and cheddar cheese. Load up a flatbread (or tortilla) with the prepared salad and your other favorite fixings!
Snack Time
The snack section of this set can be used to store additional lunch items to enjoy with your salad or as snack options throughout the day.
For the snack set I added some fresh pineapple and multi-grain crackers.  For day two, cheddar cheese cubes and almonds were the perfect snack choice.
Don't feel for a salad?
You can use this Rubbermaid set for anything you want! Try loading them up with fresh veggies and instead of salad dressing add your favorite veggie dip or hummus. Include a tortilla, leftover chicken and a portion of a Cesar salad kit for a killer Caesar salad wrap!
What would you put in your Rubbermaid BRILLIANCE Salad & Snack Set?
Giveaway
I have one Rubbermaid BRILLANCE Salad & Snack Set to give away to one lucky reader!