Making fun recipes for Halloween is an easy way to celebrate. Whether it be for a Halloween classroom treat or just as a surprise for your kids, making themed food can be super simple. One of my favorite Halloween themes is spiders.  The possibilities are endless when it comes to making spider webs and spiders with food. Today I'm sharing over 20 ideas for spooky Halloween spider recipes.
Spider Potato Skins
It is tempting to only create sweet treats for Halloween, but you can make almost any meal work with a little creativity. These Halloween Pizza Potato Skins from Three Olives Branch are an ideal appetizer, side dish or vegetarian option.
Spider Cupcakes
Cupcakes are a classic treat but these Halloween Spider Cupcakes from Cutefetti are anything but typical. With their spooky read eyes, they are sure to stand out on any Halloween buffet table.
Spider Chocolate Dipped Pretzels
These Spider Web Halloween Chocolate Pretzels from Finding Zest are a super easy no-bake treat. Using spider sprinkles and extra chocolate to mimic spider webs, these pretzels are a quick and spooky Halloween treat!
Spider Cookies with Webs
Spider cookies may be common but these Spooky Spider Cookies  from Sugar Spun Run kick it up a notch with marshmallow webs!
Spider Web Halloween Bark
Chocolate lovers will fall in love with this Spider Web Chocolate Bark from A Saucy Kitchen!  A mix of white and dark chocolate, these webs are sure to satisfy that chocolate craving!
Spider Deviled Eggs
A Side of Sweet takes a classic appetizer to another level with these Halloween Deviled Eggs featuring black olive spiders.
Spider Cookie Cake
Save time making cookies with this extra large cookie from Love to Be in the Kitchen! This Spider Web Cookie Cake is the answer  when you want a wow factor but are short on time!
Spider Crackers
Whether you need a great after school snack or lunch idea for kids, these Easy Ritz Spider Crackers from One Little Project is perfect! Only a few minutes are needed to put these cute spider crackers together.
Spider Punch for Halloween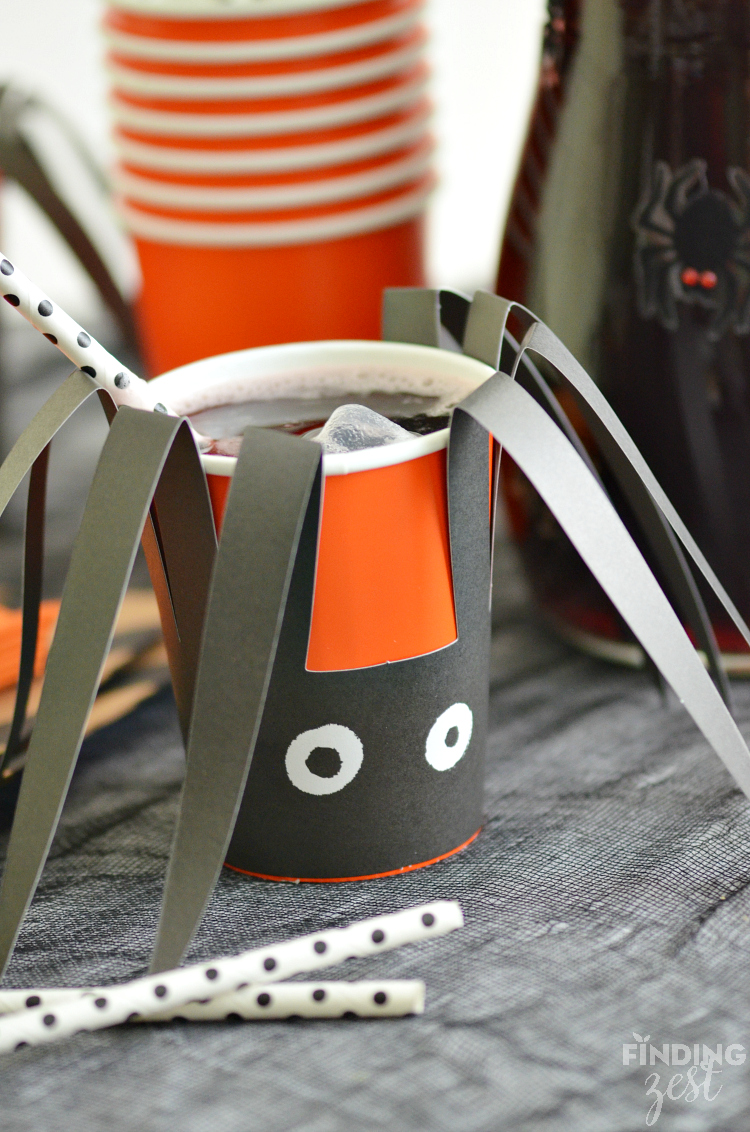 Refreshments are a must and this Black Spider Halloween Punch from Finding Zest won't disappoint. Loaded with fruit juice and sparkling water, this dark purple punch has no added sugar or guilt!
Chocolate Protein Spider Balls
These Chocolate Peanut Butter Protein Spider Balls from Eating Richly are the answer to a healthy, kid-friendly snack for Halloween! They are almost too cute to eat!
Looking for more great Halloween Spider Recipes?
Here are some additional spooky spider recipes to inspire you!
Which of these Halloween spider recipes will you try first?