*This is a sponsored post written by me on behalf of The Home Depot.*
If you caught my post earlier this week, then you know exactly why my husband and I are doing an outdoor gazebo makeover project with environmentally friendly Envirotiles from The Home Depot.
This past weekend I went shopping by myself for all the materials we would need for the project. At first I was certain that my husband Joe should come with but I don't like taking tired and cranky kids with me. Trying to shop for something like this when your attention is divided is not a good plan. And so I made my way, by myself to our local Home Depot.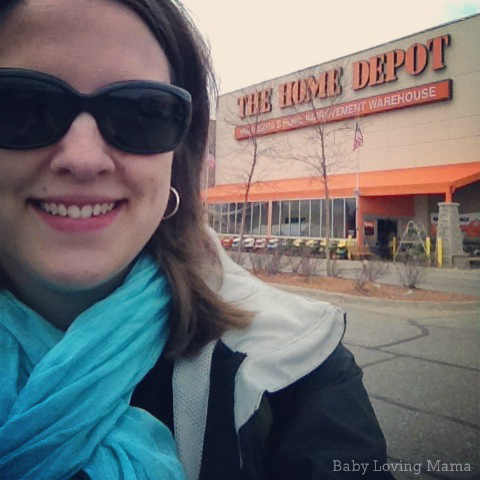 It was very chilly and windy out so I was thankful I had already scoped out where the Envirotiles were located. They were in the open air portion of the gardening center on an endcap. I had seen many different styles of the tiles online so I was a bit disappointed that only one style in two colors are available actually in store. This style mimics a stone paver while others look more like stone and mosaic patterns.
If I ever wondered exactly how much I would need for our 10'x10′ wooden gazebo platform, this handy chart takes all the guesswork out. I really appreciated how easy it was to follow and made me feel confident I was purchasing the right amount without even having to get a store associate involved.
That was, until it was time to actually load them up on a cart. An associate passed me by and immediately made eye contact and asked if he could assist me. He grabbed another associate and together they worked as a team loading up the tiles and counting them off as they did. It was nice to see their teamwork and pleasant attitude.
In just a couple of minutes I had a cart loaded with 49 tiles and Envirotile Connector Clips in which to hold the tiles together.  I do want to point out is you won't necessarily need all the clips that the chart suggests. The How to Install Envirotiles instructions we are using state you only need them for the perimeter so it may simply depend upon the scope of your project and the surface you are using. I decided to purchase several packages anyway and return them if needed. Silicone rubber adhesive is an option for securing the tiles as well.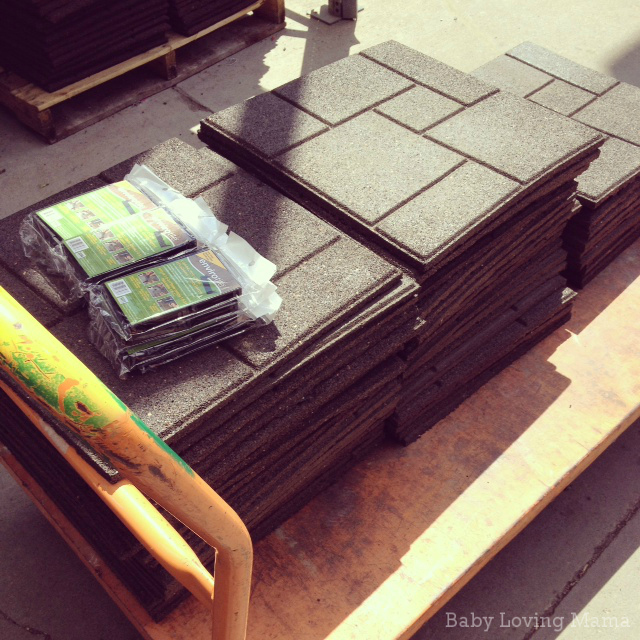 In under 20 minutes I was already out of the store on a Saturday, no less, heading to my van and wondering exactly how long it was going to take me to load them all. The nice cashier offered to have someone come and help me but I figured I could just do it on my own rather than wait. But wouldn't you know, just as I walked out this nice gentleman was busy bringing carts in from the parking lot and asked me immediately if I would like help. Of course I said, "Yes!" and thanked him profusely for offering. While I do realize it is their job, it is so nice to see associates go out of their way to offer help rather than make a customer ask.

I got home in record time and my husband immediately unloaded all of the tiles onto our gazebo platform so he could get a sense of what the project would look like!
Watch for my upcoming posts which will show exactly how we installed our Envirotiles and how the project all came together!

It's home improvement time, and The Home Depot has everything you need to #DigIn for Spring. No matter what projects you want to tackle, they have great values on all you need. They're ready to help you with renovation ideas and expert advice, too.
Get over $300 in email exclusive savings each year, sneak peeks on new products, monthly lawn & garden ideas for your region and access to The Home Depot's gardening experts. Click here to join the world's largest garden community today! Or go to http://gardenclub.homedepot.com/ to see some of the many benefits of membership.
__________________________________________________________________________________
Disclosure: I am thrilled to have this opportunity to work with The Home Depot and receive product to enhance our backyard. All thoughts and opinions are my own.