I love sharing fun meal ideas like this one! This post is sponsored by Mirum Shopper but all opinions are my own.
Getting through the week can sometimes feel like it deserves a special celebration. Let's face it. Life can be a struggle. And I know my kids especially are always looking forward to the weekend. My little guy often asks how many more days until "no school" since he is in a 5 day a week preschool program. I can't blame them.  Mondays in particular can seem extra rough with the week just starting. So rather than celebrating on Friday when the weekend is here, I decided to flip it around! To make everyday dinner just a little more fun for my kids, I threw a Eye on Friday Kids Party on Monday.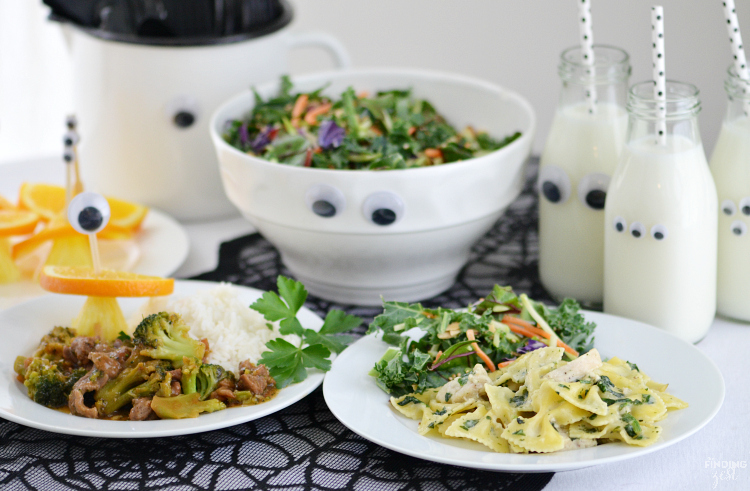 I know what you might be thinking. Throw a party on a school night? I barely have time to make dinner, let alone throw a party around it. But it doesn't have to be a complicated event. I used some simple items around my house and a couple of frozen meals that meant throwing the party wasn't any extra work than my usual dinner routine.
If your kids are notoriously picky like mine with varying tastes, why not offer a couple of dinner choices? Most frozen meals are for two to three people. Pick up two varieties and offer choices. (Or go for a single family size if they are available.) For my party I purchased P.F. Chang's Frozen Beef and Broccoli and Bertolli Frozen Chicken Florentine.

Not sure where to find these products? They were located in the freezer section of my local Walmart. You will find them with other frozen meal solutions!
Bertolli Frozen Chicken Florentine: Bertolli's version of the classic Italian favorite, Farfalle pasta cooks up al dente. Grilled white meat chicken and tender spinach are prepared in a luscious sauce made with white wine and Parmesan and Romano cheeses.
P.F. Chang's Frozen Beef and Broccoli: Simple, fresh ingredients bring out the bold flavors of a traditional favorite. You'll enjoy marinated beef and crisp broccoli drizzled with savory garlic soy sauce.
Both require just a large frying pan. That is it. No extra ingredients, no complicated steps. Just add the contents into your pan and let it cook about 10 minutes or until heated through. It doesn't get easier than that!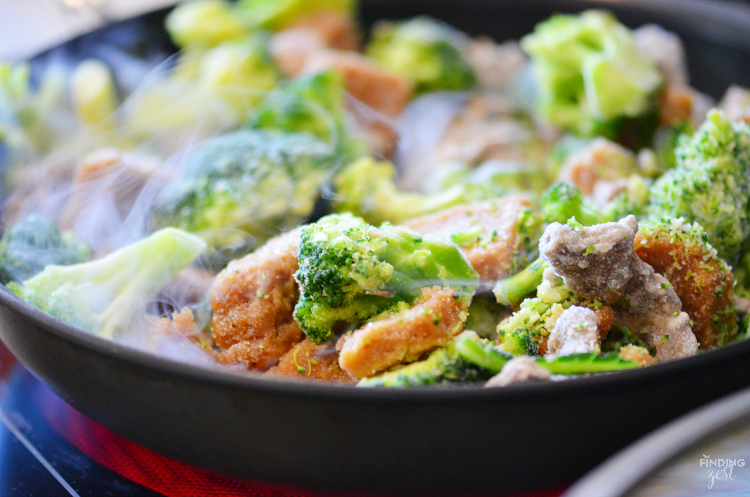 For my party, I used items I already had on hand. I followed a black and white theme throughout which was easy to find items. I used a white tablecloth and black lace runner from my Halloween decorations.
And of course the star of the party was really the googly eyes I put on everything! I already had some in my craft stash but you can pick them up at your local dollar store. To attach them I used my small Zots Adhesive Dots. (If you don't have these I high recommend. You can use them for everything from craft projects to attaching a gift card to a greeting card. I've had mine a long time so they last a while.) 
You can do this part yourself or let your kids get in on the adding the eyes in any way they want. They do start to resemble monsters which my boys loved.
I thought some fruit would taste great with dinner, especially the P.F. Chang's Frozen Beef and Broccoli so I used some bamboo skewers for pineapple and orange slices and attached eyes to the top.
I had leftover black party napkins and flatware from a birthday party over the weekend, so I added those in too.
The  kids loved this party idea. My husband even teased me about why he got stuck with the monster with only one small eye.
Small, unexpected celebrations like these are so very memorable. My kids still talk about the time I served a meal on a beach blanket in our living room during the winter. And my kids loved playing with the eyes from dinner so much that they moved them to our milk jug so they weren't thrown out right away.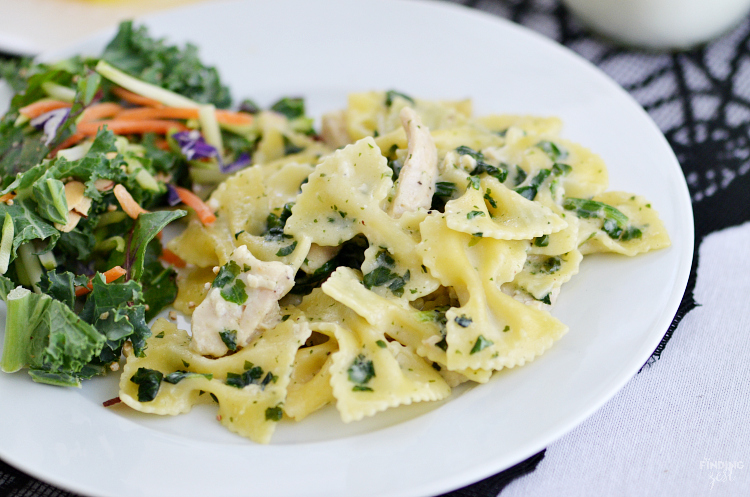 I was very pleasantly surprised by just how good the frozen meals were! I will definitely be buying them again and let my kids pick out their own special variety.
Have you ever thrown a "mini party" to celebrate the everyday?