This french bread pizza post is sponsored by Crystal Farms Cheese® but the content and opinions expressed here are my own.
Recipes like this french bread pizza are a must for back to school season. The transition to new schedules is tough but dinner is the time we can all come together and discuss our day. I love easy weeknight meals that I can throw together fast and this bread pizza certainly fits the bill. In less than 20 minutes this can be your dinner tonight or tomorrow, or whenever you have a craving for pizza.
There are a few key ingredients needed for this french bread pizza recipe, but most of it can be switched up to suit your family's tastes. Even if everyone wants something different, you can offer a variety of toppings and let everyone build their own!
How to Make French Bread Pizza
For this recipe, you'll need some french bread for your grocer's bakery.   You'll also want to pick up those favorite pizza toppings and new Crystal Farms® Whole Milk Mozzarella Cheese. Have you seen this new product?  It has a butter-rich flavor and awesome melting ability which is perfect for pizza! Plus it is made by cheese lovers, for cheese lovers.
While it isn't technically necessary to add the melted butter with garlic and parsley, it adds so much extra flavor. It also softens up the bread and makes it more enjoyable. I've tried it both ways and the garlic butter wins hands down. If you love bread recipes be sure check out this cheesy bacon pull apart bread.
I topped my bread with 3 cups of mozzarella cheese. If you like yours really cheesy you can add a bit more.
Any of your favorite toppings go on next. We love Italian sausage but I skipped that since cooking it would have been an extra step I didn't want. If you stick with precooked meats like pepperoni and Canadian bacon, you can save a lot of time.  These french bread pizzas can be put together in the time it takes for your oven to preheat.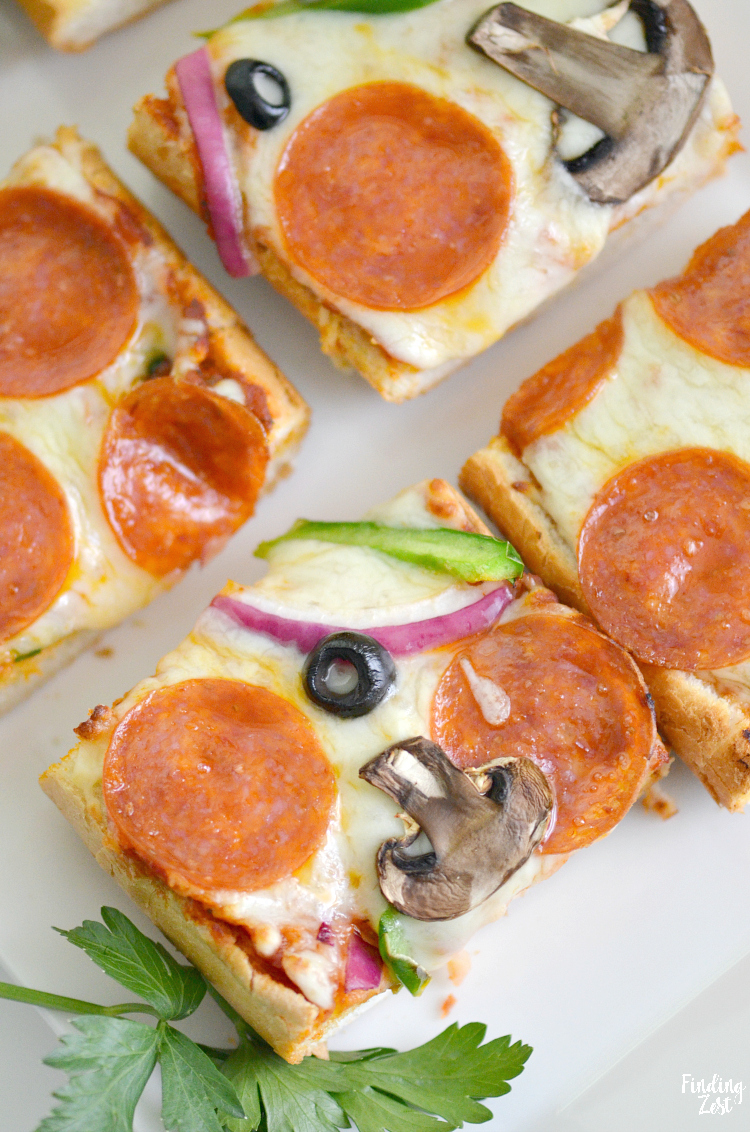 My kids went nuts over this french bread pizza recipe and it is just so simple to prepare. If you really love sauce you could add some extra pizza sauce on the side for dipping. Yum!
French Bread Pizza Recipe
Author:
Emilie at FindingZest.com
Ingredients
1 pound loaf French bread
3 cups shredded Crystal Farms® Whole Milk Mozzarella Cheese
1 cup pizza sauce
⅓ butter, melted
2 cloves garlic
2 teaspoons chopped fresh parsley
Your favorite pizza toppings such as:
pepperoni
black olives
green pepper slices
red onion slices
mushrooms
Instructions
Preheat oven to 400 degrees F.
Slice french bread in half the short way. Then cut each half lengthwise so you have four open face pieces of bread. Place bread on large baking sheet.
In small bowl stir together melted butter, garlic and parsley. Brush over tops of bread.
Spread pizza sauce over top and sprinkle with mozzarella.
Add your favorite pizza toppings such as pepperoni, black olives, onions, mushrooms and green pepper.
Bake for 8 to 10 minutes or until cheese is fully melted and bubbly.
Slice and serve immediately.
Look for Crystal Farms Whole Milk Mozzarella in the refrigerated section of your local grocer. It is a natural product with few preservatives, a rich source of calcium and gluten free making it a great addition to your mealtime arsenal.
For more great recipes with Crystal Farms Cheese be sure to click here!
GIVEAWAY:
Win 3 free Crystal Farms product coupons just by commenting on my post below.
To enter: Tell me your favorite meal that includes cheese. 
Open to US residents 18+ only. Ends 8/26/18 at 11:59 pm CST. If you have issues leaving a comment, please email your answer to [email protected]