This is a sponsored post brought to you by Pampers. All thoughts are my own.
Nurses play an essential role for parents and babies during labor and their first few days of life. I'll never forget some of the amazing nurses who helped me during my own motherhood journey. From the nurse who was such a calming presence during my first labor, to one who stayed past the end of her shift to see my second son born, to the nurse who advocated for me when the resident doctor was certain my water hadn't broken with my third child. (He tried to convince me I was just peeing and was wrong.)  As a member of the Pampers Baby Board, I was given a grant last year to surprise local nurses. I was thrilled to do it for the nurses who are often overlooked. They loved it! I am so excited to partner with Pampers to do it again this year!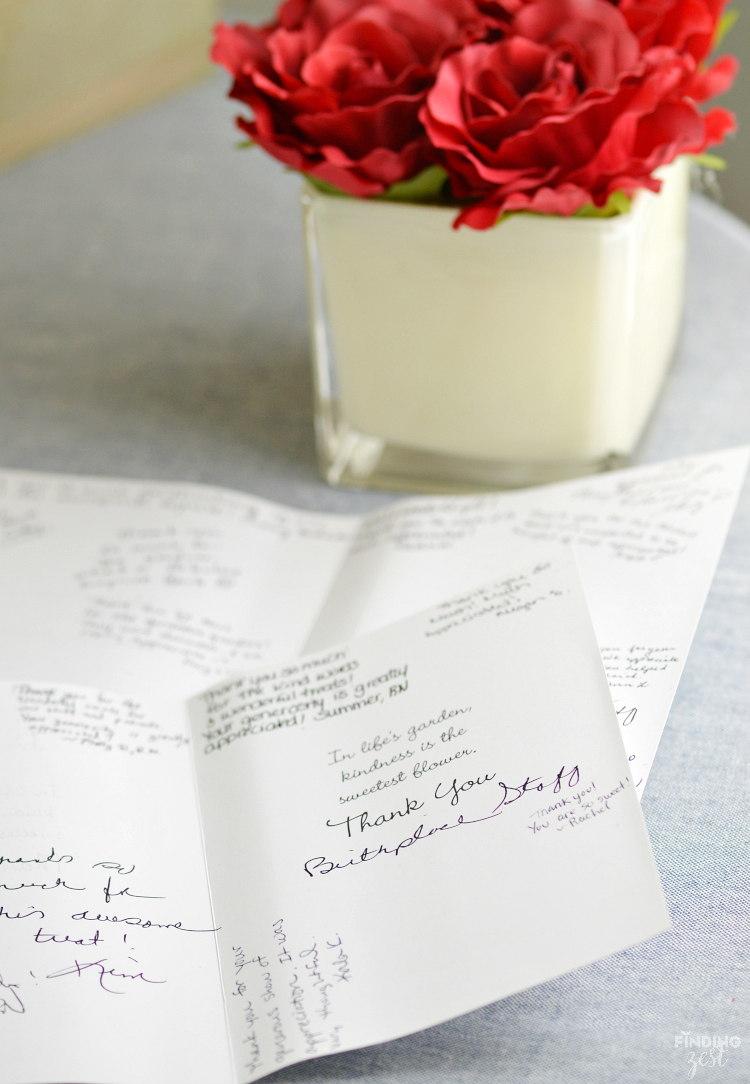 A couple of weeks after I made my delivery, I received two beautiful thank you cards in the mail from the both departments. I was so happy to see just how much they appreciated this gesture that I wanted to do it again this year. Thankfully Pampers wanted to support me in saying thank you to these nurses again!
This year I wanted to give something a bit more filling. And while I would have loved to do something hot, I really wanted to show appreciation to all shifts. I ordered trays from my local warehouse store filled with ciabatta sandwiches, tortilla roll-ups, fruit, vegetables and cookies. By the time I was done for both Labor & Delivery and the NICU, I had seventeen trays in the back of my van. I also included lemonade, chips and popcorn.
Getting everything up to the fifth floor was an undertaking but with the help of some kind nurses, we managed. On the way up we got more than a few comments from other staff and hospital visitors.
The nurses were very appreciative of all the goodies and I was happy to be able to do this for them again this year.
Last year this was shared to me by the department manager:
The nursing staff has been very busy today in both units. For at least a half a dozen of them, your treats have been all they have had to eat today. Your card and meaningful words meant so much.

I really can't thank you enough for doing this for the patients and staff. It means more than I could really tell you but please know your thoughtfulness was warmly received by the staff to have someone recognize the work that they do.

Kim, RN-CNML Nurse Manager
I'm sure the nurses felt appreciated again this year, thanks to Pampers!

Pampers Swaddlers Thank You Nurses Awards
Nurses play an essential role in facilitating strong relationships between newborns and their parents during the very crucial first minutes, hours and days of life. As the #1 Choice of U.S. hospitals*, Pampers Swaddlers wants to recognize and show our appreciation for these exceptional nurses.
In collaboration with the Association of Women's Health, Obstetric and Neonatal Nurses (AWHONN) and the National Association of Neonatal Nurses (NANN), Pampers launched the second annual Pampers Swaddlers Thank You Nurses Awards to honor Labor & Delivery nurses, Neonatal Intensive Care Unit nurses and Postpartum nurses around the country.
Pampers received thousands of submissions for the second year of Pampers Swaddlers Thank You Nurses Awards! They were heartwarming, they were beautiful, and they inspired so much gratitude for these incredible, dedicated nurses.
It was a difficult decision, but the panel chose a winner for each of the three categories:
Laurie Milliken (Labor & Delivery)
Elizabeth Giambrone (NICU)
Billie Warren (Postpartum)
*Based on sales of the newborn hospital diaper