More and more gardeners are turning to classic, vintage and heirloom flowers and vegetables for their gardens for so many reasons. Heirlooms mums have a monopoly on what made the gardens of our grandmothers look so graceful, with their subtle coloring, long stems and big flowerheads. While crossing and designing new varieties and colors has given gardeners a lot of options, these original heirloom mums are the most resilient, easy to care for varieties in the bunch. The best part, these mum varieties are still around today because unlike the new additions, they are perennials and return year after year to be bigger, healthier and more vibrant.
When you can find heirloom mums without having to divide a plant, add them to your garden for a hardy plant option.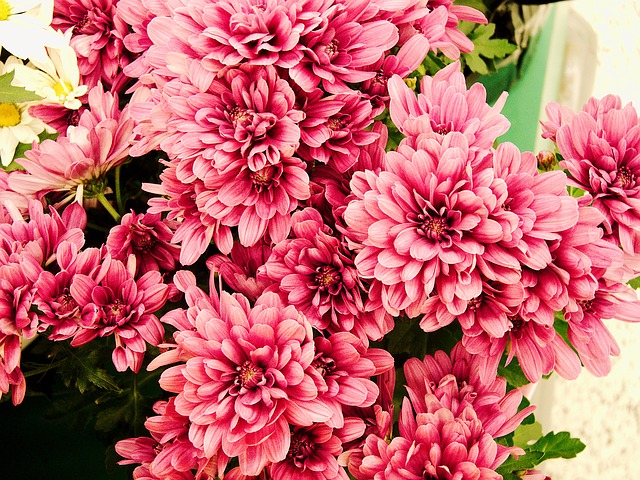 Pink Heirloom Mums
A lot of the heirloom mum varieties that are available in nurseries are pink in color, because these were so popular and became widely available. Some of the most popular varieties include Ryan's Pink, Venus, and Clara Curtis Mums. Venus has light pink flowers that change to white as summer progresses so add them where their show can be enjoyed. Ryan's Pink mums are a smaller bush that produces hundreds of flowers per plant after a couple years. Finally, Clara Curtis mums are the smallest variety of the pinks and are a late season bloomer, producing a show of light pink flowers in the fall.
Orange Heirloom Mums
Orange shades of mums were very popular 30-50 years ago, but they began to be replaced with pinks and whites. There are several heirloom varieties that are easy to add to the garden including Single Apricot Korean and Cathy's Rust. Cathy's Rust is a bold peach color that blooms in the fall and grows to 3 feet tall and 3 feet wide so they definitely need their space. Single Apricot Korean mums are a light orange color that are much smaller in height and width and can be added to the front or middle of a garden without overwhelming other plants.
Red and White Heirloom Mums
Finding white and red heirloom mums is a little bit harder, but two of the most popular varieties include Emperor of China and Venus. Venus was already mentioned and included in pink varieties, but if you are looking to add white color towards the end of fall when everything else is dying, it makes a great option. Emperor of China is a bold red to rusty brown mum that has a double flower and grows tall and fast.
Special Care for Heirloom Mums
Make sure you are only plant these mums in the hardiness zones where they are meant to grow in for the best results, and to keep them as perennials. These are all traditional mums, so they are rather leggy and bushy, growing much differently than the tight mums you are used to seeing at the nursery by the hundreds come fall. Make sure you leave them enough room to grow and add them to areas of the garden where they can spread out.
Special thanks to Sophie Sanchez for sharing her gardening knowledge with this guest post! Photos courtesy of pixabay.com.