A couple of weeks ago I picked up a huge bag of limes from my local Sam's Club for only a few dollars. It seemed every time I'd open my refrigerator door they'd call to me, asking me to make them into something delicious. While there are so many ways to use limes, I wanted to make something that would use up several of the limes so they wouldn't go to waste. And since Wesley loves special drinks, I thought we'd try a refreshing Homemade Limeade recipe for our Mini Chef Mondays series!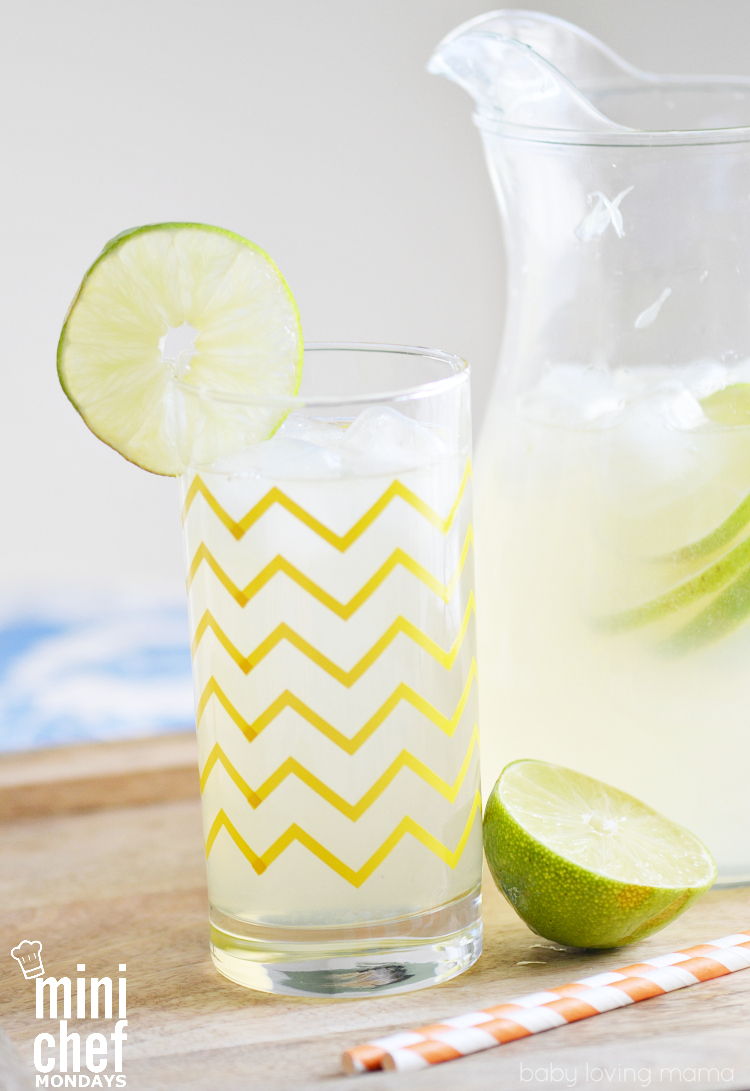 Why Simple Syrup Makes the Best Homemade Limeade
If you love making homemade drinks then simple syrup should definitely be in your arsenal. It is a staple for cocktails since alcohol keeps sugar from dissolving, but really makes any cold drink with sugar better. When you add sugar to hot drinks like tea or coffee, sugar dissolves easily. That is not the case with cold drinks so by using simple syrup, you are using an already dissolved and sweetest form of the sugar. While you can easily buy it in the drink mix section of your store (think near the grenadine and club soda) it is so simple to make homemade that I never buy it.
Simple syrup is just one part water to one part sugar, boiled until the sugar is dissolved completely. Very easy to make!
If you want to get really creative with your simple syrup, you can add some lime zest in with your sugar and water and then just strain it out for a stronger lime flavor. I've made flavored simple syrup before, including in this Homemade Raspberry Lemonade recipe. So good!
Wesley loves pouring water so I gave him only two cups of water at a time so he had plenty of opportunity to pour and stir making this fresh limeade recipe.
Refreshing Homemade Limeade
Ingredients
1 cup fresh lime juice (approx. 6 large limes)
6 cups water, divided
1 cup sugar
fresh lime slices (for garnish)
Instructions
Make simple syrup by bringing 1 cup water and 1 cup sugar to a boil in medium saucepan. Stir often until sugar has completely dissolved. Cool.
Add remaining ingredients to pitcher, adding more or less water to desired sweetness.
Garnish with lime slices.
Wesley loved this sweet treat and was super excited to present it to his brothers when they got home from school. It was a hit! We used this limeade recipe as a base for frozen treat recipe so watch for that to come soon on Mini Chef Monday!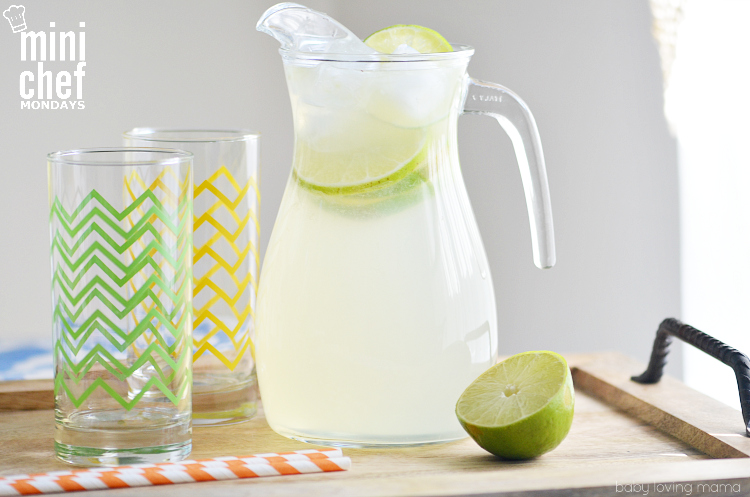 I am hosting Mini Chef Mondays along with 8 fabulous bloggers! Read how Mini Chef Mondays started, plus how to link up!
Join our facebook group to find even more recipes and share recipes too!
Get featured and follow us too!
See these other kid-friendly recipes: