This is a sponsored post. All thoughts are my own.
I love the scents of spring and can't wait until I can smell the lilacs and fresh grass in my yard. Unfortunately I'm an allergy sufferer and spring isn't always kind to me. My grass also happens to be brown at the moment and there are no leaves on the trees yet, but a girl can dream, right? I know spring is coming, it is just frustratingly slow in Minnesota. Now is a great time for me to think ahead on ways to enjoy the season even if I'm stuck in winter/spring limbo. Jennifer Lopez has just launched her new fragrance, JLust by JLo and it is perfect for spring!
Earlier this week Jennifer Lopez tweeted out her "Lust List" of springtime fashion & beauty items and encouraged others to create their own spring "Lust List" so she could tweet out a few of her favorites. I'm not going to lie, I squealed a bit when I saw she gave my Lust list a RT.
JLust by JLo  | Chiffon Banded-Bottom Top (Avery Python) | Ballet Flats (Nude) |Kylie Snakeskin Wristlet
I shop at Kohl's often and have several pieces from the Jennifer Lopez fashion line already, like this shirt I wore for BlogHer back in 2013. So it wasn't hard to use the Jennifer Lopez collection at Kohl's for inspiration. (Those ballet flats get amazing reviews so I'm planning to get them this weekend!)
My little guy was more than happy to help me apply some JLust by JLo. He thought I smelled "really nice!" with it on.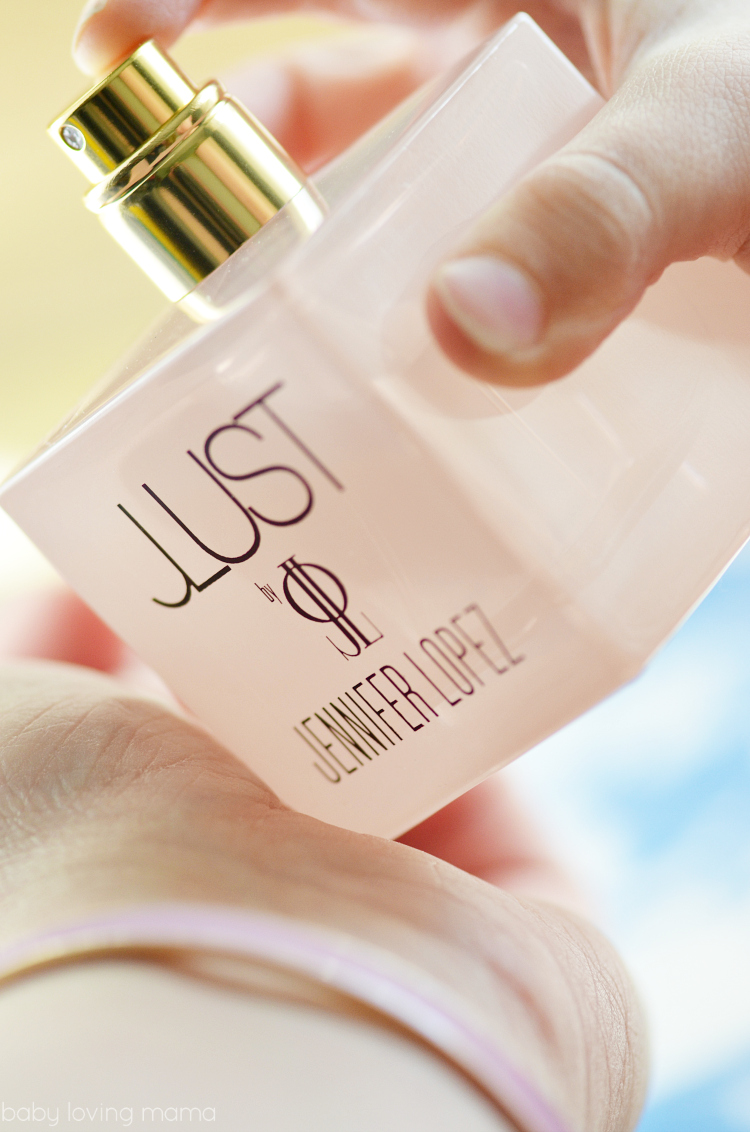 I am really enjoying JLust by JLo! I used to wear perfume all of the time but I got out of the habit after having my babies so as to not bother their delicate noses. It is so nice to have such a fun and versatile scent now.  My husband seemed to really like it as well, if you know what I mean! *wink*


Not sure if this fragrance is right for you? Here is some more information to give you an idea of what to expect!
About JLust by JLo
The fragrance is a fruity, floral, woody scent that opens with a trail of dewy, fresh Apple Blossoms woven around the effervescence of Juicy Mandarin and tantalizing Mara Strawberry. Soft and feminine Jasmine Sambac becomes fuzzy and sweet with White Peach at the heart and Vanilla Orchid creating a floral addiction. The drydown develops into luxurious warmth of Feather Musk, Tolu Balm and Tonka Bean Absolute.
Fragrance category: Fruity Floral Woody
Perfumer: Fabrice Pellegrin, Firmenich
Fragrance Notes
TOP: Juicy Mandarin / Apple Blossom / Mara Strawberry
HEART: Jasmine Sambac / White Peach / Vanilla Orchid
BASE: Feather Musk / Tolu Balm / Tonka Bean Absolute
Giveaway:
I have one bottle of JLust by JLo ($49 value)  to give away to one lucky reader!
a Rafflecopter giveaway