*This post is brought to you in partnership with Disney-Hyperion. Thoughts are my own.*
I admit it. I'm a recovering addict. I used to be addicted to buying children's books for my kids and I'm not ashamed. And even though I've got myself in check after literally filling several bookcases, my kids and I still love a new book to read. Some of our new favorites are from Mo Willems. If you have young children and you aren't yet familiar with The Pigeon, Mo Willem's Caldecott-winning picture book series , you should be. His books are simple, yet so much fun for kids and they actually get them involved in the story telling.  It all started 10 years ago with "Don't Let the Pigeon Drive the Bus." and his latest title, "The Pigeon Needs a Bath", just hit store shelves earlier this month.
If that isn't reason enough for a party, I don't know what is!
I received a pretty awesome party kit in the mail to help us celebrate. So we invited some of our favorite friends over (who happen to be my contributing writers) for a playdate. It worked perfectly that my two oldest were on spring break and they couldn't wait for the party to start!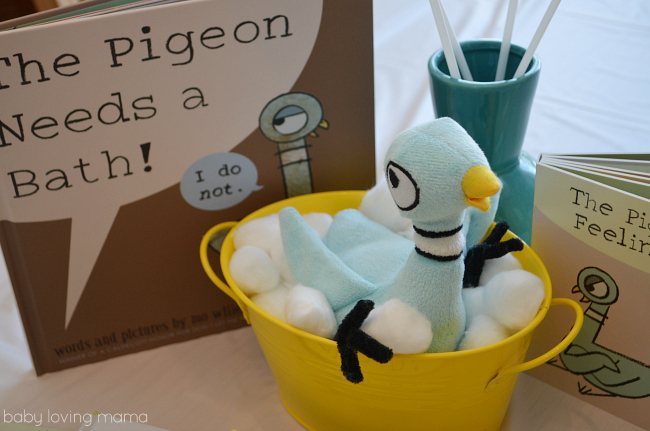 I kept the decorations rather simple, using a lot of what I already had on hand and what was provided. I did pick up an adorable pigeon plush from Barnes & Noble, because I just couldn't resist. And since he desperately needs a bath in his new book, I decided to use a small metal container and cotton balls to mimic bubbles in a bathtub. I was surprised that this was such a hit, even with my oldest who normally ignores stuffed animals. I wish I had gotten three pigeons!
For an activity for the kids, I whipped up some homemade playdough and colored them light blue, orange and yellow so the kids could make their own pigeons and ducks. (The duck is another favorite character from the book series.)
 The kids loved it! I did use store-bought playdough for white and black since they are virtually impossible colors to achieve.
I offered assorted cutters and rollers so they could make anything they wanted. I like options for open-ended play.
If you are familiar with this series, you know we can't have a party for the pigeon without hot dogs, his favorite food! It is mentioned in multiple books and is super easy and kid-friendly. Win, all around! (I used these awesome instructions for heating hot dogs in a crock pot without water.)
For dessert I decided to make cupcakes with hot dog toppers for Pigeon.  I used yellow and red cupcake liners and sprinkles to represent mustard and ketchup . I made my own toppers with a caramel for the bun and half a tootsie roll for the hot dog itself.  They were surprisingly simple. See my Hot Dog Cupcakes Tutorial for full instructions.
I found a number candle pick set from Wilton in the baking aisle of Target and got lucky with the colors for the number 1 and 0 for the 10th anniversary of the first book.
The kids really got excited about the Pigeon's "birthday" and even sang happy birthday to him! While they ate their dessert, Janelle read books from the series to a very captive audience. My oldest Lucian read the lines for the duck which made it even more fun!
Included in the kit was a beautifully, handmade backdrop from this etsy shop. I made sure to get some pictures with guests in front of it before they left.
Ironically I was able to get some great pictures of guests, but my own kids wouldn't cooperate so well. Trying to get a shot of all three of them was entertaining at least.
This party theme was seriously so much fun. The options for crafts and food to tie into the series are easy to create. Other bloggers who also had this fun opportunity to host a pigeon party also got creative and have some fabulous ideas. Be sure to search for the #thepigeonparty hashtag for more party pictures and posts.
Look for all the pigeon books from Mo Willems at retailers nationwide, including his newest title, "The Pigeon Needs a Bath".
About The Pigeon Needs a Bath
In the 8th picture book in the series, the Pigeon really needs a bath! Except, the Pigeon's not so sure about that. Besides, he took a bath last month! Maybe. It's going to take some serious convincing to try and get the Pigeon to take the plunge.
About the Author
Mo Willems, a number one New York Times best-selling author and illustrator, has been awarded a Caldecott Honor on three occasions (for Don't Let the Pigeon Drive the Bus!, Knuffle Bunny: A Cautionary Tale, and Knuffle Bunny Too: A Case of Mistaken Identity). Don't Let the Pigeon Drive the Bus! was also an inaugural inductee into the Indies Choice Picture Book Hall of Fame. And his celebrated Elephant & Piggie early-reader series has been awarded the Theodor Seuss Geisel Medal on two occasions (for There Is a Bird on Your Head! and Are You Ready to Play Outside?) as well as three Honors (for We Are in a Book!, I Broke My Trunk!, and Let's Go for a Drive!). Other favorites include Naked Mole Rat Gets Dressed and City Dog, Country Frog, illustrated by Jon J Muth. Mo lives in Massachusetts with his family.
You can visit Mo Willem's Blog and even follow The Pigeon on Twitter!