If you've ever wondered how to make clear slime, it is really quite easy! The best part about this clear slime recipe is you don't have to work with dyes, colored glue, or acrylic paint. Clear slime works great for fun mix-ins like these fruit slices to make clear fruit slime.
Are your kids still slime crazy? Making clear slime is a fun variation on traditional slime with white school glue. Clear glue slime adds another dimension to your slime play. Give it a try!
If you've ever worked with dyes while coloring your slime, you know it can get a bit messy. While I love a cool slime with vibrant colors, working with clear slime with mix-ins can be just as colorful and fun!  By using these mini fruit slices for slime you get a visually appealing slime without having to worry about dying your hands, clothing or surfaces.
Clear Slime Ingredients
To make make colorful slime with liquid starch you'll need the following:
The leftover fruit slices can also be used for assorted crafts and nail decoration in addition to slime.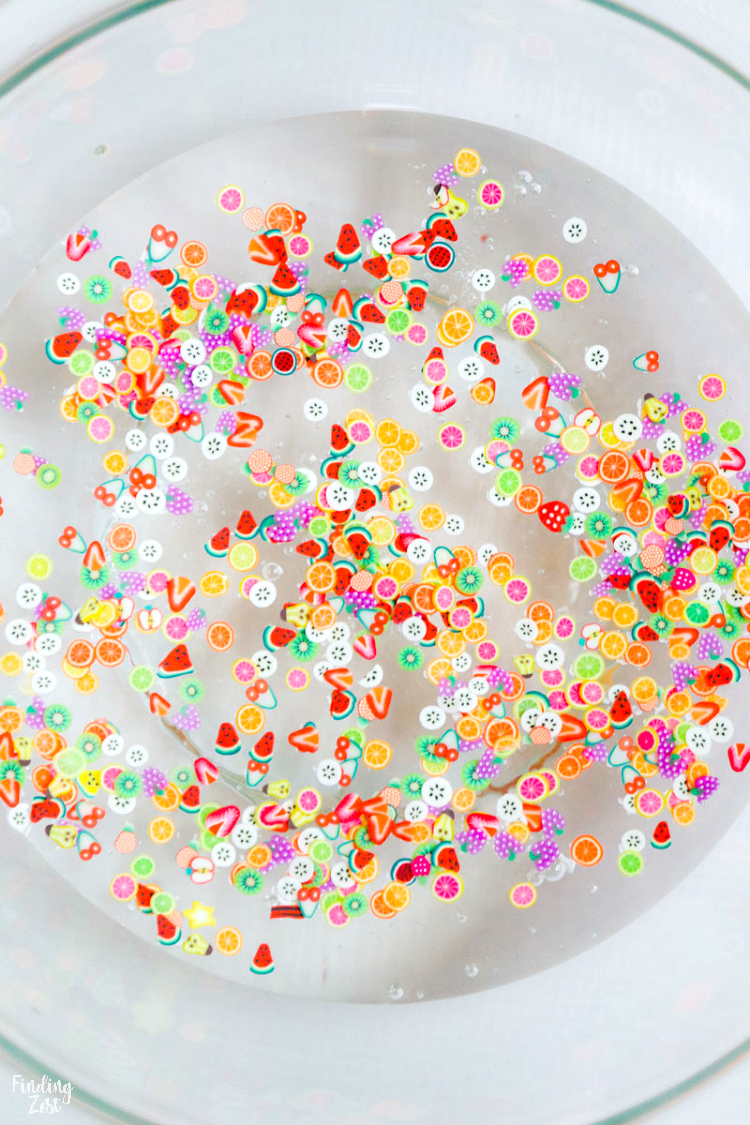 Clear Slime Recipe
I follow this recipe for how to make slime without borax but I substitute out the white glue for clear glue.
To make one cup of slime you'll need: 
8 oz. clear glue
1/4 cup to 1/3 cup liquid starch (depending upon how sticky/stretchy you want your slime)
Mix ingredients separately in a bowl or large plastic cup that you can throw away. Once you have the right consistency, mix in your fruit slices or other mix-in if desired.
Slime Consistency Issues:

What do you do if your slime isn't stretchy enough? Add more glue.
What do you do if your slime is too sticky? Add more liquid starch.
Add just a small amount of either more glue or liquid starch at a time to test the consistency before adding more.
This satisfying slime is so fun to play with. By making clear slime, you can really see anything you add in very clearly. There are so many fun slime mix-in sets available for an affordable price on Amazon including foam balls, glitter, gold leaf, sequins. You can also find cute slime charms!
This slime when more concentrated it less translucent, but as you stretch it out you can see through it!
When you work with colored slime whether made with dyes, paints or pre-colored glue, if you use multiple colors you slowly mix the colors together which can be less appealing. You can end up with some very unpleasant colored slime. (I say this from plenty of experience with my kids ending up with ugly gray or brown slime!) By using clear or white slime, you can add all sorts of color without affecting the color of the slime itself.
With any slime activity, please supervise kids! This slime is not edible.

I hope you had fun learning how to make clear slime with liquid starch that is filled with mini fruit slices. Give this clear slime recipe a try!