This post is brought to you in partnership with The Motherhood. All thoughts are my own.
My boys are not too picky about their clothing which is good since they wear uniforms to school. But I also know they get bored with the same old colors and styles during the school year. When summer vacation roles around they are excited about getting wear different things every day. I typically pick out most of their wardrobes online. If they are around I will ask their opinion on what they want, but I often shop late at night or when they are at school. They all prefer comfortable clothing like athletic pants, soft knit or athletic shorts and graphic tees.  So when I had the opportunity to try out Kidbox, a style delivery service for kids sizes 2T to 16, I chose to have a box featuring athletic/casual clothing.
Kidbox is the first kids' style box that combines cool brands, meaningful savings and a mission to clothe children in need. It is a place to find cool brand names at great savings just for kids. Each box contains 6 or 7 items for $98.  One of the coolest features of Kidbox is they don't charge your credit card until a week after receiving your items. So you only pay for the items you want to keep. Decide something just isn't right for your child or you need a different size? Return it free of charge.

When I spotted the Weatherproof Vintage Boys Fleece Knit Shorts, I knew they'd be a hit with both my boys. They are very soft and the boys loved the large buck on the leg. Since my two oldest are only 17 months apart, they overlap some of their sizes. My 8 year old Warren is now wearing a 8-10 and my almost 10 year old Lucian is wearing a 10/12. I decided to let them both pick out some items out of the size 10 box. The red Diesel V-Neck tee is super soft, but definitely on the smaller size. It works great for my 8 year old but is a little snug for my older son.

My least favorite item out of the box was this STX tee and athletic short set. But surprise, surprise, both my boys loved it. In fact, they both wanted to wear it first. Since the fit was on the larger side, Lucian snagged this one. This was a great example of me *thinking* I know what my kids want. Kidbox is a great way to try out some new styles!

We also really liked the three piece Reebok set. It included two boys graphic tees and athletic shorts. They are both a bit big for Warren but that didn't stop him from wearing it!

Both pieces offer plenty of room to grow for both my boys and I like that they are mix and match.

Kidbox always includes some fun extras for kids inside their box including crayons, stickers and coloring pages. But their favorite gift was the Unwind Surprise Ball.

By simply unwinding the crepe paper, my boys could find the prizes hiding inside.

Their surprise included a fake mustache, mini playing cards and an alien with a parachute. They had so much fun unwinding the ball.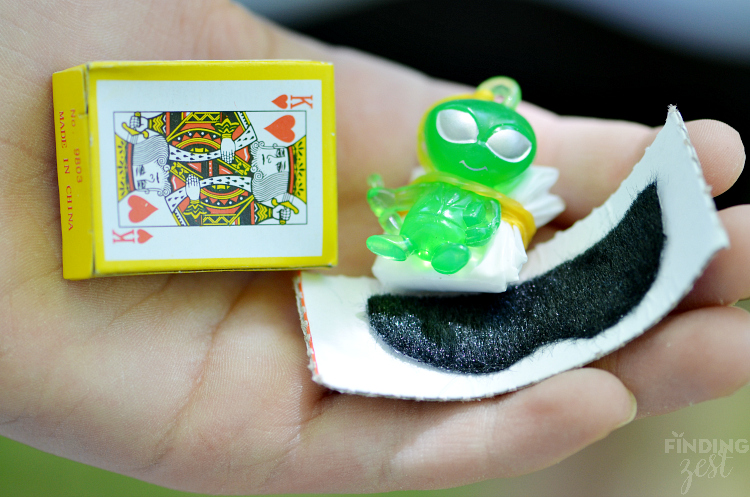 Overall we really like the service provided by Kidbox. I love that we can fill out a style profile and include do's and don'ts so they can send us items that will better fit our child. For example, I was able to say no yellow clothing or jeans.  I do wish they included a comment box so I could clarify a few things in their profile but that might be more difficult logistically. I also like that this is not a subscription box and I'm not charged until I decide what I want to keep!
Giving Back
Kidbox Cares is a partnership with K.I.D.S./Fashion Delivers to donate clothing to needy kids. They want to empower children to give and be socially responsible.  Every time you keep an entire box, Kidbox makes a donation of new clothing to a kid in need.
#UnpackHappy Monthly Giveaway
To share the joy unpacking happiness together, Kidbox is giving away a year of clothes to one winner each month. As an added bonus, they will also award outfits to an additional 5 children in need. How cool is that?
How to Enter:
Take a photo or video of your unique kid unpacking happiness—opening their Kidbox, a special gift they received, or sharing a special gift with a friend—and share it on Instagram or Facebook with the hashtag #UnpackHappy, #Kidbox and @Kidbox (Instagram) or @KidboxFamily (Facebook).
Each month Kidbox will select one (1) winner to receive an entire year of Kidbox free (5 seasonal boxes of $98 each), and donate an additional 5 outfits to children in need. They'll invite the winner to help select which cause to send the donations to as part of their Kidbox Cares initiative. You can enter once per day each month for extra chances to win!