This Loaded Totchos Recipe is sponsored by Mirum but all opinions are my own. 
March Madness has officially begun! Go to any online news source and you can get live updates right now. Which is great if you are one of the many fans involved in bracket challenges. But regardless of whether you filled out your bracket and have a stake in the game, it is certainly fun to watch if you are a basketball fan. You've got to have some game food for fuel as you watch it go down. You can win the crowd with this Loaded Totchos recipe for game day!

While regular nachos might seem like typical fare, totchos take things up a notch! I chose this fun potato rounds instead of traditional tortilla chips to try something new and I thought they resembled little basketballs. My husband couldn't get enough of these!
I headed to my local Walmart to load up on all my ingredients including Rosarita Traditional Refried Beans in the Mexican food aisle and Ro*Tel Original Diced Tomatoes & Green Chilies near the canned diced tomatoes.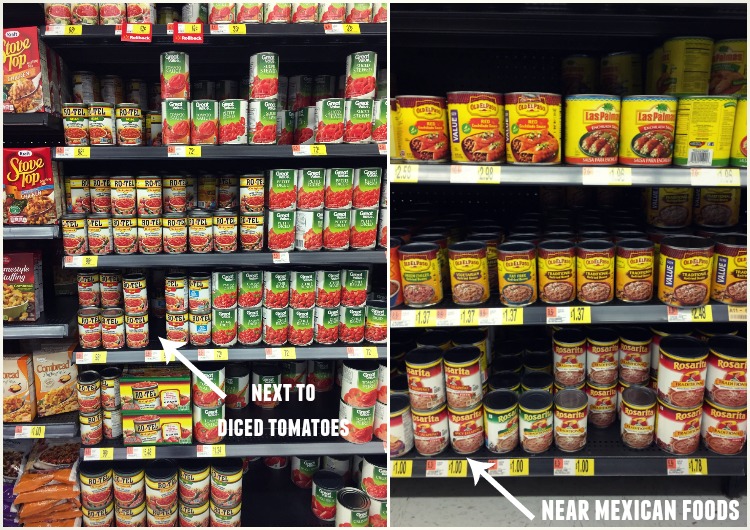 I recommend putting your potato rounds in the oven and getting started right away on the preparing the other ingredients.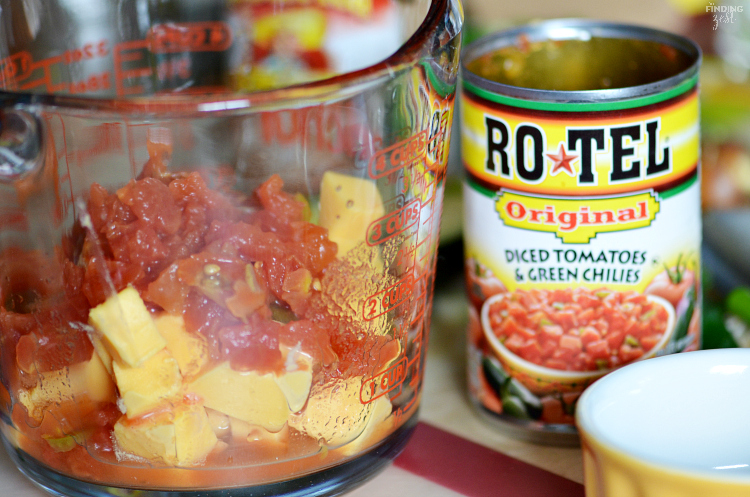 Nothing beats Ro*Tel® Famous Queso Dip on any game day so I prepared that as my base layer.  The original Ro*Tel is made with a signature blend of vine-ripened tomatoes and zesty green chilies and a savory mixture of secret spices so only two ingredients are necessary.
You'll only need to half the recipe which means only a 1/2 a can of Ro*Tel. Don't waste the rest of the can! You can make a 1/2 batch of the Ro*Tel guacamole recipe found on the back of the can like I did, or you can make extra queso dip to serve with tortilla chips.  Simply putting the extra Ro*Tel as a topping for your totchos is also an option.
Rosarita Traditional Refried Beans are authentic and delicious. They can quickly be heated in the microwave in only three minutes. I wanted some meat to make my totchos heartier, so I added 1/2 pound of taco meat. This is a great opportunity to use some leftovers or make a batch and enjoy the rest later. Leftover shredded chicken would also be tasty!
I loaded these totchos with all kinds of toppings but you can definitely change the recipe up to suite your family. Black olives, shredded cheese and jalapenos would also be great on these totchos!
Grab a plate and dig in!
Win the Crowd on Game Day Sweepstakes
While winning isn't everything, it is fun! What are the best game day recipes? You can vote on fan favorite recipes for a chance to win one of six Game Day Party Packs including:
Flat Screen TV
Slow Cooker
$100 gift card for collegiate basketball gear
$50 Walmart gift card.
You can enter once each day and share YOUR favorite recipes to social channels through 4/3/17. There are are two winners being drawn in each of the three rounds!
Loaded Totchos Recipe for Game Day
Recipe Type:
Appetizer/Snack/Dinner
Ingredients
1 bag (30 oz.) frozen crispy potato rounds
1 can (16 oz) Rosarita® Traditional Refried Beans, heated
1 can (10 oz) Ro*Tel® Original Diced Tomatoes & Green Chilies
8 oz. Velveeta®, cut into ½-inch cubes
½ cup taco meat (or leftover shredded chicken)
2 avocados
½ tablespoon lime juice
pinch of salt
4 green onions, seperated. (lower part finely diced, rest chopped)
¼ cup shredded lettuce
⅓ cup sour cream
½ cup grape tomatoes, cut in half
Instructions
Cook frozen potatoes according to package directions.
Prepare taco meat (if not using leftovers).
Meanwhile, prepare ½ batch of guacamole using recipe on side of can.(Be sure not to drain all the liquid from the can. You'll need ½ the liquid for your queso dip!)
Use the diced green onion for guacamole, saving tops for later. Mash avocado and mix with green onion, lime juice and salt. Stir in ½ can of Ro*Tel.
Prepare Queso Dip and microwave the other ½ can Ro*tel (undrained) and Velevetta cups. Microwave in intervals for 3 mins, stirring often or until cheese is fully melted.
Layer crispy potato rounds in large dish. Pour hot queso over the top. Layer with refried beans, taco meat, lettuce, guacamole and sour cream. Top with tomatoes and scallions.
Serve immediately.
So what are you waiting for? Go enter the Win the Crowd Sweepstakes and then make this Loaded Totchos recipe to win over your crowd!