Who says you need a reason to have delicious cake? Mug cakes make it so easy to have a single serving of cake to get your sweet fix. My kids loved making this Mermaid Confetti Mug Cake, perfect for celebrating any time. We prepared this vanilla cake in a fun mermaid at heart mug and topped it with a big scoop of vanilla ice cream instead of frosting.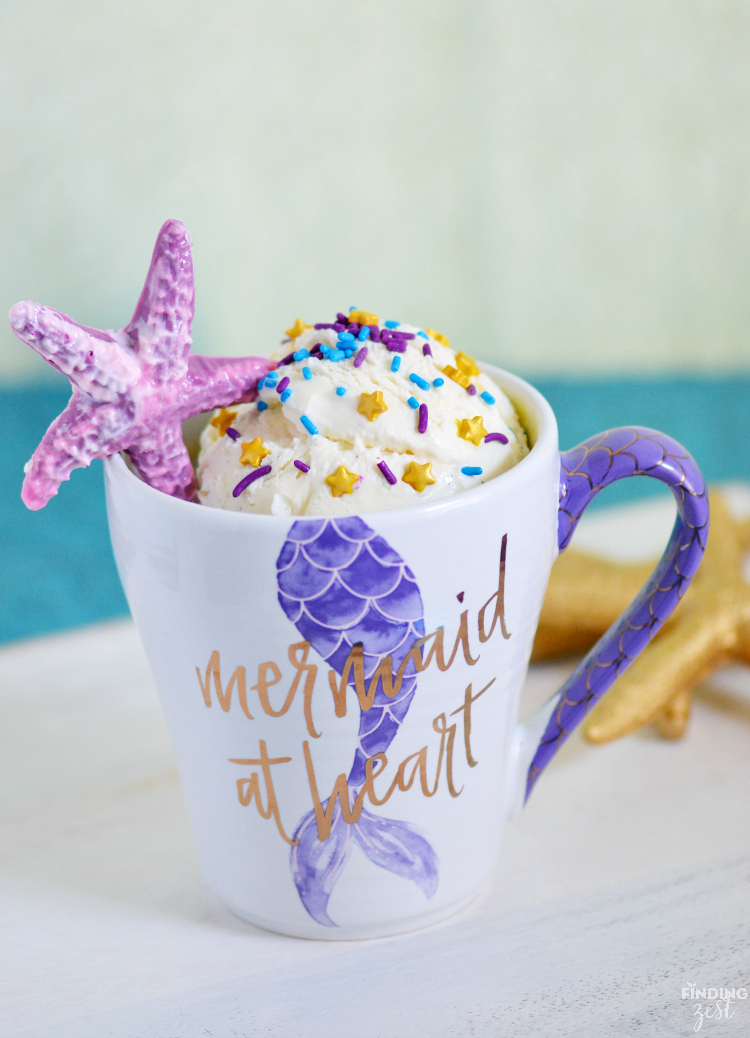 I spotted this awesome Mermaid at Heart mug on Amazon and after seeing the good reviews, I had to have it. It goes out of stock often but I've seen it restocked several times. Check back if it is currently unavailable.
Mermaid Mugs (at least 12 oz.)
<
&
Ceramic Reusable Coffee / Tea Mug: Cute Novelty Mermaid at Heart Hot Coffee or Tea Cup with Unique Purple and Gold Foil Handle Design – 15 Ounce
Set of 2 Ceramic Mermaid Tail Handle Coffee Mugs – Sea Green & White – 16 oz
I'D RATHER BE A MERMAID Ceramic Coffee Mug with Starfish 11 or 15 oz
I Don't Want To Be An Adult I Want To Be A Mermaid 15 OZ Coffee Mug by LookHUMAN
Karma Gifts Boho Black and White Mug, Mermaid
Society6 Mermaids Mug 15 oz
I thought it would be super fun to make a mug cake in it, besides just using it every day for my coffee.

I found this great confetti mug cake recipe from Land 'O Lakes and tweaked it only slightly for my tastes. You'll need at least a 12 oz. mug for this recipe.
Mug cakes are an easy recipe with little wait, making it a perfect recipe for kids to make with you or independently. depending upon age.
For your sprinkles to show up, I recommend choosing bright colors. To follow the mermaid theme and match the mug, I simply chose a bright blue and purple jimmies.
While my kids like frosting, they love ice cream more so we just put a single large scoop on top. We garnished it with the same sprinkles inside the cake and some gold stars.
Mermaid Confetti Mug Cake Garnishes
Wilton Jimmies 6 Mix Sprinkle Assortment
Wilton 710-9966 Hanging Skinny Purple Jimmies
Wilton Edible Glitter, Gold Stars, 0.04 Ounce
Wilton Gold Star-Shaped Sprinkles
Cybrtrayd N059 Starfish Chocolate Candy Mold with Exclusive Cybrtrayd Copyrighted Chocolate Molding Instructions
Wilton 1911-1358 Lavender Candy Melts, 12-Ounce
Wilton Candy Melts, White, 12 oz.
Wilton Pink Candy Melts, 12-Ounce
I had made some starfish made of chocolate for an upcoming post and thought it worked great to hang over the side of the mug.
>
Another fun option would be to use this pretty gold star glitter instead of traditional sprinkles for the top.
This mermaid confetti mug cake makes it easy to have a single serving of delicious cake anytime. Perfect for mermaid fans any day or as special birthday treat! 
You can use this same confetti cake recipe and switch up the mug and sprinkles to fit any theme.

Mermaid Confetti Mug Cake
Author:
Slightly altered from Land 'O Lakes
Ingredients
2 tablespoons butter
¼ cup all-purpose flour
1 large egg (yolk only)
2 tablespoons sugar
1 tablespoon milk
½ teaspoon vanilla
½ teaspoon baking powder
1 teaspoon bright sprinkles + additional sprinkles for garnish
½ cup vanilla ice cream
Instructions
In large microwave safe mug (at least 12 oz.), melt butter in microwave in short intervals.
Add flour, egg, sugar, milk, vanilla and baking powder. Stir with a fork until well blended.
Stir in 1 teaspoon bright sprinkles.
Microwave 60-90 seconds or until top is fully dry.
Cool slightly.
Top with vanilla ice cream and additional sprinkles before serving.
I've got a ton of fun mermaid ideas like these
Mermaid Fruit Smoothie Shots
!
What have you been up to with your mini chefs this week?
I am hosting Mini Chef Mondays along with 4 fabulous bloggers, find out more about the Mini Chef Mondays Team!
Be sure to check out each of their Mini Chef posts as well!