Create a no-bake dessert that is sure to impress birthday party guests with these Mermaid Rice Krispie Treats! Featuring beautiful fondant mermaid tails, this treat on a stick is actually easier to make than you might think. Display them on your party table or use them as a party favor for guests to take home. Either way, these rice cereal treats are a great addition for your mermaid themed party!
Creating mermaid party treats is a lot of fun for me. I'm attracted to mermaid party themes but unfortunately my three boys aren't interested in a mermaid birthday party. (No surprise there.) That's ok though because I can still get my "fix" by creating mermaid desserts for others to implement for their own parties.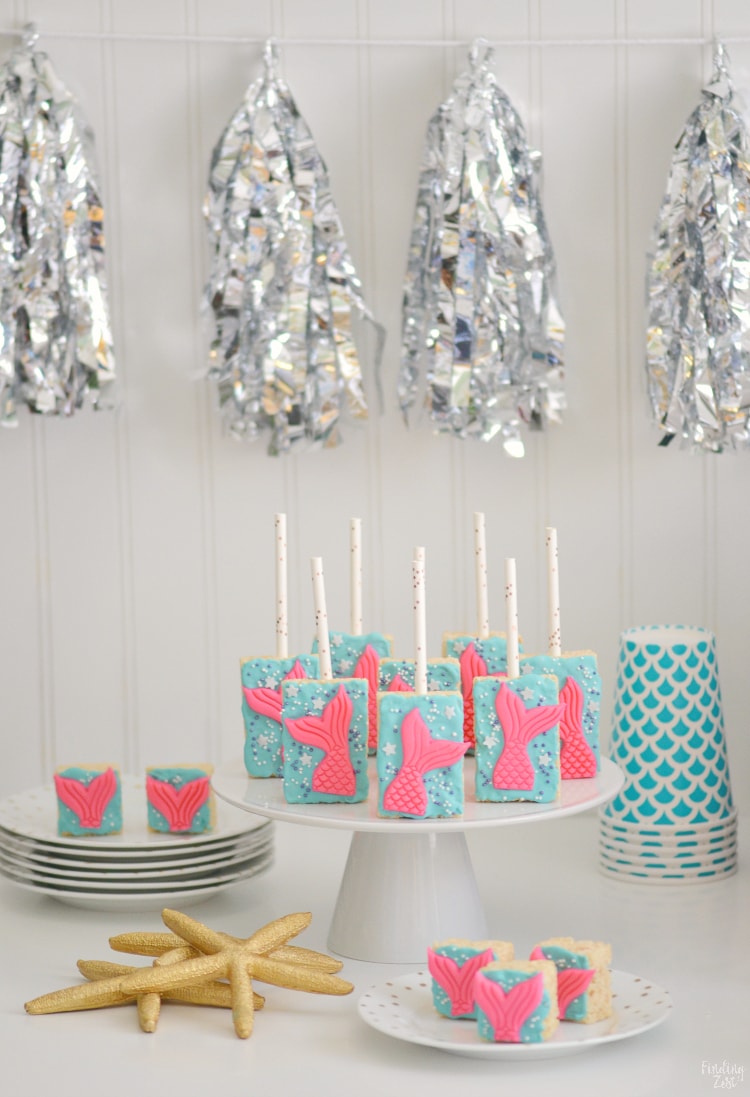 Mermaid Rice Krispie Treats Supplies
These mermaid cereal treats use all store bought it ingredients. I've done this recently with Pigeon birthday party treats. This allows you to focus more on the decorating aspect, the part that is the most enjoyable in my opinion! However, if you'd rather make your own homemade fondant and cereal treats, you absolutely can! You'll need the following:
How to Make Fondant Mermaid Tails
To start this mermaid dessert, you'll want to make the fondant mermaid tails. If you purchase a small package fondant, this step is super easy. I chose pink so these tails would really stand out against the aqua "water" background but purple fondant would also look great. (I picked mine up from my local Walmart but you can purchase it off from Amazon for convenience.) If you've never worked with fondant before, don't be intimidated. It is much like working with clay.
Your fondant will probably be hard when you get it, so follow the instructions on the package to make it more pliable by putting it in the microwave for a few seconds. Next roll your fondant out much like a pie crust or sugar cookie dough. I find it easiest to use a small fondant roller. The exact thickness doesn't matter as long your dough is even for a cohesive look and isn't super thick or super thin. Use the small mermaid tail cutter to cut the tails out like you would with sugar cookies. If the linked mermaid tail fondant cutter is out of stock, do a search for one on Amazon. There are currently several sellers. Be sure to check delivery time frames however as some are shipped from overseas.
How hard you press on your tail cutter and the thickness of the fondant will affect how your mermaid scales look.  They can be either very deep or shallow, as shown above. Since these mermaid cutters are plastic and not very deep, you may find that your fondant tails don't have a clean edge. You can use a food safe brush like I did or use your fingers to gently smooth the edges. Hold the tails by the edges to avoid fingerprints on the top of your tails.
Kitchen Tip: If you would like your tails to look different, gently bend the fins a bit in different directions. As they sit at room temperature they will firm up and stay that way.
How to Make Mermaid Cereal Treats on a Stick
To assemble your mermaid Rice Krispies Treats, insert a candy stick or paper straw cut in half into the center of your rectangle shaped cereal treats. Push the straw up halfway. Set aside. Melt your candy melts in the microwave and add a bit of oil for a smooth consistency. You want to make sure you heat just until melted. I used a mixture of bright white and turquoise candy melts to create aqua.
Next you'll want to spread the warm candy melts onto your rice krispie treats. Carefully spread them as you would frosting. While you could dip them, I like this method because it creates a cleaner look and uses less candy melts. The cereal treats combined with candy melts/chocolate can be very sweet so I think less is more.
Immediately add a fondant mermaid tail. I chose to do various placements of my tails so they weren't exactly identical. I also chose to have my sticks going up so that I could stand them upright when displayed and make the treats look like the mermaids are diving in the water. If you change your mind on this ( or make a mistake) you can move your sticks to the other end if needed.
Kitchen Tip: The candy melts do harden at room temperature fairly quickly so I wouldn't do more than a couple at a time. 
Once your fondant tail is placed, add a few sprinkles for a magical touch.  I created my own sprinkle mix using sprinkles I already had on hand. That included white and purple nonpareils and silver stars. However, this galaxy sprinkle variety pack from Wilton would also be a great choice for this project.
Since I had extra fondant and leftover candy melts I decided to make some mini mermaid tail cereal treats. These are great bite size treats and were really easy to make using Kellogg's Rice Krispie Treats Mini Squares.
The used the same mermaid tail cutter and used a sharp knife to cut off part of the tail. Some of the fondant tails were cut at an angle which really gives the illusion the tail is in the water. Since it is such a small space to work with, I kept the sprinkles simple with just white nonpareils. You can put these on a stick as well but I would recommend cutting your paper straws into three pieces instead of two.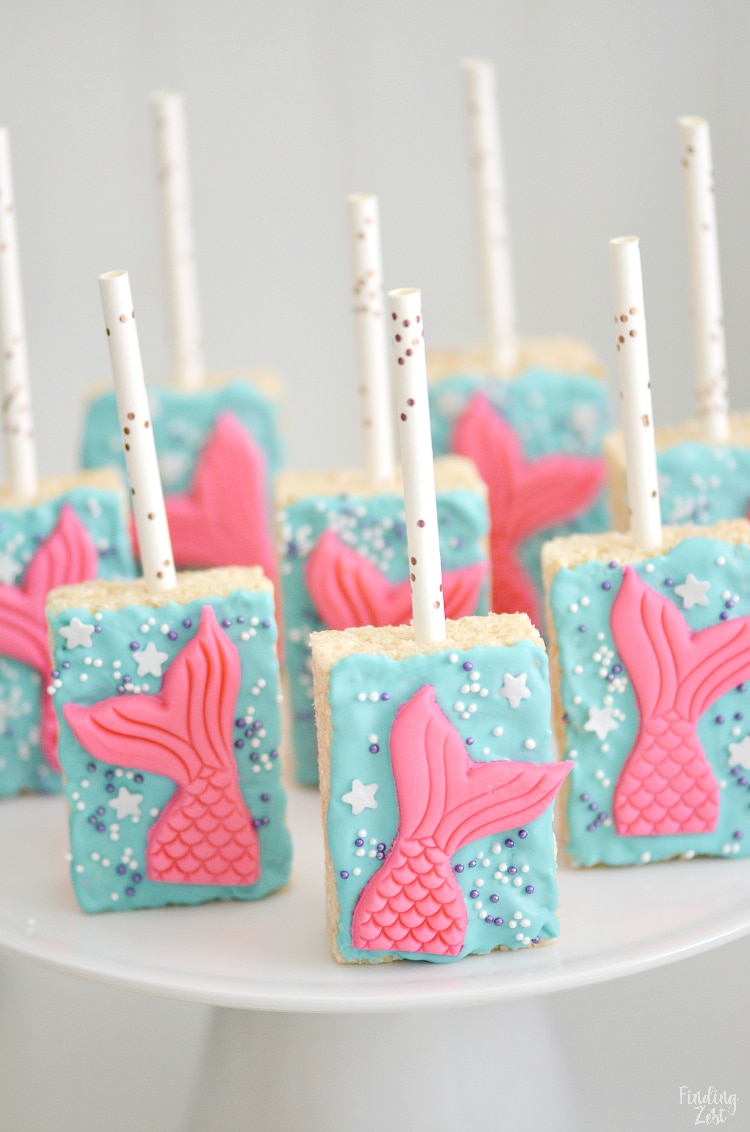 Aren't they so pretty? Even though my boys don't want a mermaid party, they were pretty thrilled with these treats and had no problems eating them up.
Mermaid Rice Krispie Treats
Create a no-bake dessert that is sure to impress birthday party guests with these Mermaid Rice Krispie Treats! Display them on your party table or use them as a party favor for guests to take home. Either way, these rice cereal treats with fondant tails are a great addition for your mermaid themed party!


Ingredients
1/2

cup

Wilton Turquoise Candy Melts

1/3

cup

Wilton Bright White Candy Melts

2

teaspoons

canola or vegetable oil

(optional)

8

0.78 oz

Kellogg's Rice Krispie Treats Original

(or homemade)

8

0.4 oz

Kellogg's Rice Krisipie Treats Mini

Assorted sprinkles

paper straws
Instructions
Line large baking sheet with silicone baking sheet, parchment paper or aluminum foil. Set aside.

Soften fondant if necessary following package instructions and roll out to an even thickness. (Try not to make it super thick or very thin.) 

Press small mermaid tail cutter into fondant. Gently remove fondant tail and smooth edges with fingers or food safe brush. Place on lined baking sheet. Repeat. Set aside. 

Remove larger cereal treats from packaging. Cut paper straws in half and insert them into the bottom of the cereal treat so the reach halfway up.

Melt candy melts in microwave in intervals, stirring often, just until full melted. Stir in oil for a smooth consistency.

Carefully spread candy melts over top of cereal treat with small metal spatula. 

Immediately add mermaid tail so the fins are upright. (Your straw should be on top).

Top with a few sprinkles to the sides of the fondant tail. Set aside on baking sheet to dry completely at room temperature. Repeat with remaining cereal treats on a stick.

For mini cereal treats, cut mermaid tails in half so fins are still intact but the tail is shorter. Follow same process as above with using cut tails instead. If you would like them on a stick, cut a paper straw into thirds instead of in half. Set aside to dry at room temperature.

Store in airtight container until ready to serve.
Want More Rice Krispies Treats Ideas?
Rice Krispies Treats work great for parties and can be altered for food allergies. Here are some more great birthday Rice Krispie treat ideas: