This Share Thanks with Mo Willems' Thank-o-Rama post is in partnership with Disney Book Group, however all thoughts are my own.
We've been long time readers of children's book author Mo Willems and have loved all of his books. His writing never fails to make my children laugh or teach them a valuable lesson. (He often does both!) While the Elephant & Piggie early-reader series has been completed, these lovable characters live on in his Elephant & Piggie Like Reading! series created and coedited by Mo Willems. Each book features new stories from renowned, award-winning children's book authors and illustrators and  features an introduction from Elephant & Piggie.
Harold & Hog Pretend for Real!
The 6th book in the Elephant & Piggie Like Reading! series is Harold & Hog Pretend for Real!, written and illustrated by Dan Santat.
Hog is careful. Harold is not.

Harold cannot help smiling. Hog can.

Hog worries so that Harold does not have to.

Harold and Hog are best friends. But can Harold and Hog's friendship survive a game of pretending to be Elephant & Piggie?
If your child loves the Elephant and Piggie books, this latest book will also be a favorite! It features characters who also happen to love Elephant & Piggie and is written in a similar style.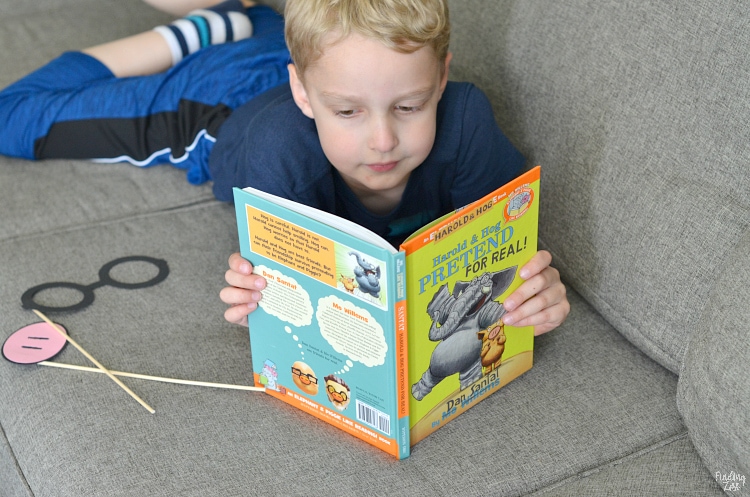 My seven year old Wesley loved this new addition to his book collection. Since it is an easy-reader series recommended for ages 6 to 8,  he was able to read it solo and got a chuckle at the characters having their own "fan moment" over Elephant & Piggie.
And for any long time Mo Willems fans, there are also fun surprises like an appearance by a Pigeon look-alike. Overall, this is a fun book that features a heart-warming message about friendship and a reminder that are no rules when it comes to pretend! Just for fun, we, too, disguised ourselves as Elephant & Piggie.
In the spirit of Mo Willems' Thank-o-Rama, we want to say how thankful we are for books like these that we get to share together and grow with.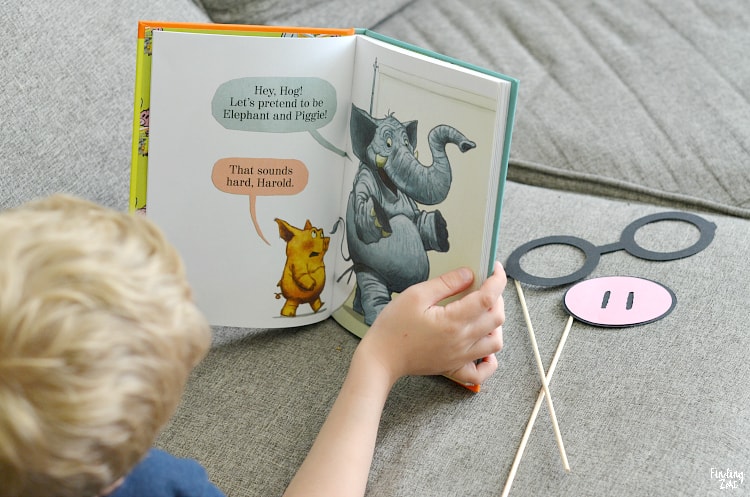 May is Thank-o-Rama Month
Mo Willems' annual Thank-o-Rama is a month long celebration in May derived from the final book in the Elephant & Piggie series, The Thank You Book. It's a celebration of thanking all, especially children, for being readers. We've participated in the Thank-o-Rama event in the past and my children filled out thank you postcards to deliver to their teachers.
This year we received chalkboard contact paper and Elephant & Piggie sidewalk chalk so Wesley could share who (or what) he is most thankful for in his life.
I was happy to see he naturally concentrated on people, first being thankful for his mom and dad before moving on to other members of his family. He also chose to draw a picture of us together which of course made my heart melt.
Buy Harold &Hog Pretend for Real!
Pick up Harold & Hog Pretend for Real!, now available at retailers nationwide. It is a great addition to any child's bookshelf and makes a great gift.